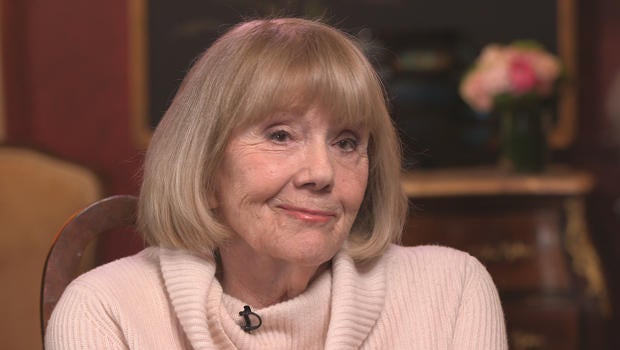 Diana Rigg on life before and after "The Avengers"
Performing now on Broadway, a most distinguished member of British acting royalty: Dame Diana Rigg. She talks this morning with Anthony Mason:
In the rousing revival of the musical "My Fair Lady" at New York's Lincoln Center, one of Britain's most acclaimed actresses makes her return to Broadway. Dame Diana Rigg plays Mrs. Higgins, whose son Henry has taken in Eliza Doolittle:
Mrs. Higgins: "Is it a love affair?"
Colonel Pickering: "Heaven's, no. She's a flower girl. He picked her up off the curbstone."
Mrs. Higgins: "Oh, Henry, a flower girl!"
She's up for a Tony Award, her first nomination since 1994, when she won for her performance as "Medea."
Mason asked, "Do awards mean anything to you?"
"Of course they do, and anybody who says they don't is talking rubbish!"
And at 79, Dame Diana has found a new generation of fans, with her Emmy-nominated performance as the conniving Queen of Thorns in "Game of Thrones."
"I'm thrilled young people identify with this naughty old bag I was playing," she said.
Acting is the only career Diana Rigg has ever wanted. But in the beginning, she says, she was never confident as an actress: "Never. God, no. You see, I came from a Yorkshire family, and compliments were never given. Their way of loving you was telling you what was wrong with you."
But at 17, she earned admission to drama school in London, and then the Royal Shakespeare Company. But suddenly in 1965, she shocked her Shakespearean colleagues and left it all – for a TV show. She said she was "despised" for doing so.
Mason asked, "So why did you do it?"
"I knew I had to broaden myself. I was young."
In "The Avengers," she played Emma Peel, sidekick to suave secret agent John Steed, played by Patrick Macnee. The British series made Rigg an international sensation.
"Why do you think Mrs. Peel was embraced the way she was?" Mason asked.
"Because she was ahead of her time," Rigg replied. "Because she was highly intelligent, capable, witty, sexy, independent."
"Did you enjoy it?"
"I loved it, and I loved Patrick."
"You were not a fan, I gather, of the leather catsuits, though?"
Smirking, Rigg replied, "Hot."
Mason said, "You've said over the years you were not all that comfortable with your looks."
"I was uncomfortable with being a sex symbol. That I was, because how is a sex symbol supposed to behave? I haven't got a clue!" she laughed.
After just two seasons, she exited "The Avengers." "Why did you decide to leave?" Mason asked.
"'Oh, 'Another dead body…' What do you say?"
And the next year she became the only woman to marry James Bond, when she starred in "On Her Majesty's Secret Service."
What made her want to be a Bond girl? "Oh, come on!" she deadpanned. "I mean, it was fun to do. That sequence where I'm driving around this ice rink. I did drive! It wasn't a double. Yeah, that was fun -- not for the cameraman!"
In a stroll around New York's Metropolitan Museum, Dame Diana is curious and playful, but admits some of it is a performance to protect her private life:
"I've just got stuff I don't want to talk about, it's very simple," she said.
Mason said, "One of your directors said something to the effect that candor was kind of your camouflage … You use it to keep people away."
"Yes, very much so."
She was deeply wounded by a British tabloid story in 2002 , and sued the newspaper that portrayed her as a retired recluse, still bitter over the collapse of her second marriage. "It almost brought me to my knees financially, but I won in the end," she said.
"Was that satisfying?"
"No, the pain had been too great."
"What was the most painful part of it for you?"
"That she'd resurrected the details of my marriage breaking up, and the fact she'd 'retired' me," Rigg said. "I don't think they know how damaging to the psyche they are."
"But I get the sense you're pretty tough."
"I'm a pussycat, except when I'm fighting for what I believe in. And then I'm a tigress."
Rigg then asked Mason, "Do I strike you as being tough?"
"Well, you say what you think, which doesn't necessarily mean you're tough."
"Well, that's the point."
"Do you not want be seen as tough?"
"No. I wanna be seen as me."
She is a proud mother, whose daughter, Rachel Stirling, is following in her footsteps. "She's a very good actress," Rigg said of her daughter, "but then, I would say that!"
And in her seventh decade on stage, Diana Rigg is a dame in demand.
Mason asked, "Would you say you're driven?"
"No. If I'm not working, I'm entirely happy."
"But you work a lot."
"Just hit me at a very late age -- one after the other, wham, wham, wham!" she laughed. "And I'm just sitting there saying to myself, 'Well, thank you very much. What kept you?'"

For more info:

Story produced by Kay Lim.
Thanks for reading CBS NEWS.
Create your free account or log in
for more features.