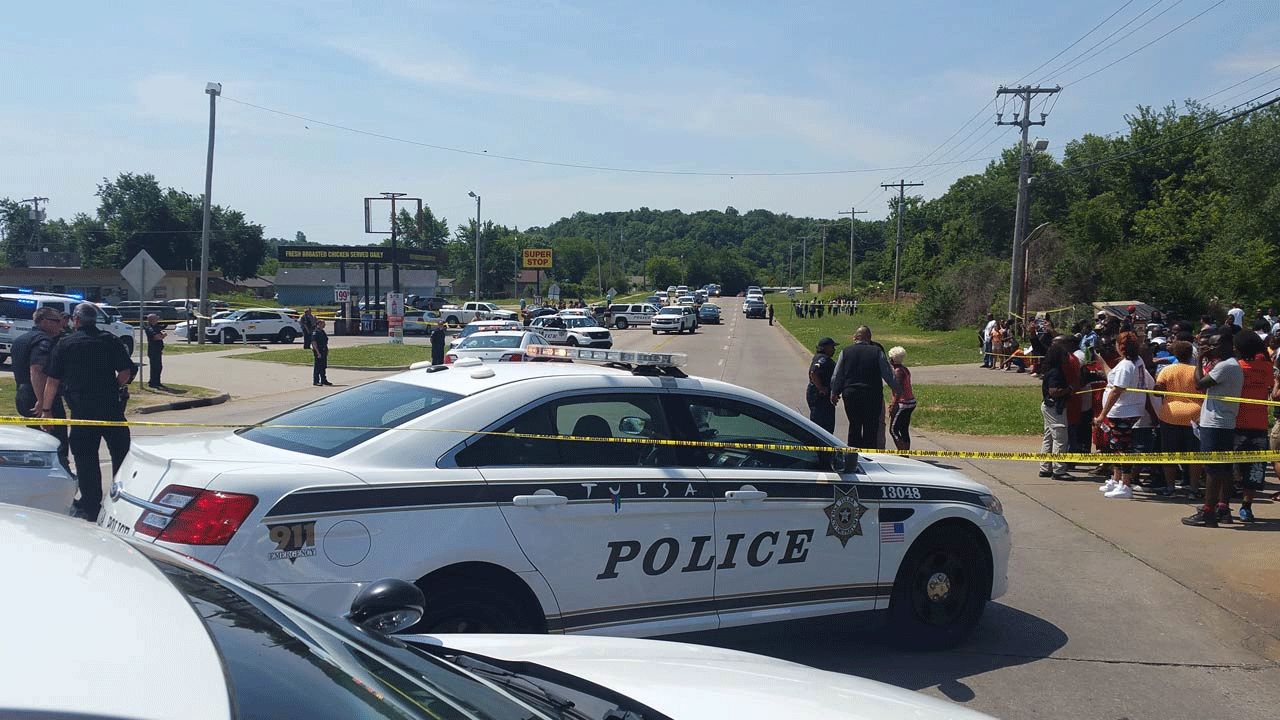 Deputy involved in mentally ill man's fatal shooting once shot woman in face
TULSA, Okla. - One of the three Oklahoma officers involved in last week's fatal shooting of a mentally distressed black man was sued in federal court in 2008 after shooting a woman in the face, court records and the woman's former attorney said Thursday.
Tulsa County sheriff's deputy William Ramsey was cleared by the sheriff's office in that 2006 shooting in which he emptied 12 rounds from his pistol while Ashley Barr drove by in a pickup truck. The woman said she had fired a gun into the air to break up a fight at an apartment complex and was driving away, but Ramsey claimed she was trying to harm his partner with her truck. A federal judge sided with Ramsey in 2009, awarding him legal fees.
Details of that case emerged as authorities released more footage of last Friday's fatal shooting of 29-year-old Joshua Barre. The most recent video was recorded by the body camera of Tulsa police officer Donnie Johnson, but the footage doesn't show the shooting because police said Johnson turned on his camera seconds after shots were fired. The video shows Barre lying on the floor of a convenience store he had just entered.
Last week, police released store surveillance video that showed Barre, who was barefoot, shirtless and wearing a winter stocking cap, push the store door open as he clutched two butcher knives in his right hand.
Authorities have said Barre walked away from two members of a sheriff's mental health unit who had gone to pick him up for an evaluation. They said he walked about a mile carrying two knives before he was shot.
Barre's family said he was off his medication and had been in declining mental health since his father's recent death. They questioned why the deputies allowed him to walk away without using a less-lethal method to subdue him. His mother, Etta Barre, said they were familiar with her son and knew about his condition.
"They should've called me, they had my number," she told The Associated Press on Wednesday.
Ramsey, Johnson and deputy Brandon Walker have all been on paid administrative leave since the shooting. Ramsey and Walker are white, and Johnson is black.
In the earlier shooting case involving Ramsey, he and another deputy were on a mental health call in 2006 at an apartment complex when Ramsey heard a single gunshot, records show.
Ashley Barr, who fired the shot into the air, testified later that she did so only to break up a fight that had erupted at the complex, fearing her friend would be harmed in the melee if she didn't act. In her federal lawsuit filed in 2008, she said that she and the friend got into the pickup after she shot and tried to drive out of the parking lot.
Ramsey, who later said he feared his partner was in danger as the pickup drove forward, fired repeatedly at the vehicle. One bullet struck Ashley Barr under her jawbone, passed through her neck and mouth and exited her right cheek, her former attorney Thomas Mortensen recalled Thursday.
"I'm surprised that she was alive after that shot," he told the AP. "It was within inches in either direction that would have killed her."
The lawyer added: "He was spraying the entire area. It was something that you look at and you're rather surprised anyone would think to do that and thankful no one else got hurt."
A jury acquitted Ashley Barr of assault with a dangerous weapon in 2007 and instead found her guilty of a misdemeanor charge of discharging a firearm in a public place. She later filed her lawsuit, which she lost.
Ramsey, who has been with the sheriff's office nearly 30 years, didn't return a call seeking comment about either case. A number dialed earlier for Ramsey was no longer working Thursday night.
Thanks for reading CBS NEWS.
Create your free account or log in
for more features.