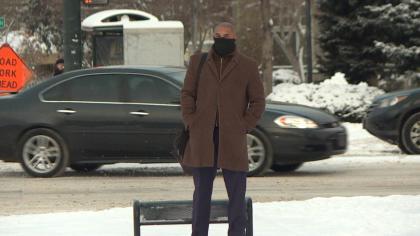 Temperature in Denver plummets 72 degrees in 40 hours, officials say
DENVER -- Sitting at a mile above sea level and in the shadow of the Rocky Mountains, Denver is known for having an extreme climate. But the most recent temperature swing ranked as one of the biggest ever observed, CBS Denver reports.
According to the National Weather Service in Boulder, after a high of 69 degrees at 2:27 p.m. Sunday, Denver's official low hit 3 below zero just over 40 hours later Tuesday at 6:45 a.m.
The 72 degree drop tied for the eighth biggest swing ever noted in a period of two days or less. It also landed in the top 20 biggest temperature swing events for Denver since records began in 1872, according to the National Weather Service.
Neither the 69 degree high or the 3 below zero low were new daily records but they were close. Sunday's record high was 73 degrees set in 2016 and Tuesday's record low was 5 below zero set in 1955.
Oddly enough it was the second time in just four months that such an extreme temperature swing was observed. In October 2017 the temperature dropped 71 degrees between the 25 and 27.
Thanks for reading CBS NEWS.
Create your free account or log in
for more features.