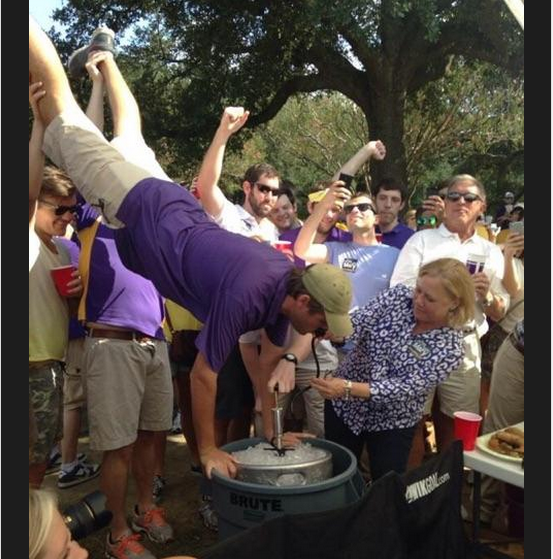 Democratic senator on beer keg spigot duty at LSU tailgate
National press and talking heads of the Republican persuasion had a field day over the weekend after photos surfaced of a Democratic senator assisting a late-20s-something with a keg stand at a Louisiana State University tailgate party.
The pictures show Sen. Mary Landrieu, D-Louisiana, manning the spigot helm as an LSU fan is hoisted upside down above a beer keg ahead of LSU's game Saturday against Mississippi State. A former Tiger herself, Landrieu reportedly made her rounds about her alma mater's campus - including a visit to her old stomping grounds at the Delta Gamma sorority - before eventually finding herself encircled by college students as they chanted for her to take part in a keg stand of her own.
Landrieu declined, but not before contributing to the probable hangover of what Mother Jones described as "a purple-shirted bro."
"My first keg stand," Landrieu told the Mother Jones reporter who trailed her pre-game festivities. "He wanted me to do it, but I said, 'Absolutely not - at least not in front of the national press.'" Pressed on whether it might have won her some votes, she shrugged: "That's alright - I'm not that desperate."
Realistically, though, Landrieu should be desperate. In what's already shaping up to be a rough year for Democrats in Congress, Landrieu is trailing, albeit by single digits, in polls against her challenger, Republican Rep. Bill Cassidy.
Another worrisome omen for Landrieu: At the game she attended, the Tigers lost to the Mississippi Bulldogs for the first time in more than a decade.
Thanks for reading CBS NEWS.
Create your free account or log in
for more features.