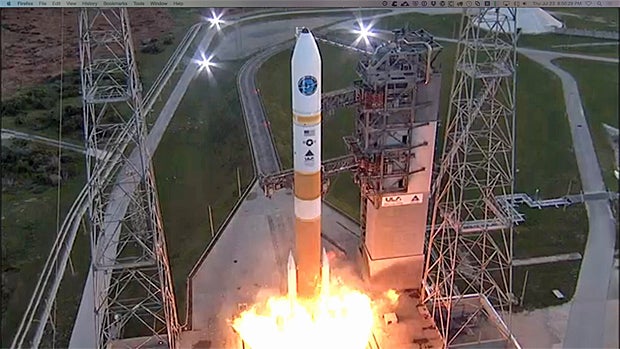 Delta 4 rocket launches military communications satellite into orbit
Putting on a spectacular sunset sky show, a United Launch Alliance Delta 4 rocket boosted a $566 million military communications satellite into orbit Thursday, the seventh in a globe-spanning multi-billion-dollar constellation of high-power video and data relay stations.
Running a day late because of stormy weather, the Delta 4 blasted off from pad 37 at the Cape Canaveral Air Force Station at 8:07 p.m. EDT (GMT-4), kicking off a fiery climb to orbit visible for miles around.
Generating a combined 1.5 million pounds of thrust from its hydrogen-fueled RS-68A first-stage engine and four solid-fuel strap-on boosters, the 217-foot-tall rocket smoothly accelerated skyward, rapidly shedding weight as it consumed its load of propellants and arced away to the southeast over the Atlantic Ocean.
The strap-on boosters burned out and fell away about one minute and 40 seconds after launch and the RS-68A shut down as planned just under four minutes into flight. The spent first stage then fell away and the rocket's RL10B-2 second stage engine ignited and fired for another 16 minutes to put the vehicle into a preliminary elliptical orbit.
A second three-minute firing finished the job and 42 minutes after liftoff, the 13,000-pound Wideband Global Satcom 7 communications satellite was released into a so-called "super-synchronous" transfer orbit with a low point of around 273 miles and a planned high point of about 41,550 miles.
Over the next three months, small on-board thrusters will be used to raise the low point of the transfer orbit and the relay station eventually will be moved into an operational slot 22,300 miles above the equator.
At that altitude, satellites take 24 hours to complete one orbit and thus appear to hang stationary in the sky, greatly simplifying communications by allowing the use of fixed antennas on the ground.
The Boeing-built WGS 7 satellite is the seventh in a planned constellation of 10 state-of-the-art communications stations that are replacing older Defense Satellite Communication System spacecraft.
Each Wideband Global Satcom spacecraft has 10 times the capability of the older satellites and, starting with WGS-7, an additional 17 percent improvement in bandwidth thanks to operational changes.
"This launch continues our ability to provide world-class, globally-assured communications," Robert Tarleton, head of the Air Force Military Satellite Communications Directorate, said before launch. "Wideband communications is the fastest way to get the information out there."
The solar-powered satellite features eight steerable X-band beams and 10 Ka-band beams covering 19 independent coverage areas with data transmissions speeds up to 3.6 gigabits per second.
The satellites handle a wide variety of communications chores ranging from relaying maps and data to soldiers in the field, to video from remotely piloted drones, voice calls and data messaging. They also relay email and television broadcasts to troops in the field.
"Our forces need communications," Rico Attanasio, Boeing director of Military Satellite Communications, told reporters before launch. "It's a fundamental need, and it simply has to be there. More and more, WGS is what puts it there."
Once in circular orbit 22,300 miles up, Boeing engineers will spend a month or so testing the spacecraft and moving it into its final operational position before turning it over to the Air Force around the end of the year. WGS 8 is scheduled for launch next year with WGS 9 following suit in 2017 and WGS 10 in 2019.
This was the 30th launch of a Delta 4 rocket since the current version of the booster began flying in 2002, all of them successful. Including the Atlas 5, ULA's rockets have now flown 85 successful missions in a row. ULA, a partnership between Boeing and Lockheed Martin, was formed in December 2006.
Thanks for reading CBS NEWS.
Create your free account or log in
for more features.