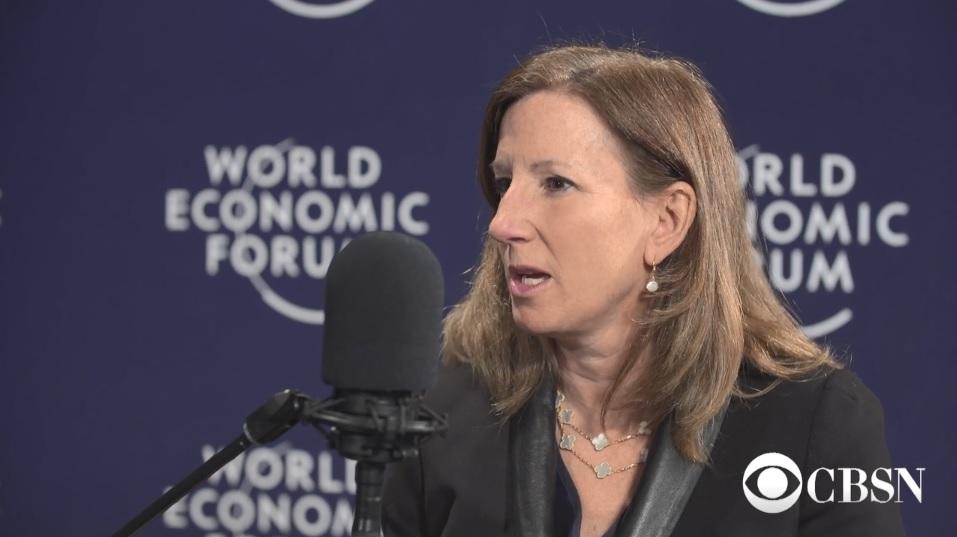 Deloitte's Cathy Engelbert on being a female CEO of a Big Four accounting firm
DAVOS, Switzerland -- Deloitte's Cathy Engelbert was the first woman to become a CEO of a Big Four professional servies firm. She recently spoke with Edie Lush -- co-host of Global GoalsCast -- at the World Economic Forum in Davos, Switzerland, about what it's like to be a woman in such a powerful role.
"At the time, the Wall Street Journal said you were, 'Cracking the glass ceiling,'" Lush said. "How does that feel?"
"I've gotten used to it now. But I talk about how we need to move these elevations of women into key roles from novelty to norm. I think it's really important to focus on that," Engelbert said. "It was a big deal to me personally to get this role. What I didn't realize was what a big deal it was outside the firm to get this role. It's been great to show that women can be leaders of big companies."
Engelbert juggles a busy schedule between her personal life and work life, but she makes it work. Outside of the office, she's a mother to two teenagers.
"It is really important to be a role model, and to share stories about how it works and how sometimes it doesn't work," she said. "And then learn from when it doesn't work, how you can adjust."
In September 2016, Engelbert changed Deloitte's leave policy, a move that was well-received within the company and helped them retain staff, as well as compete in the marketplace for talent.
"Our family leave program we think is industry-leading. Sixteen weeks for men and women, not just for parental leave, but for any family matters. It's been amazingly positive," Engelbert said. "Our people are fired up. The best email I got was from a man who said 'I hope I never have to use it for a sick parent or a sick child but if gives me peace of mind that it's there'. We did something that was right for our people."
"You've been looking this year to reposition Deloitte," Lush interjected. "Deloitte already serves about 85 percent of the Fortune 500, and you've been looking at being an innovation catalyst. With that, you've established a number of strategic partners: Apple, Amazon, Facebook and HP. What do those partnerships bring to Deloitte?"
"I think it's clear, no one company can do it alone in this fast-paced industrial revolution. We're obviously really good at serving our clients, have really good relationships with clients," Engelbert said. "We also partner with emerging growth companies. So there's a whole ecosystem where we think about it."
"The hardest part about being a CEO today, I think, is there so many shifts going on," she continued. "Where do you deploy your capital? What choices to do you make? What impact do you want to have? Then, you have to bring in the fact with a 62 percent millennial workforce, our people want purpose driven in everything we do. And you've got to take care of well-being. So, it's a fascinating time to be a leader and make these choices in how, again, you allocate not only your human capital, your financial capital, but your own time as a CEO."
Asked what she wished she had known earlier in her career, Engelbert responded: "Your career is not linear, it changes. You need to raise your hand and have confidence and take risks. When you don't want to do something, you have to have what you want to do right behind it. The leader that thinks of you for positions wants to know you're helping solve another problem they might have.
"I wish I had known more about when to raise my hand, how much confidence I could have in myself and my abilities," she continued. "I share my story a lot about failures I had because we learn so much more from our failures than our successes."
---
Is it possible to change the world? Can we still make the planet a better place for us all to live? UN special adviser Claudia Romo Edelman and Hub Culture executive editor Edie Lush -- hosts of the Global Goalscast -- believe the answer is a resounding 'yes,' and that everyone can play a part. Subscribe to the podcast here.
Thanks for reading CBS NEWS.
Create your free account or log in
for more features.