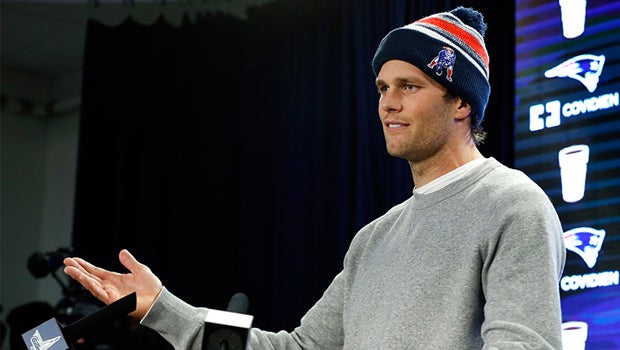 Tom Brady's "deflate-gate" denial sparks tsunami of doubters
Patriots quarterback Tom Brady stood before reporters Thursday for about 90 minutes and repeatedly denied any knowledge of deflated footballs in the AFC championship game.
But many critics - from former NFL stars to sports pundits - just aren't buying it.
Former defensive star Brian Dawkins told ESPN that it was "unbelievable" that Brady - who touches footballs on every single play - was clueless that they were under-inflated.
Fellow ESPN analyst Jerome Bettis was also incredulous: "I could not believe what I had heard. I'm so disappointed. I thought this was the perfect opportunity for Tom Brady to go and say, 'You know what? I made a mistake. I blew it. It's on me. I'll take the blame here and this will go away. He didn't do that."
Brady said he has not been contacted by the NFL, even though the league is investigating whether the team cheated against the Indianapolis Colts in the AFC title game.
"I don't know what happened," Brady said after his coach Bill Belichick also denied any knowledge of the deflated balls. "I didn't alter the ball in any way."
Brady added that he had "no knowledge of anything, any wrongdoing" when he was asked who might be responsible for the balls being below the 12.5 pound per square inch minimum.
"I'm very comfortable saying nobody did it as far as I know," he said.
But former signal callers were especially wary of Brady's claims. Former quarterback Mark Brunell, who played for almost two decades in the NFL, got emotional when asked about Brady's denial:
Former Cowboys quarterback Troy Aikman, also an NFL analyst, expressed skepticism even before Brady made his comments.
"It's obvious that Tom Brady had something to do with this," Aikman told KTCK-AM in Dallas on Thursday morning. "For the balls to be deflated, that doesn't happen unless the quarterback wants that to happen, I can assure you of that."
Many sports writers point out that it was especially tough to believe that Brady - who says he is meticulous about the condition of the footballs and all the equipment he uses - could not be aware of the balls' feel during the title game.
Said Sports Illustrated's Michael Rosenberg: "Maybe a manager did it on his own, maybe there was a porcupine in the ball bag. But Brady -- Tom Brady, the same extremely competitive, detail-oriented man who helped lobby the league to allow quarterbacks to supply their own footballs -- didn't notice they were under-inflated."
It wasn't just what Brady said that raised doubt, it was also how he said it. NFL.com columnist Judy Battista tweeted:
On Friday, Colts General Manager Ryan Grigson declined to comment about "deflate-gate," saying only: "It's in the league's hands."
Meanwhile Brady's teammate, defensive back Devin McCourty, was asked Friday if he believed the quarterback's story.
His reply: "Does it matter?"
Thanks for reading CBS NEWS.
Create your free account or log in
for more features.