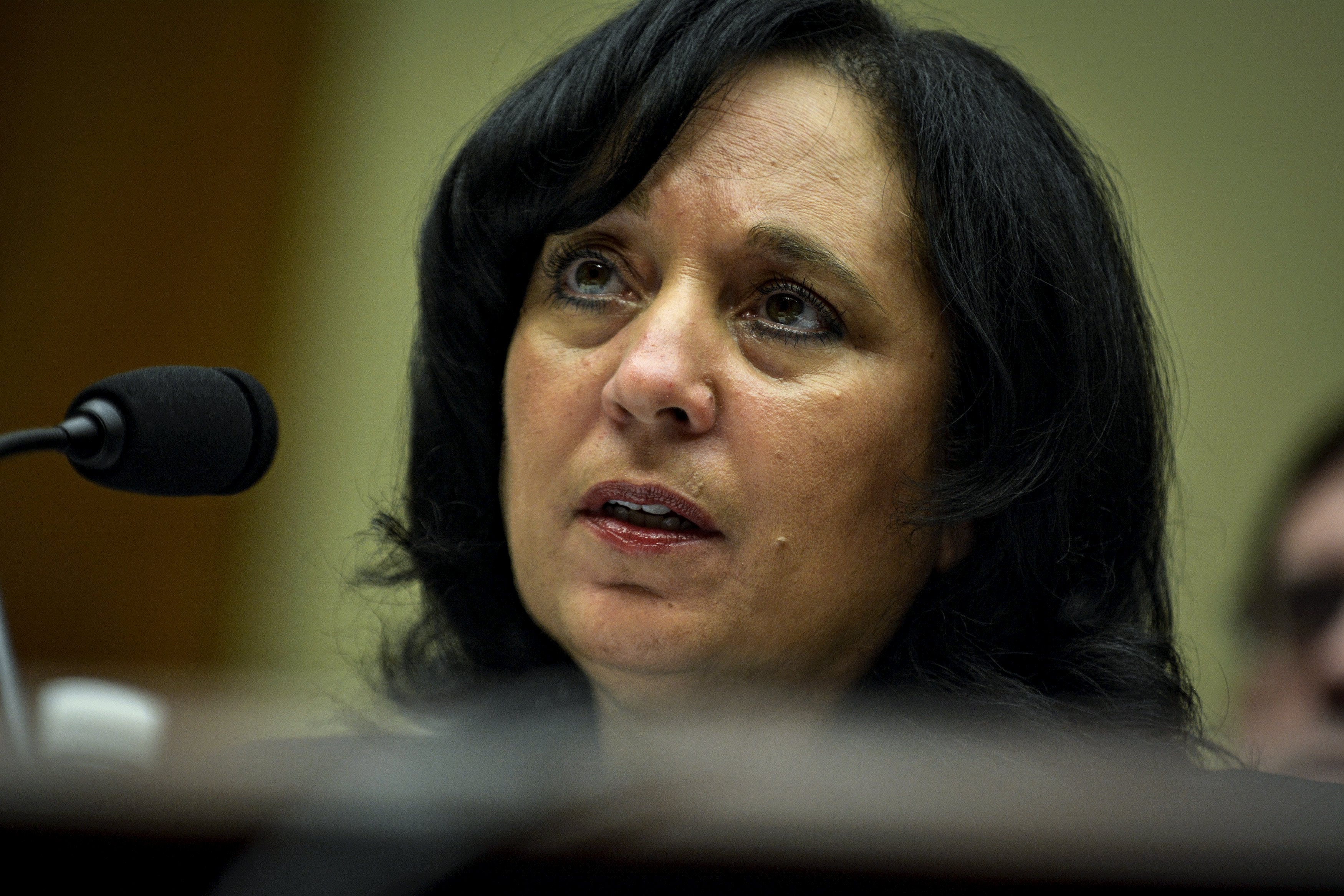 DEA Administrator Michele Leonhart retires
Drug Enforcement Administration (DEA) Administrator Michele Leonhart is stepping down. Attorney General Eric Holder in a statement, said that Leonhart had informed him Tuesday of her decision. She will leave the agency in mid-May.
Holder praised Leonhart, writing that she "led this distinguished agency with honor" and added that he was "proud to call her my partner in the work of safeguarding our national security and protecting our citizens from crime, exploitation and abuse."
He noted her 35 years of public service, saying, "She has devoted her life and her professional career to the defense of our nation and the protection of our citizens, and for that, I am deeply grateful."
Leonhart, who was confirmed to her position in December 2010 but has served in an acting capacity since November 2007, has presided over an agency that has been plagued by scandal in recent years. Just last month, a damning report from the Justice Department's Office of the Inspector General revealed that several DEA agents had engaged in "sex parties" with prostitutes paid for by Colombian drug cartels.
The agency also dragged its feet and withheld or redacted information during the investigation, the report said, so investigators do not know the full extent of the sexual misconduct. The local DEA leaders failed to report allegations of their agents patronizing prostitutes and frequenting a brothel. At least one of them was alleged to have solicited and engaged in sexual relations with prostitutes.
The report also says that a foreign officer claims to have provided protection for the agents' weapons and property during the parties, which occurred in government-leased quarters, and could have led to a security breach involving the agents' equipment.
The House Oversight and Government Reform Committee asked the DEA to hand over any internal documents related to the misconduct, and it found that this kind of behavior dates back at least to 2001.
Earlier this month, both Democratic and Republican members of Congress berated DEA leaders for the agency's history of sexual misconduct -- which was more extensive and egregious than previously reported -- and for the lack of accountability in the wake of revelations about this behavior.
New evidence about the extent of the misconduct shows "a truly breathtaking recklessness by DEA agents who are sworn to protect our country," Rep. Elijah Cummings, the top Democrat on the Oversight Committee, said at a hearing.
Leonhart, who appeared before Congress, said that government employee protections have made it hard for her to fire anyone. While the FBI is exempt from some civil service protections, the DEA director and other federal directors "are not allowed to invoke ourselves in the disciplinary process," she said.
But Rep. Jason Chaffetz, R-Utah, the committee chairman, was incredulous about her claims that she couldn't have done more. He cited a July 2009 incident in which a DEA agent in Bogota, Colombia was accused of physically assaulting a prostitute over a payment dispute. A security guard witnessed this agent throwing a glass and hitting the woman, though the agent claimed the woman harmed herself after having a seizure.
Leonhart is a career DEA special agent who rose through the agency over several decades. The office has a $2.02 billion budget and is responsible for over 10,000 employees in domestic offices throughout the U.S. and in 83 foreign offices in 63 countries.
Prior to becoming the agency's acting administrator in 2007, she served for three years as the deputy administrator. She previously served in the Senior Executive Service and was the special agent in charge of DEA's Los Angeles Field Division, one of the agency's largest, from 1998 to 2003. Before that, she was the Special Agent in Charge of DEA's San Francisco Field Division from 1997 to 1998, making her first woman ever to hold that position within the agency.
She began her law enforcement career as a Baltimore City Police Officer.
CBS News' Paula Reid contributed to this report.
Thanks for reading CBS NEWS.
Create your free account or log in
for more features.