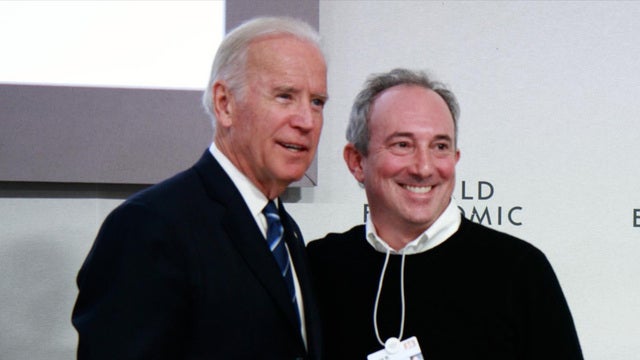 Dr. Agus: "Big data" is answer in fight against cancer
Vice President Joe Biden took his quest for a "moonshot" in the fight against cancer to the World Economic Forum in Davos, Switzerland Tuesday, where he was joined by cancer researchers from top institutions across the globe.
CBS News contributor Dr. David Agus - who also heads the Westside Cancer Center at the University of Southern California - was among the panelists, who, he said, all agreed on one "reachable" goal in the fight against cancer.
"We have to get better at sharing data. Something as simple as that is reachable," Agus told "CBS This Morning" Wednesday. "Big data is going to give us the answers."
But what researchers say holds much promise also remains the biggest roadblock, due to a disconnect in language across databases - such as calling a leg "broken" as opposed to "fractured" -- and privacy concerns about sharing data from medical records and biopsies, which have traditionally been restricted.
"People have been scared about sharing their data and hospitals say, 'Listen, I don't want to share the data because I can be sued,' but we have to change that," Agus said. "People have to step up and say 'I want to be part of the solution.'"
According to Agus, this focus on collaboration, not necessarily government funding, is the most important thing in moving the fight against cancer forward. He commended the vice president for using his personal experience -- of losing his son Beau to cancer -- to help others.
"If we all started to work together with a leader, I think we're going to make staggering progress," Agus said. "So I think Biden stepping up in a really amazing fashion and saying, 'This is my passion for the next decades. This is what I care about. I lost my son to this horrible disease and I got to see firsthand ... the inadequacies in our system, how data doesn't help us, how we can't transfer things from one doctor to another, how in a sense barbaric some of the treatments are and I'm gonna use that emotion in myself to help others.' I think that's powerful and we surely need it in our space," Agus said.
With just one year remaining under the Obama administration, the vice president has made his mission against cancer his priority. According to Agus, while in office, Biden should start to "build a framework" to "liberate" the data cancer researchers need, and also work with federal agencies -- including the FDA and Medicare services -- to ensure they "get things done quicker."
"We can develop one drug to treat cancer (but) in the future we have to develop lots of drugs together," Agus said. "Well that's a whole new regulatory and legal framework. And he's going to start now working with me and many other cancer doctors across the country to make a difference."
Thanks for reading CBS NEWS.
Create your free account or log in
for more features.