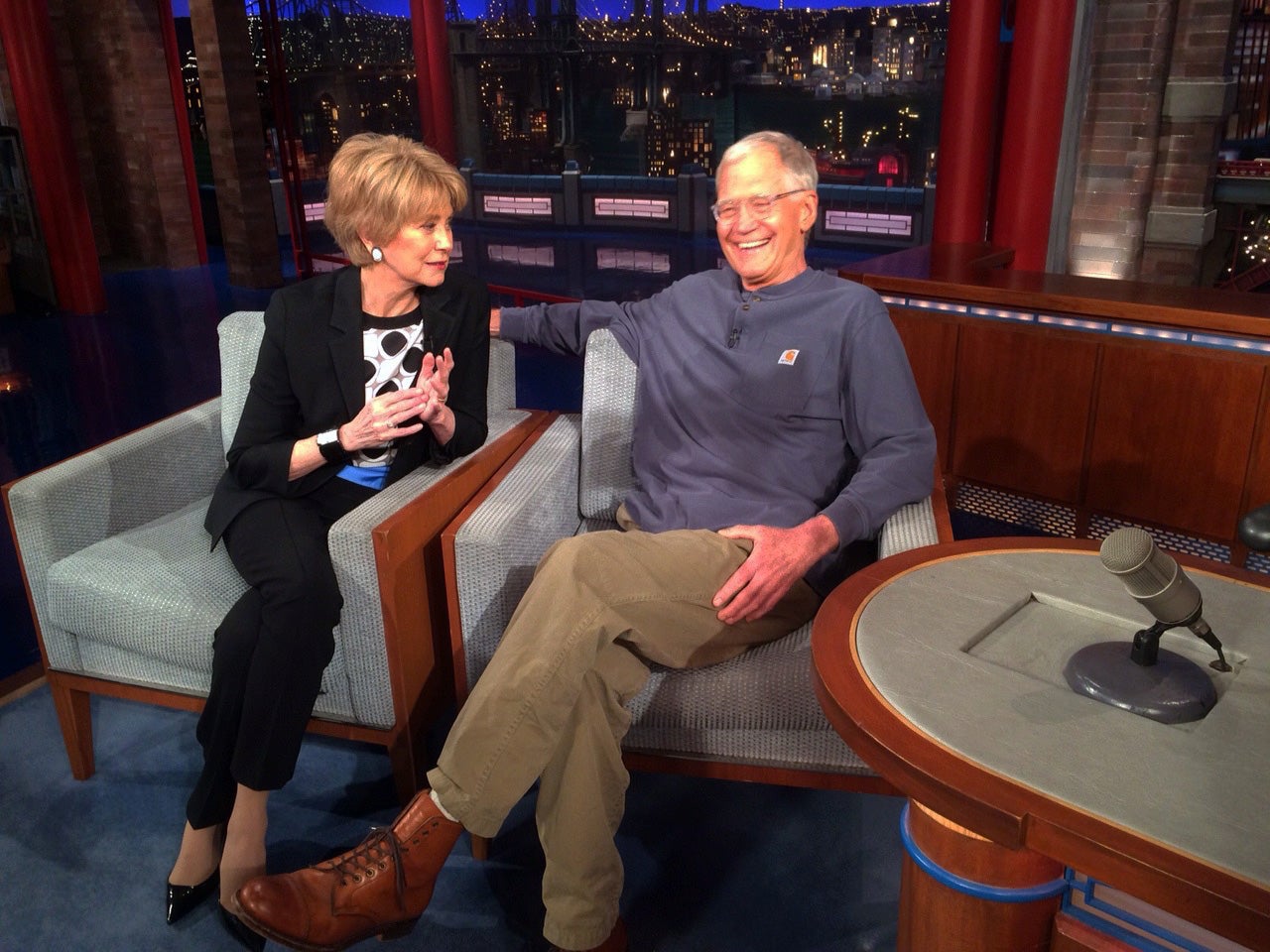 ​David Letterman: I'm not going away
Next week when David Letterman walks away from "Late Show With David Letterman," he's leaving the show, but not retiring from the business, he tells Jane Pauley in an interview to be broadcast on CBS' "Sunday Morning."
In his only TV interview before leaving "Late Show," Letterman was asked if he saw a vision of himself in the future. He says he does.
"Yes, I do. I can't speak to specifics," Letterman tells Pauley. "I can tell you the kind of feelings and emotions I hope will come of this, and that I'm looking forward to. And I think that will be fairly easy to accomplish. Now getting back into television perhaps will not be as easy to accomplish."
The interview comes as Letterman is preparing to say farewell to "Late Show" on May 20. When he retires, he will have hosted 6,028 late-night talk show broadcasts over 33 years, spanning his time on NBC's "Late Night" and CBS' "Late Show" -- more than any other late-night talk show host. Letterman and his broadcasts have been honored with 16 Emmy Awards and 112 Emmy nominations, a 1992 Peabody Award, and a 2012 Kennedy Center Honor.
In the candid interview, portions of which were shot at the Ed Sullivan Theater, Letterman opens up to Pauley about his career, his family, how his life changed after heart surgery, his frequent guest Brian Williams, and his past, which includes admitting he was an alcoholic and giving up drinking at 34. He said he started drinking when he was 11, and kept it up through college and into his TV career.
"And I drank right through 'till I was 34," he told Pauley. "And I had the show at NBC and I just said to myself, 'You're a fool, you're a dumb fool. You can't do this. You know, they just don't give these shows to everybody. You have one. And you drink yourself into trouble, you're done, pal!'
"And I just quit. Never took another drink."
With days to go before signing off, Letterman admits he's been spending time going through places in the Ed Sullivan Theater, his TV home since joining CBS in 1993, to capture the memory.
"So when I'm down here during band numbers or during commercial breaks, I will go to various places and try to memorize what it looks like and how I feel, and look at the audience and get the scale of things, because even though I've done it for so long, I don't ever want to be without a fairly accurate, fairly vivid impression of this experience," Letterman tells Pauley.
Letterman says the end of "Late Show" will be difficult for him.
"I'm not looking forward to it at all. I don't want to go to a party. I recognize that it's good -- cathartic, perhaps -- for all of us to be together, because it's not been easy on anybody who's been here any length of time for this to end," Letterman tells Pauley.
Preview excerpts from the interview will be broadcast on "CBS This Morning" and the "CBS Evening News With Scott Pelley" on Friday, May 15.
CBS' "Sunday Morning," hosted by Charles Osgood, is broadcast Sundays (9:00-10:30 a.m. ET) on CBS. The broadcast has been honored with two Daytime Emmy Awards for Outstanding Morning Program. Rand Morrison is the executive producer.
Follow CBS Sunday Morning on Twitter and Facebook.
Thanks for reading CBS NEWS.
Create your free account or log in
for more features.