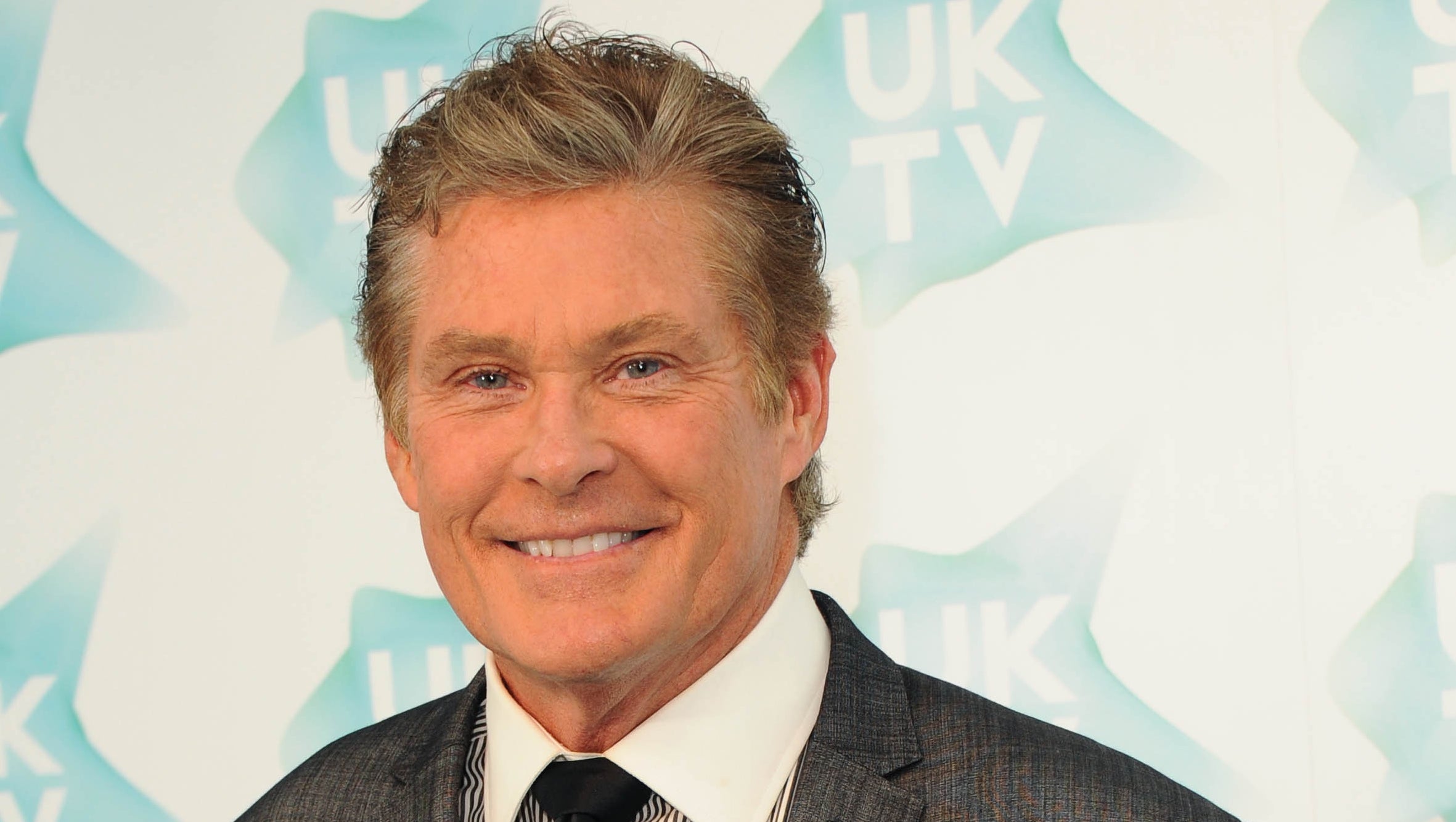 ​David Hasselhoff on "Ted 2", hobbling through "Sharknado 3"
David Hasselhoff has been on the road since September, shooting everything from the movie "Killing Hasselhoff" to a cameo in "Ted 2."
Needless to say, The Hoff has been quite busy, and in the midst of his crazy schedule Hasselhoff says he had to get "some knee work done."
The injury even affected his role in "Sharkando 3," the third installment in the hit Syfy franchise, co-starring Ian Ziering and Tara Reid. In the upcoming TV movie -- called Sharknado 3: Oh Hell No!" -- Hasselhoff plays Gilbert Sheperd, the dad of Ziering's character, Fin Shepard. You can expect to see a lot of Hasselhoff in the film; it's not just a cameo, he says.
"I hobbled through them [my scenes]," said Hasselhoff. "You'll see me hobbling through 'Sharknado 3' because I said, 'My character now has a limp!' I wrote it in -- that I jumped on a grenade during Vietnam and saved the entire platoon except for one person. I thought that was a funny line to put in and they allowed me to put it in."
Hasselhoff says he almost appeared in "Sharknado 2" last summer, but the timing didn't work out.
"They had a cameo for me last year...but I couldn't do it. Then they came back with the part of the dad. And honestly I hit it off with everyone so much," he said.
In the third movie, premiering this summer, the sharks take bite out of the East Coast when the 'sharknado' hits Washington, D.C. and Orlando, Florida.
"My character supposedly dies in the show. But I have a feeling that I might come back," he said. Sounds about right -- as we've learned, with previous "Sharnkado" movies, anything can happen.
Also coming up is a cameo in Seth MacFarlene's "Ted 2," hitting theaters on June 26. Although Hasselhoff didn't give much away about his big-screen pop-up, he did say it's "a fantastically hysterical part."
"I met Seth MacFarlane when I did the Comedy Central Roast," Hasselhoff said when asked how the part came about. "He was just so amazing because he was such a big fan of mine, growing up watching 'Knight Rider' and 'Baywatch.' Especially my music. I think he's a secret singer. He just loves to sing. And he knows that I sing and he knows that I've made a living going around the world, doing my own shows. We really hit it off."
"And then he went off and did 'Ted.' And I'm going, 'Hey, where's the phone call to me? I could have done a cameo in that!' And then I was a bit disappointed," he continued.
But that all changed, when he got a call to do a cameo involving his "Knight Rider" character for the sequel.
"All of a sudden 'Ted 2' comes around and he [MacFarlene] comes up with this idea of KITT, David Hasselhoff and Ted. And it's kind of self-effacing," he revealed. "It kind of puts me down, which I kind of like a lot. And it gives me a chance to set the record straight and it's really really really fun. It's a short bit in the movie. But when we filmed it the response was phenomenal."
In the mean time, the former "Baywatch" and "Knight Rider" star has been filming his own upcoming movie, "Killing Hasselhoff," about a man who tries to win a celebrity death pool by hiring a someone to kill David Hasselhoff. Yes, that's the premise. Due out later this year, the comedy will feature appearances by Howie Mandel, Rick Rox, Justin Bieber, Hulk Hogan, Ken Jeong and more.
"We're getting a fantastic response," said Hasselhoff.
On top of that, he's in the midst of writing a musical inspired by his 1980s life, and he recently shot seven episodes of a TV series called "Hoff the Record."
About "Hoff the Record," he said, "It's like David Hasselhoff has got five ex-wives and he flips out and he moves out of the country. He moves to the U.K. and runs into his illegitimate son and stars this career over out there."
Just this month, Hasselhoff teamed with Clorox and Homejoy for a new campaign, aptly dubbed Hassle Off. The actor stars in a series of Vine videos and Pinterest how-to guides that educate how to clean without the hassle of traditional cleaners. It coincides with the release three new Clorox products, such as Clorox ScrubSingles.
"I took the Hassel out of the Hoff and now I'm taking the hassle out of cleaning," he said about the campaign, adding, "It really is funny to me this whole campaign. I like to do commercials that people think I would never do and then have fun with them."
Recently, there's been talk of a big-screen adaption of Hasselhoff's 1990s hit series "Baywatch," with Dwayne Johnson tweeting about it last fall. But if you ask the Hasselhoff, he has no idea what's happening with those plans.
"I can never really get a handle of what's going on with it. Every time I read something about it I call and say, 'What's going on?' And no one can ever really give me an answer on it," he said. "It's kind of the same thing with 'Knight Rider.' I don't think they have a handle of what's going on with 'Knight Rider' or 'Baywatch.' I know with 'Knight Rider' they were going to try to spoof it."
With everything going on with his current career, Hasselhoff says he's always looking forward.
"I look at that as part of my past and part of a glorious past that made me a ton of money and opened up the world," he said. "And everybody wants to take it and change it and make fun of it. That's their prerogative. But I'm all into bigger and better things."
Still, he's not completely shedding characters Michael Knight or Mitch Buchannon just yet.
"I'll always have 'Knight Rider' and 'Baywatch' in my life," he said.
Thanks for reading CBS NEWS.
Create your free account or log in
for more features.