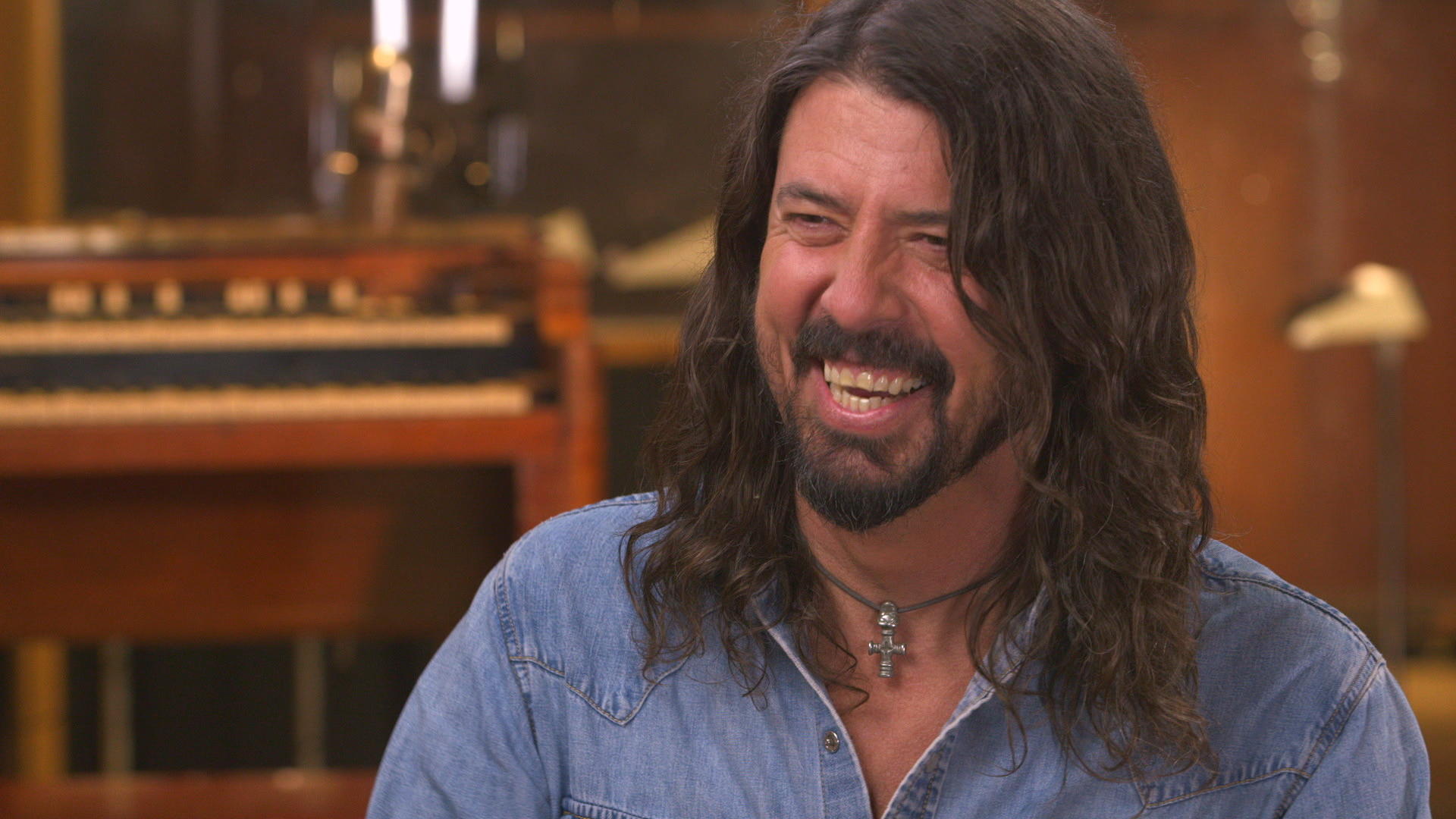 Dave Grohl of Foo Fighters: "I love music, and I love life"
"Learn To Fly" has been a hit Summer Song for the Foo Fighters for almost 20 years now ... not that their long run has always been easy going, as Anthony Mason can tell us:
Under the San Bernardino sun last fall, 30,000 fans came out for an old-school rock festival. If rock 'n' roll is supposed to be dead, then Cal Jam was a resurrection. The headliners were America's biggest rock band, the Foo Fighters, whose 49-year-old frontman, Dave Grohl, will go to any extreme to keep rock's flame burning.
Case in point: during a gig in Sweden two years ago, he fell from the stage, broke his leg and dislocated his ankle.
When Mason asked the other band members what they thought when that happened, keyboardist Rami Jaffi replied, "That there was gonna be a lotta time off!"
But Jaffi, drummer Taylor Hawkins, and rest of the band kept going while Grohl was treated backstage, until he was carried back out on a stretcher.
For two hours, Grohl played on from a chair while a medic tended to his leg.
Mason asked, "Did they give you painkillers? How did you do that?"
"No, I mean, the adrenaline of the stadium, and also the obligation," he replied. "I broke it in the second song. And I felt like all those people had come all that way."
The tour was interrupted for Grohl's surgery, but he returned in a custom-built throne of his own design, which was the star attraction last fall at the Cal Jam Museum, a tent filled with memorabilia from the Foos' nearly 25-year history, including their Grammy collection.
They've won Best Rock Album four times and won this year for Best Rock Song off their latest record, "Concrete & Gold."
"Run," from the Foo Fighters album "Concrete & Gold":
"Yeah, it's weird," Grohl said.
What's weird about it? "Ages ago, when I was a kid, my Dad said, 'You know, this isn't gonna last, right? Savor every check like it's the last one you're ever gonna make.' And every time we make a Foo Fighters record, I think, 'Well, if this were the last one, then we had a good run,' it would have been great."
Grohl came up through the punk scene in Washington, D.C., and its sleepy Virginia suburbs.
At 17, he dropped out of the high school where his mom, Virginia, taught English.
She assured Mason she was okay with that: "I was. He just didn't like it. And he was a really great writer and such a great spirit. He said, 'I'm going to Europe to tour with Scream.' 'Go, great. Can I go, too?'"
A few years later, Grohl was invited to join an up-and-coming Seattle grunge band, after its frontman, Kurt Cobain, caught his act.
"When most people think about Nirvana, they think about a video or a song on the radio, but to me it was a really personal experience with some friends that went from sleeping on floors to then being the number one band on the charts," Grohl said.
"Smells Like Teen Spirit," written by Kurt Cobain, Krist Novoselic and Dave Grohl, from Nirvana's 1991 album "Nevermind":
Grohl's first-ever platinum record now resides in his mother's house.
"Still, to this day, whenever I see a new artist that's young that blows up and becomes gigantic overnight, I kind of get worried for them," he said. "I don't think anybody's cut out for it."
"How did you do up there?"
"I was the kid with long hair in my face behind drums that looked like washing machines, and I could walk in the front door of a Nirvana gig and not really get noticed. So, I didn't have to suffer a lot of the pressures that Kurt did as the frontman."
It was a four-year rocketship ride aboard what became one of the biggest bands in rock history. At the height of it all, in 1994, Cobain took his own life.
Mason asked, "Where are you right after Kurt dies?"
"Just lost," Grohl said. "I went through a really dark period where I couldn't really even listen to the radio because it broke my heart just to hear music."
But quietly, the 25-year-old Grohl began to write and record songs of his own, playing all the instruments.
"I went to the cassette place down the street, [and] said, 'Could you make 100 of these,' and made a little card to go in it. And I just started giving it out to people. And I called it 'Foo Fighters' 'cause I wanted people to think it was a group."
He took the name from the military term for UFOs. "I've always been kind of a UFO nut, but also, it almost sounded like a gang, you know, like a karate gang or something. Foo Fighters! So yeah, it worked!"
In 1995 Grohl's songs were released as the first Foos album.
Along the way, Grohl recruited Hawkins and Jaffe, Chris Shifflett on lead guitar, Nate Mendel on bass, and guitarist Pat Smear, who was a touring member of Nirvana:
To watch the music video for "I'll Stick Around," from the debut Foo Fighters album, click on the video player below:
Mason asked Hawkins, "How would you describe the dynamic of this band?"
"Dave's the leader. And our job as a band is to make sure whatever is in his head gets on tape," he responded.
"Has the Nirvana experience, you think, informed Dave's approach to the band?"
"I think it did a lot," said Smear. "He was smart enough to pull out the good and say, 'I'm gonna do things like this,' and to look at the bad and say, 'I'm not gonna do this kind of stuff.'"
When asked if there were times when the band was in trouble Grohl said yes, in 2001 – the year Taylor Hawkins nearly died after a heroin overdose. He spent two weeks in coma; Grohl did not leave his side.
Hawklins said he was aware Grohl was there every day: "That was a heavy time. But he was always there. And he's always been there."
Grohl said, "That's when you forget about the band."
"Doesn't matter anymore?"
"No, that's when it gets real."
Dave Grohl himself gave up drugs when he was 20. It's one reason the Foo Fighters fight on.
"When I tell people I've never done cocaine in my life, they think I'm lying!" Grohl said. "But I love music, and I love life. And to me, survival is the game – that's the hardest part. I just wanna play music."
"The Sky Is a Neighborhood," from the Foo Fighters album "Concrete & Gold":

For more info:

Story produced by Jon Carras.
Thanks for reading CBS NEWS.
Create your free account or log in
for more features.