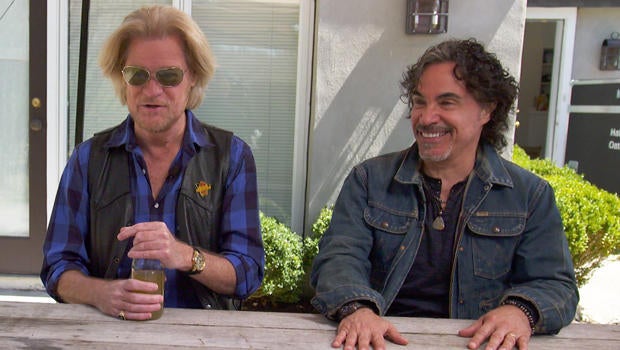 Daryl Hall and John Oates: No end in sight
"One On One" was one big hit for Hall and Oates back in the day -- and just one of the songs that keep the duo much in demand to this day. Here's Serena Altschul, For The Record:
The video for "Maneater" may be dated, but the music definitely holds up.
"Whoa, here she comes,
Watch out boy, she'll chew you up,
Whoa, here she comes
She's a maneater."

And at a recent rehearsal, Daryl Hall and John Oates ran through their greatest hits, gearing up for their latest tour, while looking back at a decades' old partnership.
"Did I think that I'd be working with John and we'd be sitting side-by-side all these years later?" Hall said. "No, it didn't even occur to me."
Daryl Hall is 70, and John Oates 69 … and for them and their fans, the dreams keep coming true.
"Our job is the job that everyone dreams of," said Oates. "Play instruments, sing, write music, make records. Why would you wanna quit?"
The duo has sold more than 80 million albums. They've been inducted into the Rock & Roll Hall of Fame, and the Songwriters Hall of Fame. Not a bad life for two very different people.
"If you look on every album we've ever made, it says, 'Daryl Hall and John Oates,'" said Oates. "Now, it may seem a subtle distinction. But we've always looked at ourselves as two individuals who are distinctly different, who work together. And to this day, that's how we view ourselves."
One thing they do have in common is Philadelphia.
"It's my hometown," said Hall. "It's where I was a kid. It was the biggest influence on me because I think the most important influences are your early ones. And boy, was I in the right place at the right time."
Both attended Temple University; both had their own bands. But how did they meet?
Oates took Altschul back to Philly, to the exact spot where Hall and Oates' history all began, at the site of the old Adelphi Ballroom. "This is freaking me out, by the way!" he laughed.
Their bands were to perform separately at the ballroom, but then a gang gunfight broke out.
"We had to leave," Hall recalled. "That's when we met. We met in the elevator. And I found out that he went to Temple."
"It's hard to go back in time," Oates observed. "You can have memories, but when the memories are connected to the actual physical space we're standing in the same space, basically Daryl's recording career and my recording career started in this room."
"Partners of almost 50 years," Altschul said.
"This is too much for me!"
After becoming roommates, they started jamming together. "I used to play my little Wurlitzer piano," Hall said. "And I had a mandolin, and I used to play that. And he had his acoustic guitar. It was proximity really. It was an interesting coming together of music. And I think it formed especially our original sound, this sort of hybrid of soul music and folk music."
In 1973 they co-wrote what would become their breakthrough song, "She's Gone."
"She's gone, she's gone,
Oh I, oh I, I better learn how to face it
She's gone, she's gone
Oh I, oh I, I'd pay the devil to replace her
She's gone, and she's gone
Oh why, what went wrong?"
"It was magical," Oates said. "It was creating something from nothing that, somehow, has a universal appeal, but at the same time is rooted in this everyday sense of loss."
And then, another pop classic, "Sara Smile," this one written by Hall. In a 1976 performance, preserved on YouTube, Hall holds a note for an impossibly long time. "Was I showin' off?" he laughed.

The hits kept coming, including "Rich Girl," even though it's actually about a guy!
"I wrote that chorus (He can rely on his old man's money), and then I left it for about a year," Hall said. "Then I sat down and I said, 'Well, 'Rich Guy' is stupid. That doesn't work.' So I changed it to 'Rich Girl.'"

By the 1980s Daryl Hall and John Oates had reached the top, thanks to a string of catchy songs, like "You Make My Dreams Come True" and "Turn Out the Light." They also became fixtures on the just-launched MTV. "They came to us -- you know, we had a bunch of hit records – and they said, 'We need music videos,'" Oates remembered. "And we said, 'What's a music video?' 'Well, wear some funny clothes, jump around in front of a black curtain and that's it.'
"You know, nobody knew what a video was, so we did these stupid videos," Hall said.
"Looking back, you think they were stupid?" Altschul asked.
"Oh, yeah. Of course!"
In 1984 they found themselves on the set of their "Out of Touch" music video, in which Hall wore what he called his "dog suit" ("'Cause I looked like a Dalmatian in it"). The song reached number one, but the video proved to be a turning point.

As Oates recalled, "So here we are, and Daryl and I are sealed inside this huge bass drum. It's 3:00 in the morning. And we're like, 'Look, what are we doing?'"
Hall added, "We looked at each other in the drum, and we went, 'Okay, this is what we're doing. Is this what we were meant to do in life?"
So at the height of their success, they took a break.
But they never really broke up.
Both continue to release solo albums. Oates has also written a new memoir, "Change of Seasons" (St. Martin's Press).
Hall created the popular "Live From Daryl's House," a web series where he performs with young artists, and legends like Smokey Robinson:

And while Hall and Oates don't record together anymore, they still perform as a duo -- and there's no end in sight.
"I'm so happy to have a multi-generational audience," Hall said. "And that's an amazing thing. I love that."
"We are now bigger than we ever were in our entire careers," Oates laughed. "If someone would've told me in the early '70s that, flash forward to 2017, we'd be playing giant stadiums and things like that, it's crazy!"

For more info:
Thanks for reading CBS NEWS.
Create your free account or log in
for more features.