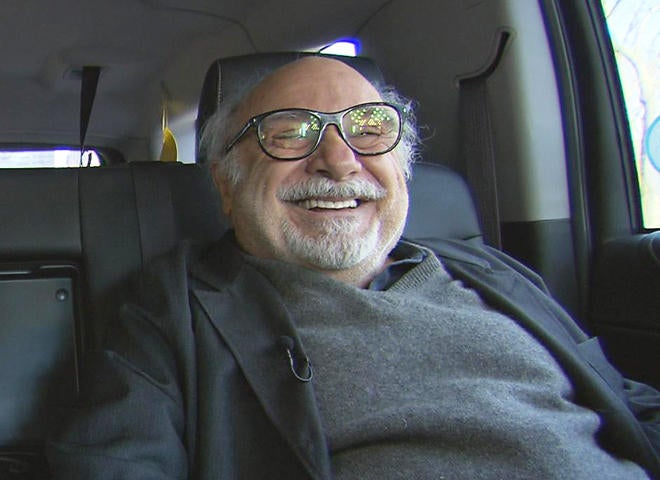 Danny DeVito, the scene-stealer
Danny DeVito is a little guy with a VERY large and loyal following ... one that appears almost instantly wherever he goes.
Our Sunday Profile is from Martha Teichner:
"New York City, baby!"
For a hint of how famous and loved Danny DeVito is, worldwide, watch him pose for selfies with fans from Scotland, England and Israel, while strolling through New York City.
"You're from London! I'm from Jersey!"
Leading Teichner on a tour of the New York City of his acting school days here 50 years ago, led to a polite feeding frenzy.
"I don't come out a lot, but it doesn't bother me," he said. "I'm not gonna throw myself into Times Square! It's like a chicken with a bunch of piranha, you know? They eat it up. I'm like a little dumpling!"
Louie DePalma in "Taxi" was the breakthrough TV role that made him a star in 1978.
But since then, there have been so many others, scene stealers all.
No matter how sleazy, how villainous even, DeVito somehow manages to make them irresistible -- and funny.
Teichner asked, "How would you describe your sense of humor?"
"Ahhh, it's unique. I like a good banana peel, I like all of that. I was raised on the Marx Brothers and the Three Stooges, which is a little cruel. It's kind of like, in a way, dark."
"You, just on the face of it, were not necessarily someone you would predict would become an actor, and an A-list actor, and a director, and a producer."
"You don't know. You don't know. Yeah, I never really thought of that. I went to the movies religiously every weekend, to escape from life. And you can imagine -- I always wanted to be that guy up there. Everybody thinks that when they go to the movies."
From Asbury Park, N.J., DeVito was younger by more than a decade than both his sisters. He grew up adored and protected.
"The thing about being in Jersey, and growing up with Louie Scalpatti and Sal Buradesco and Nicky Eddio and guys like that, anybody's gonna bully you they're in trouble. Nobody's gonna bully you, because you got your posse," he said.
"And you had your posse?"
"I had my posse big time. And emotionally, my posse was my family: My mother, my father, my sisters."
After high school, he worked in his sister Angie's beauty salon (yes, doing hair). Angie sent him to learn make-up, which is how he ended up at the American Academy of Dramatic Arts.
DeVito discovered he liked performing. Being short never got in his way.
"I never did not go for an audition because I didn't think I looked like the person," he said. "I think of all the characters that I've ever played, they're always about five feet tall."
One of his favorites was the Penguin in "Batman Returns."
Teichner said, "I think you should have gotten an Oscar for the Penguin."
"Uh, maybe for sitting in the make-up trailer for three hours! Sometimes I had to wear flippers."
"How do you eat lunch with flippers on?"
"Eating lunch is easy," DeVito said. "Somebody can feed you, but there are other things you have to do with your hands!"
"Do you have a sense of what is a Danny DeVito character that you're drawn to?"
"What I'm doing now. Solomon is, like, a great part. It's a character part, a 90-year-old Yiddish man. It's a little different. There's a lot of layers laid on this character that are unique for me."
At 72, Danny DeVito is making his Broadway debut in Arthur Miller's "The Price," circling back to the stage, where he began.
When asked about the exhausting eight-performance-a-week schedule, DeVito said, "Well, it's like, good. You want more. I would do more. I think it's, like, a good idea to do, like, ten, twelve shows a week."
Mark Ruffalo, a fan and now a friend, was in awe of his costar's work ethic: "Ask him to show you his script. It's like, it's curled!"
How did an Italian get into the mindset of a geriatric Jew? DeVito headed for Barney Greengrass, his favorite New York deli.
"I used to come couple times a week just to, you know, sit in, listen to people," he said, of inspiration for his character. "It's good to, like, try to daydream your way into it."
And, of course, a good excuse to eat matzo ball soup. "Just like Grandma Gertie used to make. Rhea's grandmother's was the best."
That's DeVito's wife and sometime co-star, the very funny, four-time Emmy-winner Rhea Perlman. Together since 1971, they have three grown children, and were until recently considered one of the most stable couples in Hollywood.
"We're not getting a divorce, but we separated, yeah," DeVito said.
"She was here for the opening?" Teichner asked.
"Oh, absolutely, we're really close. Well, we've been friends for 40-something years. We love each other."
At this stage in his life and career, what Danny DeVito doesn't want to do is slow down, or play it safe.
No clearer evidence of that is his role as Frank Reynolds in the bizarre black comedy "It's Always Sunny in Philadelphia." "These guys put me in, like, situations … it's like 'I Love Lucy" on acid, like, really far out."
Example: his infamous couch scene, when he was birthed "like a big halibut."
"Just like just coming out naked, like greasy from sweat. It was just amazing, it was so much fun. I had to do it several times. Came out, kept greasing myself up more, so I could come out faster!"
"You would do anything?" Teichner asked.
"Pretty much, pretty much. I've been slimed. I've fallen outta windows. I've had amnesia, all kinds of stuff happens to me. God, it's fun!"
So it shouldn't surprise you, the novel way Danny DeVito warms up in his dressing room: jumping on a trampoline.
Teichner said, "You have a lot of energy."
"I DO have a lot of energy!" he laughed.
UPDATE: On May 2, 2017, Danny DeVito was nominated for a Tony Award for Best Performance by an Actor in a Featured Role in a Play for "The Price."

For more info:
Thanks for reading CBS NEWS.
Create your free account or log in
for more features.