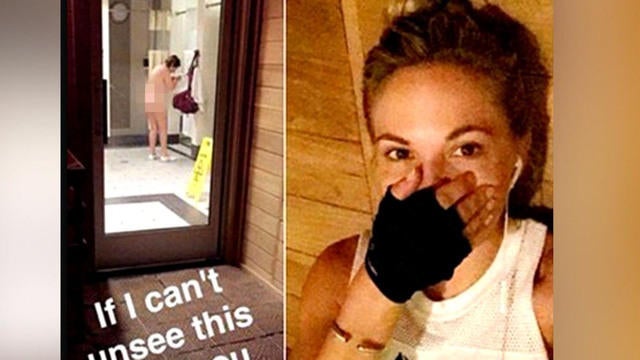 Playboy Playmate could face jail time for body-shaming Snapchat photo
Playboy Playmate Dani Mathers is used to having her body on display. But back in July, the 29-year-old captured an unsuspecting older woman on camera changing in the locker room of an LA Fitness gym.
She captioned the nude photo: "If I can't unsee this then you can't either," and posted it to Snapchat.
"There is no question that by her own caption that she intended to shame this woman and that's the nub of the case," said CBS News legal analyst Rikki Klieman.
The gym first alerted police after the post. The Los Angeles Police Department began investigating back in July, and the city attorney's office is now reviewing the case, reports CBS News correspondent Mireya Villarreal.
The alleged victim, reportedly in her 70s, has been identified and is willing to testify against Mathers.
If charged, Mathers could face up to six months in jail for violating California privacy laws.
"You are not permitted in California to take photos in specific rooms where a person has a reasonable expectation of privacy --they're bathrooms, dressing rooms, changing rooms, tanning booths and rooms like that," Klieman explained.
In a statement, an attorney for Mathers said the model "…never tried to hurt anyone at any time and never intended to violate any law."

After the incident, Mathers apologized in a Snapchat video and on Twitter.
"I know that body-shaming​ is wrong and that's not what I'm about," Mathers said in the Snapchat video. "That photo was supposed to be part of a personal conversation with a girlfriend and because I am new to Snapchat I really didn't realize I had posted it and that's a huge mistake."
But that excuse may not cut it in court. "For heaven's sake, this elderly woman, we should be applauding her. She's at the gym trying to make herself better," Klieman said. "You can rest assured that this is a case that is really going to cause deterrence for not only the person who took the picture but also for others."
Following the incident, Mathers was banned from LA Fitness for life and made most of her social media accounts private.
The city attorney is expected to decide soon whether or not charges should be filed.
Thanks for reading CBS NEWS.
Create your free account or log in
for more features.