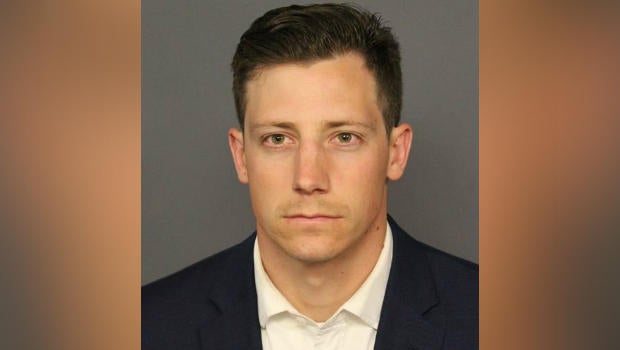 Dancing FBI agent charged with second-degree assault, booked into jail over back flip gunfire
DENVER – An FBI agent whose gun appeared to accidentally fire in a video showing him dancing at a Denver nightclub and doing a back flip before dropping the weapon has been booked into jail. Chase Bishop, who is based in the bureau's Washington Field Office, was charged Tuesday with one count of second-degree assault, the Denver District Attorney's office said.
Bishop turned himself in to the Denver Sheriff Department on Tuesday morning after a warrant was issued for his arrest, according to Denver police.
Denver Police had previously said they were awaiting the results of alcohol and drug tests before making an arrest. The district attorney's office said in a statement investigators are still awaiting the tests to determine Bishop's blood alcohol content at the time of the incident, and additional charges may be pending.
"We are filing this charge now rather than waiting until the [blood alcohol content] report is received, which we understand could take another week, because sufficient evidence has been presented to file it," Denver District Attorney Beth McCann said in the statement. "If an additional charge needs to be filed after further evidence is received, we can file those charges then."
Video from the June 3 incident shows Bishop landing a backflip at the Mile High Spirits bar, and reaching down to pick up the weapon that had fallen from his pants. As he grabs the gun, it can be seen firing.
A man who identified himself in an interview with ABC's "Good Morning America" as Thomas Reddington was shot in the leg. His attorney tells CBS Denver that Reddington suffered a serious injury.
Bishop, 29, was off-duty and on vacation when the shooting happened. He was taken to the Denver Police Department headquarters and later released to an FBI supervisor.
The FBI is conducting an internal investigation into the incident. Among the options are termination, suspension or reprimand.
Thanks for reading CBS NEWS.
Create your free account or log in
for more features.