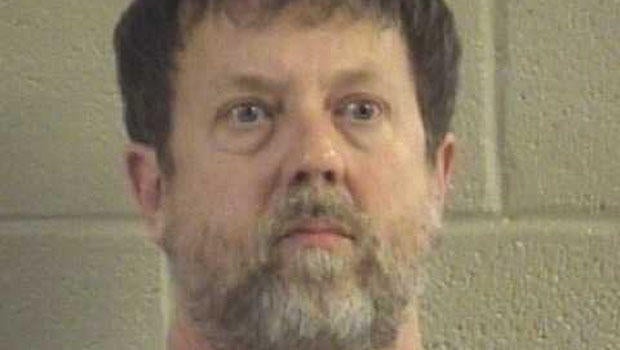 Ga. teacher gun suspect torched car in previous rifle incident: police report
DALTON, Ga. -- The teacher accused of barricading himself inside a classroom at a Dalton, Georgia high school and firing a shot Wednesday had a disturbing previous run-in with deputies in a neighboring county in which he wouldn't put down a rifle and set his car on fire, according to a police report obtained by Crimesider.
The August 2016 incident that drew Dade County Sheriff's deputies to the home of Jesse Randal Davidson didn't result in criminal charges, but Davidson was transported for a mental evaluation and the rifle and two other firearms in the home were confiscated, Dade County Sheriff Sgt. Chad Payne said. Eventually, the weapons were returned to Davidson's wife, but she was instructed not to allow him access to them, Payne told Crimesider.
The encounter was one in a string of bizarre run-ins he would have with authorities before the classroom gunfire incident, and police documents paint a picture of unhinged behavior and reports of apparent mental instability. Davidson had had two additional encounters with Dalton Police in 2016 and 2017, including one in which he allegedly made claims investigators weren't able to substantiate that he had ordered someone killed.
Police say Davidson, a 53-year-old social studies teacher at Dalton High School, blocked students from entering his classroom and locked the door Wednesday morning, prompting the school's principal Steve Bartoo to respond. Bartoo told reporters Davidson slammed the door when he tried to enter, made "nonsensical noises" and warned, "Don't come in here, I have a gun" before firing off a shot that police say went out the classroom window.
No one was struck by gunfire, but the incident caused panic as students evacuated the school. It also immediately stoked debate on social media about arming teachers, a proposal embraced by President Trump in the wake of a mass shooting last month in Parkland, Florida that left 17 people dead.
Dalton Police, who responded to the Georgia incident, still don't know what prompted it.
"We're really just trying to get a picture of what his motivations were, and what led up to the events of yesterday," Dalton police spokesman Bruce Frazier told Crimesider.
The Dade County Sheriff's report says that deputies responded to his home in Rising Fawn on Aug. 13, 2016 after someone called 911 and said Davidson had just set his car on fire. The dispatcher told responding officers it could be a possible suicide attempt because the caller sounded unstable, the report says.
Deputies found Davidson's daughter outside, visibly upset. She told an officer that she saw her father go outside with a rifle and then come back inside a few minutes later, still holding the rifle, and she saw his car was on fire. She said her father again went outside but instructed her to stay in the house.
"She could tell someone was wrong with her dad," the report says.
Davidson's wife came home, and the officer wrote in the report that he told Davidson's daughter and wife to get in his patrol vehicle "to drive to a safe location due to her husband having a firearm and possibly being in an unstable state of mind."
The wife told the officer she had gotten in an argument with her husband that day over money. She said her husband had texted her at work that he was "going to prison." When she called him to ask what happened, he would only say the he was going to prison and hung up the phone, the report says. She was leaving work when her daughter called her and told her that Davidson's car was on fire, she said.
The officer was then told that Davidson's son was in the backyard with his father, trying to persuade him to put the gun away. The son was also on the line with a 911 dispatcher, who told the officer that the son had been able to get the gun away from Davidson.
Officers approached Davidson and he was detained. The son told investigators that his father was "not acting like himself" and was sitting down with a rifle in the backyard watching the vehicle burn. He eventually talked his father into giving up the gun, which wasn't loaded, and showed the officer where he had stashed it in a building in the yard.
Davidson's family said he never pointed the weapon or threatened anyone with it.
Deputies confiscated the firearm along with two other rifles in the home that belonged to Davidson's wife. Davidson was transferred to a hospital for a mental evaluation. Because no criminal charges were filed in the case, the weapons were eventually returned to Davidson's wife, Payne told Crimesider, though Davidson wasn't supposed to have access to them.
Several months earlier, according to a Dalton police report obtained by Crimesider, Davidson walked in to the lobby of the Dalton police headquarters with his wife and said he wanted to confess that he had had someone killed. In an interview with police on March 21, 2016 Davidson said he had begun an online affair with a woman he called Jacqueline Enrique, saying it was his son's girlfriend.
He said he eventually told his wife about the affair, which lasted a few weeks. He said Jacqueline had been pregnant with twins and gave birth in September 2015, but that she was an "abusive parent" and one of the children had been hospitalized. When he ended the affair, he said Jacqueline continued contacting him and wanted to keep the affair going. When asked whether the woman was trying to blackmail him, he said no, the report says.
Davidson said he was approached by two friends who asked him if he wanted them to "take care" of her for him, to which he said yes. The next time Davidson contacted the two friends, he asked them if they had scared her, and they replied, "worse than that." He took it to mean she had been killed, according to the report.
Investigators were wary of Davidson's claims, saying he wouldn't tell them who the two "friends" were or how to get in touch with them. They couldn't verify that the woman he called "Jacqueline" existed, and no one with that name had been reported missing. When pressed for answers, Davidson would offer vague statements or say that he had deleted the information, the report says.
"Mr. Davidson did state that he was on several different medications for depression and had only just gotten out of the hospital today," the report says. "It appears that the subject may be delusional or had something else that occurred that is causing him to have these thoughts."
Convinced nothing he said was true, investigators had him transferred to a local hospital "based on him thinking about hurting himself."
On Jan. 25, 2017, another bizarre incident with Davidson was reported, this time on school grounds. Davidson told his supervisor at school that he was leaving for the remainder of the day because he wasn't feeling well, according to a Dalton Police report. An hour later, his son arrived to pick him up, saying that his father hadn't driven to work that day and had texted asking for a ride home because he wasn't feeling well.
Staff reported they had previously seen him in the far eastern hallway of the school, which they considered unusual because his class and department were on the other side of the campus. When no one could find him, staff and police started to search the school grounds. The report says the officer contacted the hospital, "due to Mr. Davidson having a history of medical problems."
Davidson was eventually found on school grounds. When the officer approached him, he was sitting on the curb and being held up by two staff members, although he was conscious and apparently not in any physical distress.
"I attempted to speak with Davidson as did staff members, but no amount of stimulus would draw a response from Davidson," the officer wrote in the report. He was transported to the hospital.
It's not clear whether the school was aware of the other two reported incidents involving Davidson, or what the "history of medical problems" referenced in the school incident was alluding to. School system director of communications Pat Holloway did not immediately return a call from Crimesider Thursday afternoon.
But Davidson was apparently well-liked on campus, where he had been teaching since 2004. Dalton High senior Rowdy Zeisig, 18, described him to the Associated Press as a dedicated teacher with a sharp wit who was "always laid back, very chill."
"He's probably not going to be a teacher again, which hurts me because he was such a good one," he said. "It's almost like I'm still in disbelief about it. It's like completely out of left field."
The AP reports that on game days, Davidson was the play-by-play voice of the Catamounts school football team on local radio. He authored the book "Catamounts! The Glorious History of Dalton Football," the Dalton Public Schools announced on its website in 2012, when the book was close to publication.
Speaking to reporters Wednesday, Steve Bartoo, the principal, described Davidson as a "good teacher." Responding to a reporter's question, he said there was no indication Davidson was unfit for the position.
Bartoo said he was shocked by the incident.
"It's certainly shocking to me that one of the staff members pulled out a gun in a classroom and fired it," Bartoo said.
Guns are not allowed on the school's campus, though it does not have metal detectors, the Associated Press reports. Davidson apparently used a computer bag to sneak in the weapon, a .38-caliber snub-nose revolver that he allegedly fired in the classroom Wednesday.
The revolver is not one of the weapons listed in the Dade sheriff's report as having been confiscated after the 2016 car-torching incident. It's not clear how Davidson obtained the revolver.
Davidson has been charged with aggravated assault, carrying a weapon to school, terroristic threats, reckless conduct, possession of gun during a crime and disrupting public schools, police say. He waived a Thursday court appearance. His lawyer did not immediately return a call for comment from Crimesider.
Thanks for reading CBS NEWS.
Create your free account or log in
for more features.