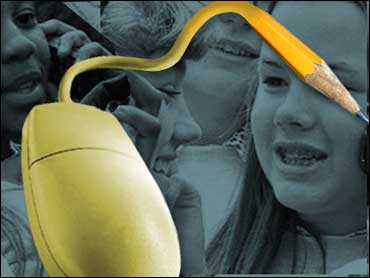 Cyber High Schools Start Taking Off
The scene at Columbia High School in Lake City, Fla., is common across the country, with hallways bursting with students trying to get to their next class.
For honors student Ericka Novoa, it's pre-calculus. After a full day of lectures and catching up with friends, Ericka's school day continues when she heads home and attends English class on her computer.
"It's not as hard as I thought it would be," she says. "I like the fact that I can go at my own pace."
This advanced placement course is available at Ericka's high school, but taking the course online is more convenient for her. "I would have to get up at 5:30 and I don't like getting up that early," Ericka says.
So Ericka enrolled at the Florida Virtual School, which has been delivering course work over the Internet for 10 years. A decade ago, online learning could have been easily dismissed as a trend, but now it's more likely to become a national standard.
So far, 38 states have established so-called cyber schools. In Michigan, an online course is a now a requirement for a high school diploma.
Online learning is growing so fast, the U.S. Department of Education hasn't even begun to track the numbers. But the halls of America's high schools aren't going to clear out just yet. That's because state-funded Internet courses are designed to supplement - not replace - a student's overall education."
Beyond state-funded programs, there's another option for the non-traditional student: privately run cyber schools.
Emilia Monell eventually plans to join the professional tennis tour, but for now, her morning practice sessions are followed by afternoons on the Internet, where she gets her entire high school curriculum from the University of Miami Online High School.
"It's very rare for an athlete to go to traditional school these days. Most of it is online, at least in the tennis world," Emilia says.
As Emilia's training required more time on the court, she lobbied her parents to searched for an alternate to the classroom.
Asked how life would be different or more difficult if Emilia didn't have the online learning option, her mother Terry says, "She wouldn't be able to travel to national tournaments and take time from school off."
"Or she wouldn't be able to train in Spain like she did this past summer. There are so many things that the portable classroom is a must because otherwise her options would be so limited that it probably wouldn't pan out in terms of the bigger picture," he father Ned adds.
So far, Emilia's online experience has been panning out pretty well: she is getting straight A's. "I've worked pretty hard and I value academics so I'm doing pretty well," she tells Turner.
"We are a traditional college preparatory high school that delivers their education online," explains Howard Liebman, who runs the University of Miami Online High School.
"Online learning is a form where students have an opportunity to access their coursework completely online whether that involves the text or videos or novels and then they have the opportunity to interact with their teachers," Liebman says. "It's really a self contained form of learning on the Web."
But virtual high school means missing out on mainstays like school plays and prom. "I get a lot of socialization through tennis. A lot of academy kids are doing the same program," Emilia says. "I may not be doing what some of my peers are doing, but I think that's ok and I am doing something and learning in a different way."
For Ericka, a mix of high tech and high school works for her. "I have all my friends there, my boyfriend. If I was home all day, I wouldn't see anybody, I'd only be able to talk on the phone and it wouldn't be as real."
The number of high school students logging on for class, according to experts, is between 500,000 and a million and growing at a rate of 100,000 students per year.
Thanks for reading CBS NEWS.
Create your free account or log in
for more features.