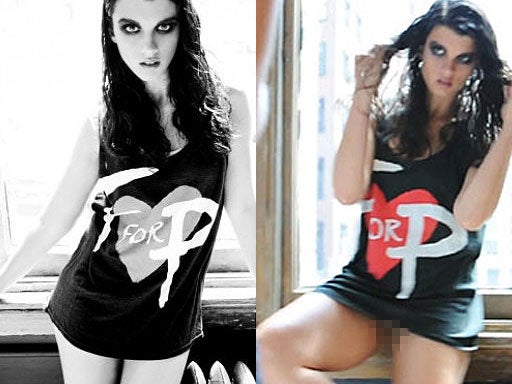 Crystal Renn: "Plus-Sized" Model Shocked by "Anorexia" Retouch
(CBS) America's obsession with thinness isn't making things easier for the countless women who are struggling with body image problems. Just ask Crystal Renn, who overcame anorexia to become one of the country's best-known "plus-sized" models.
PICTURES: Crystal Renn's Battle with Anorexia

The latest insult? Photos of Renn taken recently to support a children's charity were heavily retouched to make her appear much skinnier than she really is. Seeing the photos was a distressing irony for Renn, who has become an outspoken critic of the industry's seemingly single-minded focus on super-thin models.
Renn, 24, is a size 10. She said the pictures made her look like a size two.
"I didn't even recognize myself when I saw the photo," she told CBS News. "Friends had been emailing me, asking if I was all right. I was, but I was worried about girls with anorexia who would see these pictures and think that thin was better."
A behind-the-scenes video which shows Renn's actual figure can be seen here.

Renn described her own struggle with anorexia and body image issues in her book, "Hungry."
Photographer Nicholas Routzen, who snapped the pictures acknowledged "shaping" Renn in the photos, according to the Daily Mail. "I did nothing that I wouldn't do to anyone. I'm paid to make women look beautiful."
But that's just the kind of thinking that Renn finds so objectionable.
" I have made it my life to speak about feeling completely beautiful no matter what size you are," she says.
Renn says she has no objection to retouching to smooth skin and clothing in glamor shots. It becomes a problem, she says, when the retouching is so extensive that it promotes an unrealistic - and in the case of anorexia-prone young women, dangerously unrealistic - image of women's bodies.
Renn's advice for women frustrated by their inability to square their own bodies with the bodies they see on TV and in magazines?
"Don't believe everything you see."
See pictures of Crystal Renn's battle with anorexia.
Thanks for reading CBS NEWS.
Create your free account or log in
for more features.