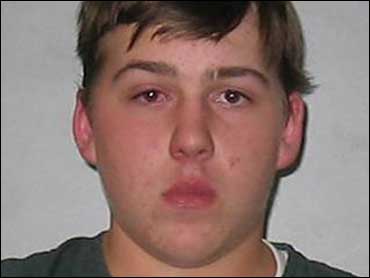 Craigslist Killer Gets Life Without Parole
A man convicted of murdering a woman he had lured to his home with an online baby-sitting ad was sentenced Wednesday to life in prison without the chance of parole.
The sentence was mandatory for 20-year-old Michael John Anderson, who was convicted Tuesday of first-degree premeditated murder and other charges in the October 2007 shooting death of Katherine Ann Olson, 24.
District Judge Mary Theisen decided the sentence for 20-year-old Michael John Anderson just before noon Wednesday
Almost everyone in the courtroom was in tears as Katherine Olson's mother, father, brother and sister talked of the dynamic young woman who was shot in the back, CBS Station WCCO in Minneapolis.
"Mr. Anderson is not just a murderer - he's a thief of the future of our family's joy," said the Rev. Rolf Olson, the victim's father. "He needs to be prevented from inflicting evil on anybody else's life ever again."
The Lutheran pastor said he believes God will help him to forgive Anderson, but "in this situation, I don't sense that there is any hurry."
County Attorney Patrick Ciliberto said that the case touched him and that the story of a young woman lured by a fake internet ad for a babysitter is a warning to all of us.
"As much of a good force that the Internet is, it is also a force for evil," Ciliberto said.
Outside the courtroom, Olson's family stood together in front of pictures of her and invoked their faith.
"The light of Christ has shown in the dark valley we have been walking through," Rolf Olson said.
Prosecutors said during the weeklong trial that Anderson, of Savage, ran a phony ad on the Craigslist classified-ad Web site in order to lure a woman to his home so he might experience what it felt like to kill.
Local Video from WCCO in Minneapolis/St. Paul
---
In closing arguments, prosecutors said Anderson's acts were premeditated. Chief Deputy Scott County Attorney Ron Hocevar told the jury Anderson simply wanted to kill someone on Oct. 25, 2007.
"He brought her over because he wanted to know what it felt like," Hocevar argued. "Well, he did."
Defense attorney Alan Margoles argued that Anderson, who didn't testify during the week-long trial, lured Olson over with no clear idea of why, reports WCCO. He said that when she tried to leave, Anderson, who had no experience with women, fell back on his video game experience and pulled his father's gun on her. He said Anderson then shot her accidentally when he tripped or flinched.
He also asked jurors to consider that Anderson lives in an "unreal world."
"He's to tell a woman at gunpoint that he wants to be her boyfriend?" Margoles asked. "Demand sex? We don't know. All we know is that this is a bizarre kid with no social skills."
After the verdict, Margoles said his case was hindered by the judge's refusal to allow him to discuss Anderson's Asperger's syndrome in court. Asperger's is an autistic disorder characterized by difficulties with social interaction. The judge ruled before the trial there was insufficient evidence that the disorder had anything to do with Olson's death.
Anderson declined to comment during or after the sentencing. Margoles conveyed on Anderson's behalf his "deepest regrets for his actions."
"Why did you do this? You are the only one who knows and I won't pretend to understand it," Theisen said from the bench. She added that Anderson was a "coward" when he shot Olson - who Theisen believed was "running for her life."
"You have shown no remorse and I have no empathy for you," Theisen said before handing down the life sentence. She also ordered Anderson to pay restitution of $6,500 from his prison wages to reimburse Olson's family for her funeral expenses.
Sarah Richter, Olson's older sister, said her sleep is interrupted nightly by horrible images from the murder.
"I'm haunted by Anderson's face, by Katherine's screams, the gun, her body in the trunk and now, the real bloody images of my sister," she said. "When will I sleep again?"
Thanks for reading CBS NEWS.
Create your free account or log in
for more features.