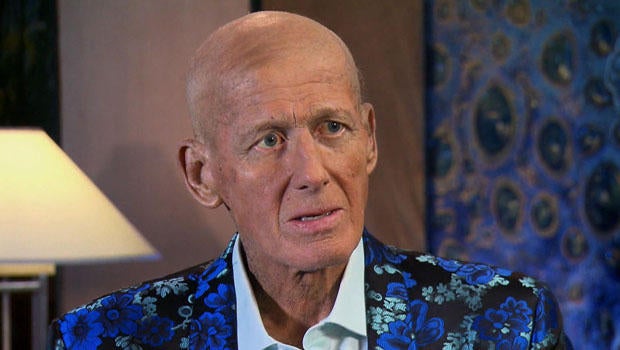 Craig Sager: "Every day is just a canvas waiting to be painted"
We pause now to remember sportscaster Craig Sager, who died Thursday at age 65 after a long battle with cancer.
Outspoken to the end, he recently gave his last TV interview to our Jim Axelrod:
For years Craig Sager was among America's best-known sportscasters -- a favorite of both players and fans for his engaging way of reporting and his flashy way of dressing.
His sports coats weren't loud -- they were a deafening roar. as player advised Sager, "You take this outfit home, and you burn it."
But recently Sager took his place as perhaps America's best-known cancer patient, honored this year at the ESPYs -- the Oscars of the sports world -- for the courage he demonstrated in his harrowing two-and-a-half year battle against leukemia.
"I will continue to keep fighting, sucking the marrow out of life as life sucks the marrow out of me," he said.
Axelrod asked Sager, "You've become perhaps America's highest-profile cancer patient. Do you ever think about that?"
"Not in those terms, no," Sager laughed.
He'd just finished his third bone marrow transplant at the MD Anderson Cancer Center in Houston when Axelrod sat down with him in October -- Sager resplendent in a flowery-black-and-blue number. Cancer could mess with a lot, but never with Sager's style.
"I'm fighting not only for myself and my family, but I feel I am fighting for everybody who has cancer," he said.
He spent more than 40 years relentlessly looking for scoops -- the guy in the trenchcoat not to be denied at home plate when Hank Aaron hit his 715th home run.
But at 65 the cancer left his familiar face a touch less familiar. He faced his dire diagnosis with strength and determination, moved by his newly-found capacity to inspire.
Axelrod asked, "Is there a way in which you look at this battle and can see the blessings?"
"Absolutely," Sager replied. "The response that I've gotten where people say, 'Oh, I've been a negative person all my life, and you've changed my life, and now, I'm more positive, and I'm happier.'"
Last month, he published a book: "Living Out Loud," combining a charmingly lighthearted look at his career with the most serious lessons about life Sager had gleaned from facing death.
Axelrod said, "I thought this was the key sentence of the whole thing: 'Funny how time takes on new meaning when others tell you that you don't have much of it left.'"
"Nobody knows how long they have left on Earth, you know?" Sager said. "There's no guarantees. And for me, when they tell you not once, twice, three times, that you only got a couple of weeks to live or a couple of months, you have to determine how you wanna do that."
Just last weekend, his doctors having told him there was nothing more they could do, Craig Sager got out of his bed and went to his 10-year-old son's basketball game on Saturday, and his 11-year old-daughter's game on Sunday.
Three days later, the day before he died, Sager celebrated his 14th wedding anniversary with his wife, Stacy.
"Is that where the victory is? How you live your life even during the battle?" Axelrod asked.
"Yes. I've said that every day is just a canvas waiting to be painted," Sager said, "and it's how you live that day. And that goes for everybody. Doesn't go just for me. It goes for everybody."
A good reminder for us all.

For more info:
Thanks for reading CBS NEWS.
Create your free account or log in
for more features.