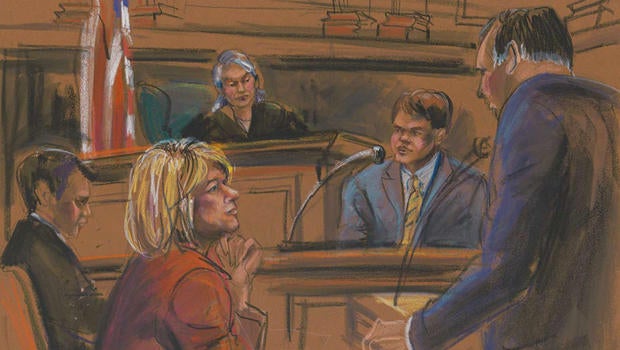 Courtroom sketch artists: Documenting history where cameras aren't allowed
Sketch artists draw a fine line Fine Line every time they sit down to work in a courtroom where cameras are banned. Lee Cowan has been watching some of the best of them:
"As Lohan officially surrendered, the judge ordered the cameras turned off -- leaving only a sketch artist to capture the moment she was cuffed and lead away."
There is a compelling power to art drawn on the fly, especially when the subject is famous … and in court.
Bill Robles has spent a lifetime capturing celebrities when cameras couldn't, from Madonna to Dustin Hoffman, from O.J. Simpson to Michael Jackson, down to the stubble on his face. "And he had that band aid over the tip of the nose, and people wondered if the nose was falling off or what!" Robles recalled.
There are the notorious, too: The Night Stalker, the Hillside Stranger, and the Unabomber, just to name a few.
Cowan asked, "So, do you think of yourself more as an artist or a journalist?"
"Oh, both," Robles replied. "You have to think like a journalist, but you're an artist."
An artist with little time to plan, and no time for mistakes.
Robles draws with a pen, no pencil. "Once I get the drawing to a finished state, then I add the color," he said. "But it's usually in a hallway that the color goes on."
Elizabeth Williams has sketched many a sketchy person, and she's written about them, too, in "The Illustrated Courtroom" (CUNY Journalism Press). Hers is certainly an odd job. Her work is rarely framed (except by TV cameras); she's under intense deadline pressure; and she's not allowed any artistic license.
"Courtroom art is really not very creative; it's really much more factual," Williams said. "But that's what it is. It's not intended to be creative. It's intended to inform."
Which is why the Library of Congress has mounted a first-of-its-kind special exhibit called "Drawing Justice." The Library has amassed a collection of thousands of courtroom sketches (dating back over five decades), many of which had been just gathering dust in studios all around the country.
Sara Duke is the exhibit's curator...and has drawings that date back over 5 decades...
There's Jack Ruby in 1964. There's also the David Berkowitz, the New York serial killer "Son of Sam" bursting out with obscenities in court; and mob boss John Gotti, giving a look that could kill.
"He made it clear that he did not like the way he was depicted," curator Sara Duke said.
Jacqueline Kennedy Onassis looks almost regal, while rapper P. Diddy -- back in his Puff Daddy days -- looks positively bored.
"Each drawing tells a story," said Duke. "Whether it's Martha Stewart nervously playing with her hair, or Joanne Woodward knitting during the Newman salad dressing trial. I mean, these are just moments that elude us if artists don't capture them."
It doesn't always go so well.
When courtroom artist Jane Rosenberg rushed out a sketch of the Patriots' Tom Brady during his "Deflategate" appearance, she wasn't only lampooned -- she was flat out mocked.
"I didn't make him look soft and beautiful, which he is," Rosenberg explained. "When I'm working fast, my lines are heavy and fast. I'm just trying to pull out quick things."
Elizabeth Williams is her own worst critic; she rejects more drawings than she approves. She doesn't settle on a face until she's doodled it … over and over and over again.
She tried capturing Lee Cowan's face. "You know, I'm not getting this right yet; it's probably going to take me probably a whole page of you, to get you," she said.
Bill Robles said, "People always ask me, 'Do you make them uglier because of what they've done?' No. You have to remain professional; you have to remain true to what you see."
Especially when it's someone like Charles Manson. Robles' drawing of the hippie cult leader appears to stare straight out at the viewer. "Yeah, he got into stares with all the media," he said. "There he is with the X carved [in his forehead], which he eventually turned into a swastika."
Robles says he'll never forget the day Manson leapt across the defense table in a failed attempt to attack the judge: "All of a sudden Manson, he hollered, 'Somebody has to cut your head off, old man!' And he leaped. Before I knew it, the bailiff tackled him in midair."
Often the most newsworthy moments are the most fleeting.
Take Bernie Madoff, the financier whose Ponzi scheme bilked billions out of investors. The image that mattered most was the image of Madoff in cuffs, but it happened so fast, Elizabeth Williams almost missed it.
"Federal Marshals came over and descended upon him and put handcuffs on him," she said. "I thought to myself, 'Holy moly, they're going to put this guy in prison right now!'
"I just started drawing him. I mean, his arms were back and his hands are cuffed, and I've got, like, the marshal and I've got the jail cell; they've got the door open.
"One of the victims came up and took her fingers and [with them] kissed right where his hands were handcuffed, and she said, 'That's just what I wanted to see.' And I said, 'That's right. That's why I drew it.'"
With a judicial system that largely prefers to keep a legal lens cap on cameras in court, it's still up to the sketch artist to trace history -- feature by feature, face by face.
Robles said, "I remember a reporter some years ago said, 'Here comes the dinosaur.' But here it is, 46 going on 47 years -- still doing it!"

For more info:
Thanks for reading CBS NEWS.
Create your free account or log in
for more features.