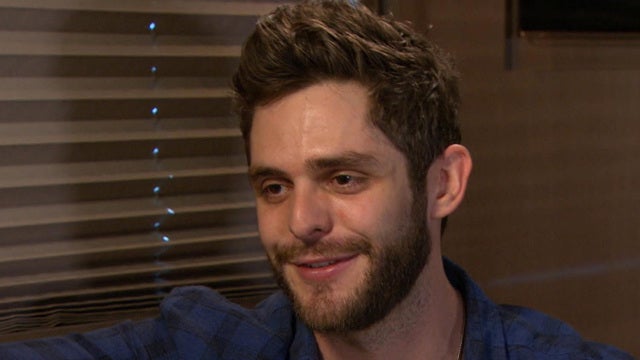 Country star Thomas Rhett reveals how his wife inspires him on stage
Singer Thomas Rhett is up for three awards at the Academy Country Music Awards Sunday, after an achievement not seen in this decade.
His "Die a Happy Man" video could seem like any other music video with a country star singing to a beautiful woman, but what makes it unique is that it chronicles the love story of a real-life couple -- Rhett and his wife.
"We love to let people in on our lives. And sort of just love to be an example of what it means to be in love," Rhett said.
What Rhett calls a "simple message straight from the heart" has now become one of the biggest hits of the decade, reports CBS News correspondent Michelle Miller.
"I knew the song was cool and special 'cause I wrote it about my wife. But never in a million years did I think that song would change my life and career the way that it did," Rhett said.
His wife Lauren is the inspiration behind it all, and their story begins in small town in Georgia, from first-grade friends, to high school sweethearts and even a breakup. In fact, both of them almost married someone else until her father got involved.
"Her dad called me and said, 'If you don't come over here tonight and tell Lauren how you feel about her, then I'm going to tell her how you feel about her.' So I was like, 'Well that would be so weird.'"
As their relationship has grown, so has Thomas Rhett's career. He had four number one hits on the Country Airplay chart, then released "Die a Happy Man." It climbed straight to the top and became the most played song on the radio for six straight weeks.
The music video has 43 million views and hip-hip star Nelly covered the song.
"I was pumped to see, you know, one of my favorite rappers growing up cover one of my songs. It's kind of like a crazy thing that happens," Rhett said.
Now, Rhett is on the road for more than half of the week, on tour outside of Atlanta. He said he just wants to show fans a good time.
"I'm a fun song maker. I love to make people smile. I also love to see them big, burly dudes crying because their wives' song is 'Die a Happy Man.'"
Rhett is a package deal. He's often on the road with Lauren and shares their adventures on social media. When it comes to love, they seem to hold back little.
"Lately, when I've gone on stage, she looks at me and she always kisses me and says, 'Go give the people what they want.' And it has changed my whole morale onstage," Rhett said. "I get out there and freaking just kill it."
Thanks for reading CBS NEWS.
Create your free account or log in
for more features.