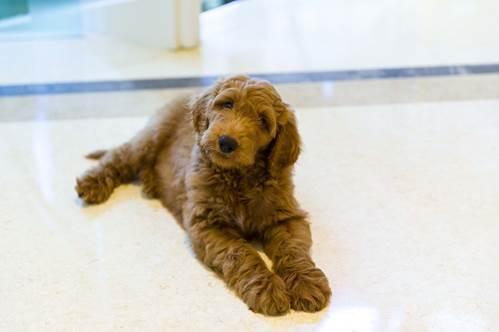 Could Trump get a Goldendoodle for the White House?
President-elect Donald Trump will move into the White House in January, and when he does, philanthropist and animal welfare advocate Lois Pope hopes a Goldendoodle puppy named Patton will join him.
As far as the public knows, the Trump household doesn't have any pets. But if Mr. Trump wants to follow a centuries-old American tradition, that is going to have to change.
And Pope, who has known the billionaire for more than three decades, says Patton is the perfect pup to become the nation's "First Dog."
Weighing in at 20 pounds, Pope predicts the 9-week-old puppy is "gonna be yuge."
The president-elect first saw Patton, named for the general Mr. Trump often praises, over Thanksgiving at his Mar-A-Lago estate in Palm Beach, Florida.
Pope said she showed the president-elect a picture of the dog — the offspring of American military hero service dogs — on her cell phone.
After examining the fluffy-haired dog, Mr. Trump turned to his wife, Melania, and repeated, "hero dog."
"He is not a 'hero dog,' but he comes from a lineage of hero dogs, dogs who have served in Iraq and Afghanistan," Pope explained to CBS News.
Then the president-elect asked Pope to show the photo to his son, Barron.
"I'm sure he'll want it," he told her.
Ten-year-old Barron looked up from his computer game at Pope's phone.
"I'd never seen such a big smile on anyone's face," Pope recalled. "It's worth all this time and the trouble and effort putting into this for [Barron]."
Barron is the real reason Pope is pushing the president-elect to adopt Patton, aside from hoping he'll follow a tradition that has taken place in the White House for 150 years.
"He's going to be a perfect dog for Barron. He's the one that I'm really doing this for," Pope said. "That's going to be quite a transition for him. He's only 10 years old and his dad is going to be the the leader of the free world."
Mr. Trump's team has yet to respond to CBS News' request for comment, though Trump's spokeswoman Hope Hicks told the Washington Post that "no decisions have been made" about a dog.
Goldendoodles come in different sizes, are hypoallergenic, are playful and they're very smart. The Obamas have two first dogs -- Bo and Sunny -- which are Portuguese Water Dogs. The late Sen. Ted Kennedy, D-Massachusetts, gave Bo to the first family after they entered the White House in 2009.
Pope is confident Patton is destined to be the White House top dog.
"That's up to them, but you know what, I certainly believe it will happen," the Florida resident said. "Patton stops shows. He's a show stopper."
Thanks for reading CBS NEWS.
Create your free account or log in
for more features.