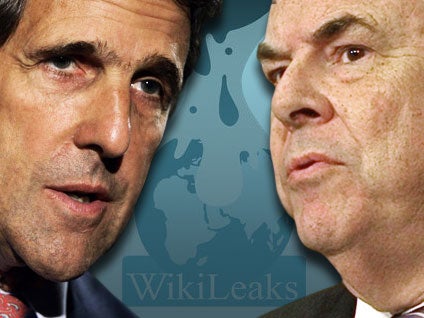 Congress Lashes Out at Wikileaks, Senators Say Leakers May Have "Blood on their Hands"
Updated at 5 p.m. ET
Congressmen on both sides of the aisle are condemning the massive leak of secret U.S. documents via the website Wikileaks as a reckless act that endangers American lives.
Senate Foreign Relations Committee Chairman John Kerry (D-Mass.) called the release of more than 250,000 classified State Department documents a "reckless action which jeopardizes lives by exposing raw, contemporaneous intelligence."
While WikiLeaks founder Julian Assange said he released the documents in the name of transparency, Kerry said that unlike the release of the Pentagon Papers, "this is not an academic exercise about freedom of information... Instead, these sensitive cables contain candid assessments and analysis of ongoing matters and they should remain confidential to protect the ability of the government to conduct lawful business with the private candor that's vital to effective diplomacy."
Sen. Joe Lieberman (I-Conn.), chairman of the Senate Homeland Security and Governmental Affairs Committee, called the leak "nothing less than an attack on the national security of the United States."
"By disseminating these materials, Wikileaks is putting at risk the lives and the freedom of countless Americans and non-Americans around the world," he said in a statement. "It is an outrageous, reckless, and despicable action that will undermine the ability of our government and our partners to keep our people safe and to work together to defend our vital interests. Let there be no doubt: the individuals responsible are going to have blood on their hands."
Lieberman said American citizens guide the "balancing act" between transparency and national security through the election of their congressional representatives.
"What Wikileaks is doing is to short-circuit this entire democratic process -- claiming for itself the exclusive, unilateral, and unchecked power to decide what should and shouldn't be made public," he said. "This is therefore not only an attack on our national security, but an offense against our democracy and the principle of transparency."
On CBS' "The Early Show" this morning, Rep. Peter Hoesktra (R-Mich.), ranking Republican on the House Intelligence Committee, called the leak a "massive" intelligence failure and said it could contain "a whole number of time bombs."
Rep. Peter King (R-N.Y.), the incoming chairman of the House Homeland Security Committee, went so far as to say WikiLeaks should be designated as a terrorist organization.
King also wrote a letter to Attorney General Eric Holder, asking him to "criminally charge WikiLeaks activist Julian Assange under the Espionage Act" for conspiracy to disclose classified information.
Yesterday on Fox News Sunday, Sen. Lindsey Graham (R-S.C.) said, "I agree with the Pentagon's assessment that the people at WikiLeaks could have blood on their hands."
Graham is a member of the Armed Services and Homeland Security committees. "Leaking the material is deplorable," he continued. "The world is getting dangerous by the day and the people who do this are really low on the food chain as far as I'm concerned. If you can prosecute them, let's try."
Also on the program, Sen. Clair McCaskill (D-Mo.), a member of the Armed Services Committe, said she agreed with Graham.
"The people who are leaking these documents need a gut check about their patriotism, and I think they're enjoying the attention they're getting but, frankly, it's coming at a very high price in terms of protecting our men and women in uniform," she said. "I hope that we can figure out where this is coming from and go after them with the force of law."
Update: Sen. Kit Bond (R-Mo.), the top Republican on the Senate Intelligence Committee, said in a statement, "It is critical that the perpetrator who betrayed his country be brought to justice for this deliberate treason that jeopardizes our national security."
"These leaks of stolen secret documents endanger our troops, critical terror-fighting operations, our relationships with foreign allies, and sources around the globe who cooperate with America at great risk to their own lives," he added.
While most politicians aimed their fire at Wikileaks, former Alaska Gov. Sarah Palin criticized the Obama administration for its handling of Wikileaks.
More on the WikiLeaks Diplomatic Cables:
Hoekstra on WikiLeaks: "A Number of Time Bombs"
Outrage Over Wikileaks
The WikiLeaks Impact
WikiLeaks Releases State Dept. Documents
Key GOP Pol: WikiLeaks a Terrorist Group
Ahmadinejad Dismisses WikiLeaks Cable "Mischief"
U.S. Cables: Iran Armed Hezbollah Via Ambulances
Hoekstra: World's Trust in U.S. Now at Risk
U.S. Encouraged Diplomats to Spy, Leaks Show
Leaked Cables Shine Light on Iran Nuclear Threat
Worldwatch: Embarrassing Revelations Abound
Worldwatch: Diplomatic Shockers
White House Condemns WikiLeaks' Document Release
WikiLeaks Defies U.S., Releases Embassy Cables
---
Stephanie Condon is a political reporter for CBSNews.com. You can read more of her posts here. Follow Hotsheet on Facebook and Twitter.
Thanks for reading CBS NEWS.
Create your free account or log in
for more features.