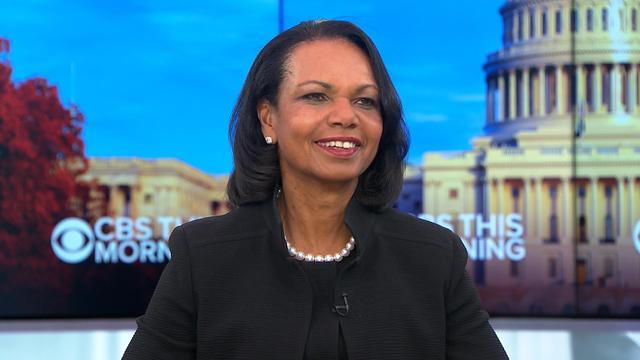 Condoleezza Rice reflects on the power of George H.W. Bush's humility
Much has been made about George H.W. Bush's dedication to his family, kindness and public service, but it was his humility, according to former Secretary of State Condoleezza Rice, that made him a great leader in one of America's most trying times.
"Humility was his best quality," Rice told "CBS This Morning." "It was never about him and I think that's what made him such a great president."
Mr. Bush is credited with orchestrating the end of the Cold War, the reunification of Germany and the peaceful collapse of the Soviet Union. Rice served on Mr. Bush's National Security Council as director of Soviet and East European affairs and helped Mr. Bush and his national security adviser reflect on that era for the 1998 book "A World Transformed," which documents foreign relations during his administration.
"When that famous story of after the Berlin Wall fell, all of us rushing to the Oval Office and saying, Mr. President, you have to go to Berlin for Truman, for Kennedy, and for Reagan. He said, 'What would I do, dance on the wall?' Then he said something else, he said, 'This is a German moment, not an American moment,'" Rice said. "At a time when the Soviet Union had to be quietly put to rest. To be triumphalist at that moment would have been very dangerous. It would never have occurred to him to be triumphalist."
Rice would go on to serve as President George W. Bush's secretary of state and credits his father with teaching her how to be a good public servant, one who cares about a relationship before you need something from that person. She also commended him for the "thousands of little decisions" he made along the way before the victories he's often remembered for.
"Some of them incredibly consequential, some of them very tough. Do you tell the Germans you know you really do have to stay in NATO as unified Germany? Can you find a way to deal with a Soviet Union that's collapsing in a way that's with dignity but without giving up on the principles that the United States had held since the end of World War II? And these decisions in retrospect look easy. In fact, they were hard and they were tough," she said.
"His was a life of consequence, that's quite clear in his presidency. Even domestically, the Americans with Disabilities Act, how many Americans today can go to a football game or to a restaurant because of that? A life of consequence, but also a life surrounded by family and friends. One of the things that I admire about the Bushes in general but him in particular, friends from decades and decades and decades ago. When your friends stay with you no matter how famous or how much difficulty you get into, you know that you've lived a great life. You're race has been run, as the Bible would say, you've run your race well."
Thanks for reading CBS NEWS.
Create your free account or log in
for more features.