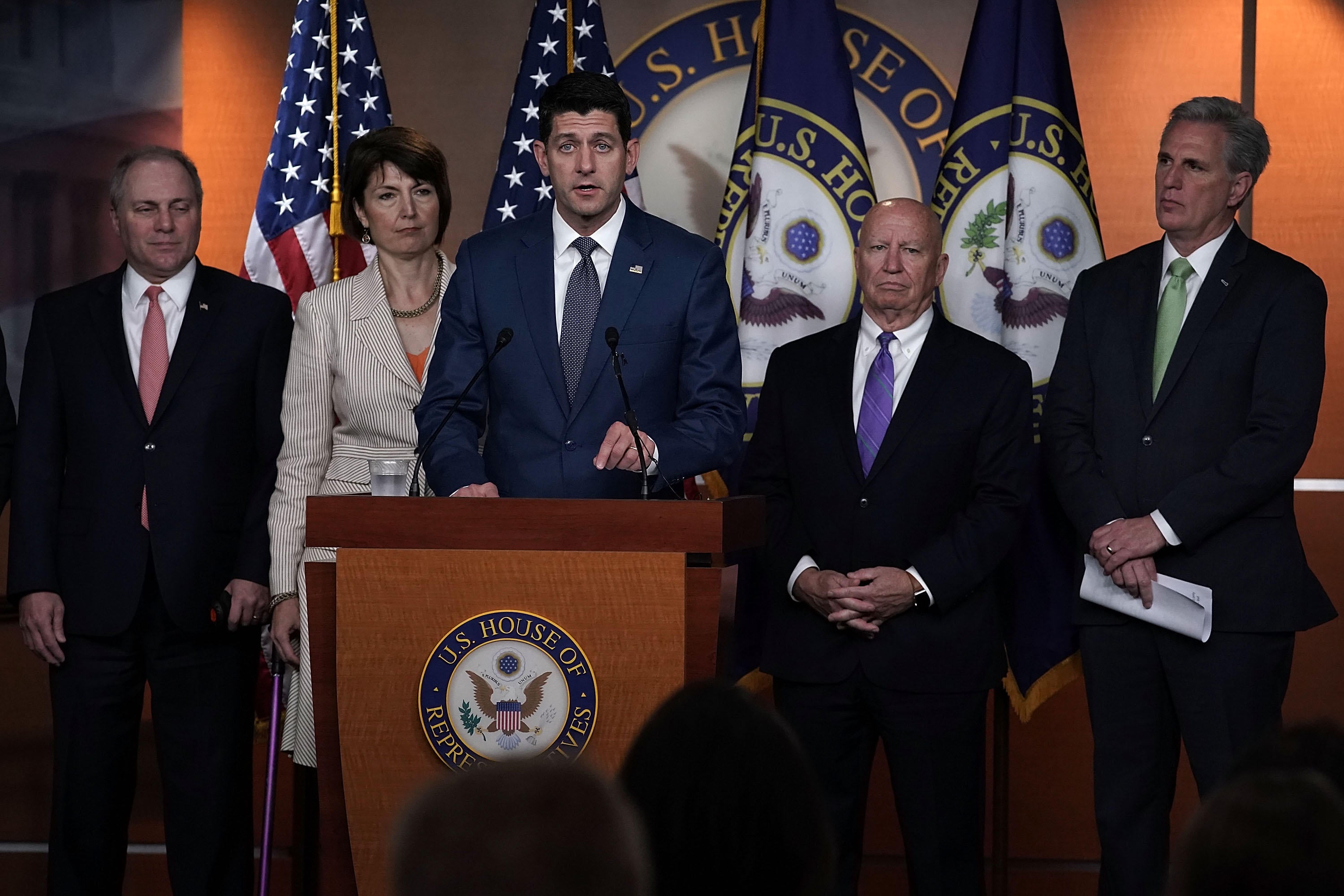 Commentary: Could Republicans hold the House in 2018? Yes
Could Republicans hold the House in the upcoming midterms? Don't be ridiculous! The odds are awful. History is against them. The polls are all pointing the other way. There's a better chance of an adulterous, loud-mouthed reality TV star being elected president of the United States...
Oops.
In the bright light of day, Democrats appear to have a lock on taking control of the House of Representatives. But as they drift off to complacency, Donald Trump's victory—a win that virtually nobody saw coming—still haunts Democrats' dreams.
According to the data-crunchers at FiveThirtyEight.com, the odds that the GOP will hold onto the 218 seats they need for a majority in the House are just 1-in-7. A slim 15 percent. These same polling experts, by the way, gave Donald Trump just a 1-in-4 chance of winning the White House.
But when angry Democrats demanded an explanation from FiveThirtyEight's chief guru, Nate Silver, for getting the 2016 race so wrong, he insisted that he hadn't. "Things with a 1-in-4 chance of happening happen all the time," he noted. And he's right.
As David Byler, chief elections analyst at the Weekly Standard pointed out to me, a 15 percent probability "isn't so far off the probability of rolling a one on a six-sided die -- so it's definitely not what you should bet on, but it's far from unthinkable."
The conventional wisdom is that a Democratic win is all but certain, and it's easy to see why: Democrats are raising money at a record pace and outpacing Republicans by a 2-1 margin; the "generic ballot" question continues to show a Democratic lead, and President Trump is underwater in virtually all of the swing states where Republicans are struggling to hold onto House seats. Add in the broader historic trend of the party winning the White House doing poorly in the first midterm two years later, and that's how pollsters get to a 85 percent chance that Nancy Pelosi will be picking out new curtains for the Speaker's office. (Assuming Democrats make her speaker again, but that's another story…)
But what about that 1-in-7 chance? What would have to happen for Republicans to roll snake eyes and sneak by with a win? Here are three reasons why the race for control of the House isn't over:
Republican motivation is real
"What we're seeing in our polling the past two weeks is that Democratic enthusiasm hasn't kept pace with Republicans," says Brett Loyd, President and CEO of the Polling Company. "In early September, the Democrats' generic-ballot advantage was around 10 points. Now it's down around 7 percent. Democrats just haven't been winning the news cycles of late."
Jim Geraghty, who tracks political races for the conservative National Review, acknowledges that about 15 GOP house incumbents are already "Dead Members Walking," but points out that there are a handful of races (CA 39, FL 27, WA 8) where Republicans are proving to be stubbornly strong. And, he says "remember that if the Democrats pick up 20 seats — usually a good year — the result is still a small GOP majority."
Rep. Tom Cole, R-Oklahoma, a key player for the GOP during the 2008 campaign when Democrats ran the table, told the Washington Post that this time is different. "They were resigned in '08. I think the mood now is we have a real shot."
Democratic turnout is uncertain
There are multiple reports that interest in the midterm election is at a record high. A new Wall Street Journal/NBC News poll finds nearly two-thirds of registered voters have a high level of interest in the midterms—the highest ever recorded in the Journal/ABC poll for a midterm.
But "interest" isn't the same as "turnout." And as CBS News pollster Anthony Salvanto points out, the turnout models giving Democrats a big win in the house rely on whether "low-propensity voters who tell us they are going to vote Democratic this year follow through and vote." They might…but they might not. The GOP, meanwhile, does best among older, white voters who have some of the highest voter turnout percentages.
In addition, some of the seats Democrats need to flip are suburban districts where the percentage of these "low-propensity voters" — younger voters, minority voters—aren't as large a segment of the population. "Remember that in the late-breaking Senate races in 2014, when Mitch McConnell of Kentucky and Pat Roberts of Kansas seemed to be in real danger, they ended up winning with solid margins," says Michael Barone, co-founder of the Almanac of American Politics. "That's because voters outside the major metro areas gave them big margins on Election Day."
And then there's this: While Democrats lead in the generic poll ("Which party would you rather have controlling Congress"), the latest CBS News poll actually finds that the GOP is slightly more popular—or perhaps more accurately, "less unpopular"—as a party than the Democrats, with a 40 percent favorability vs. the Democrats' 38 percent. It's a slim advantage, but given the media coverage and the assumption of a Republican collapse, still a surprising one.
Trump is peaking at the right time
"The key to the GOP pulling off a surprise win in the House is that President Trump's approval appears to be surging at the right time in our averages," says Sean Trende of Real Clear Politics. That average has the president's approval above 44 percent, which is definitely on his historic high end. Meanwhile, the new WSJ/NBC poll has his job approval up to 47 percent.
Loyd believes it's because voters are finally starting to focus on the fundamentals, like the economy. "The right track/wrong track numbers have been improving, the consumer confidence numbers are way up, and 60 percent of adults believe their children will be better off than they are. This is movement in the right direction," Loyd said.
In fact, in the latest CBS News poll, 70 percent of Americans say the economy is doing well, the highest number since the tech bubble of 1998.
President Trump is making a very simple pitch: "Democrats produce mobs. Republicans produce jobs." He's also seizing on the scenes of thousands of migrants marching north from Central American toward the U.S. border. Democrats may completely disagree with Trump's views on these two issues, but there's little doubt they both play to his strengths.
And just in time for an election two short weeks away.
Republicans holding the House is still a long-shot bet. But their odds may not be quite as long as Nancy Pelosi would like.
Thanks for reading CBS NEWS.
Create your free account or log in
for more features.