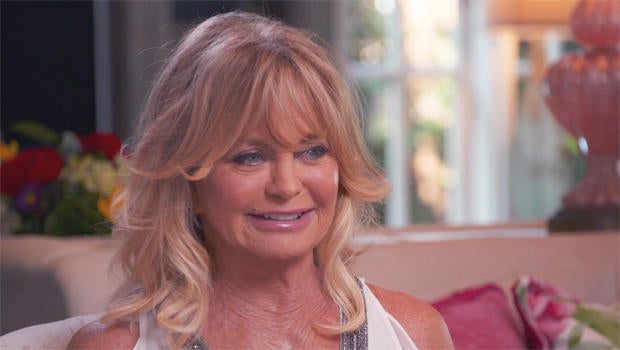 Comedic star Goldie Hawn, in all seriousness
GOLDIE HAWN has charmed a generation or two on TV and in the movies. Now she's focusing her talents on her youngest audience yet. Lee Cowan has our Sunday Profile:
"Inhale … and if you really focus, you can calm your brains."
Kindergarten is usually more about chaos than calm, which is what makes this classroom so surprising.
"Breathe in ... breathe out …"
Though perhaps more surprising may be the mom behind it.
"You want to feel like you come to school and you know how to refresh yourself, so you can learn, be happier, and be more productive," said Goldie Hawn.
The actress who built a career playing the ditzy blonde is now all about kid's brains. "We know how we're going to be able to change the way we're thinking, just by thinking," she said.
Hawn calls her program MindUP, and it's catching on. There are close to two million students in nine countries taking part in the program, including schools in the U.K., Canada, Hong Kong and Serbia.
Hawn: "Okay, why do we need a brain break?"
Kids: "Because every brain needs a break."
Hawn spent years working with neuroscientists and psychologists to create a 15-lesson plan to help kids like nine-year-old Esme Malacon be more mindful, to help calm the stressors of modern-day youth.
"I remember my Dad saying, 'Be happy now, because when you're older you're going to have problems,'" Esme said.
"Does life get a little harder?" Hawn asked. "Yeah. But you get through it."
Hawn said her program "comes from deep inside of me. It has nothing to do with what I do, making people laugh or being an actress, but it has a lot to do with who I am, and it matters to me."
It matters because Hawn herself needed help battling depression and anxiety, at a time most of us knew her only as the woman with the golden giggle.
We first met Hawn on "Rowan and Martin's Laugh-In" back in 1968, a role that came almost by accident. She actually flubbed her audition … but THAT'S what got her the job.
"I missed a word and I went, 'Oh, I'm sorry, could we go back because I missed a word?' and I started laughing, because I was so stupid!"
"But that giggle is what everyone came to know and love."
"Well, that's what happened," she said. "Literally I had to pretend I didn't have a thought in my brain for those years!"
She was so good at being alluringly clueless, she even won an Oscar for it, playing opposite Walter Matthau in "Cactus Flower," at age 22. "It's kind of crazy," she said. "I think it's somewhere where the stars were aligned."
"How did that fit in your head, though?" Cowan asked.
"It didn't fit."
Despite the smiles, Hawn felt out of place. As a young girl growing up in a Maryland suburb of Washington, D.C., her first love wasn't acting; it was dancing. She'd been at it since she was three.
"I had a life plan: Get married, and have a nice house, and open a dancing school and teach children," she said. "I didn't to be a star. I thought stars were totally messed up."
And in her case she was right. Stardom did mess her up.
"I was turned upside down about my own reality," Hawn said. "I had anxiety, I didn't want to go anywhere. I lost my smile, Lee."
She went to therapy -- stayed in it for nine years, in fact -- and eventually got her smile back, by listening to what her brain was telling her. "Comedy is music. I hear music. I can hear when something's not right."
She still hears that music. In fact, it's what brought her back to the big screen for the first time in 15 years, with co-star Amy Schumer, in "Snatched."
"We both talk about comedy as it's a mathematical equation," Hawn said. "Comedy is hard."
Hawn plays the older half of a dysfunctional family duo kidnapped while on vacation in South America. It's full of the kind of high-jinx that defined her early career, but Hawn says that's not what drew her to the role. "It's about a mother and a daughter, and that's a very complex relationship," she said. "So I love it when it's grounded in something really true. It's not just fluff for fluff's sake."
It was "Private Benjamin" that proved Hawn was not only a bankable star but a darn good executive producer, too. She shopped the script herself to the major studios, insisting it was more than just a comedy.
"It's a really funny movie, but it had social relevance for its time," she said. "There was a strength in this character."
And when she began to age in her career, she did it again, finding the funny in the true, in "The First Wives Club."
But her greatest blending of fact and fiction was finding her co-star for life. She and actor Kurt Russell have been together now for nearly 35 years. They've never married, but earlier this month, they did get side-by-side stars on the Hollywood Walk of Fame.
"To be honest with you, I thought Goldie Hawn and Kurt Russell should go down together. We have been up together and we will go down together," said Kurt.
Theirs is a blended family. Including actress Kate Hudson, there are four kids between them -- the anchors in a relationship that has survived the challenges of celebrity.
"My family is the most important thing to me; Kurt's family is the most important thing for him," Hawn said. "And there's a lot of pretty girls that come along and want to throw themselves at him. And I've had my share. But at the same time, do you really want to disrupt your life, your children, your world, for that? So it kind of starts with you."
Which, in some ways, is the message she's trying to get across to those kids: an optimistic outlook begins with how you think.
"I mean, you lose hope, and you lose everything," she said. "And you lose your tickle and your joy, and you lose everything!"
"For someone who early on was experiencing depression and anxiety and all those things you were going through, you seem especially grounded. You seem to have figured it all out," Cowan said.
"I'm still learning," Hawn giggled.
"Because this interview seems more like a counseling session than an interview. I feel like I've learned a lot. I feel like I should pay you!"
"The whole idea of life, to me, is growth. I mean, you stop growing, you stop asking questions, you lose your curiosity. That's not a life you want to live."

For more info:
Thanks for reading CBS NEWS.
Create your free account or log in
for more features.