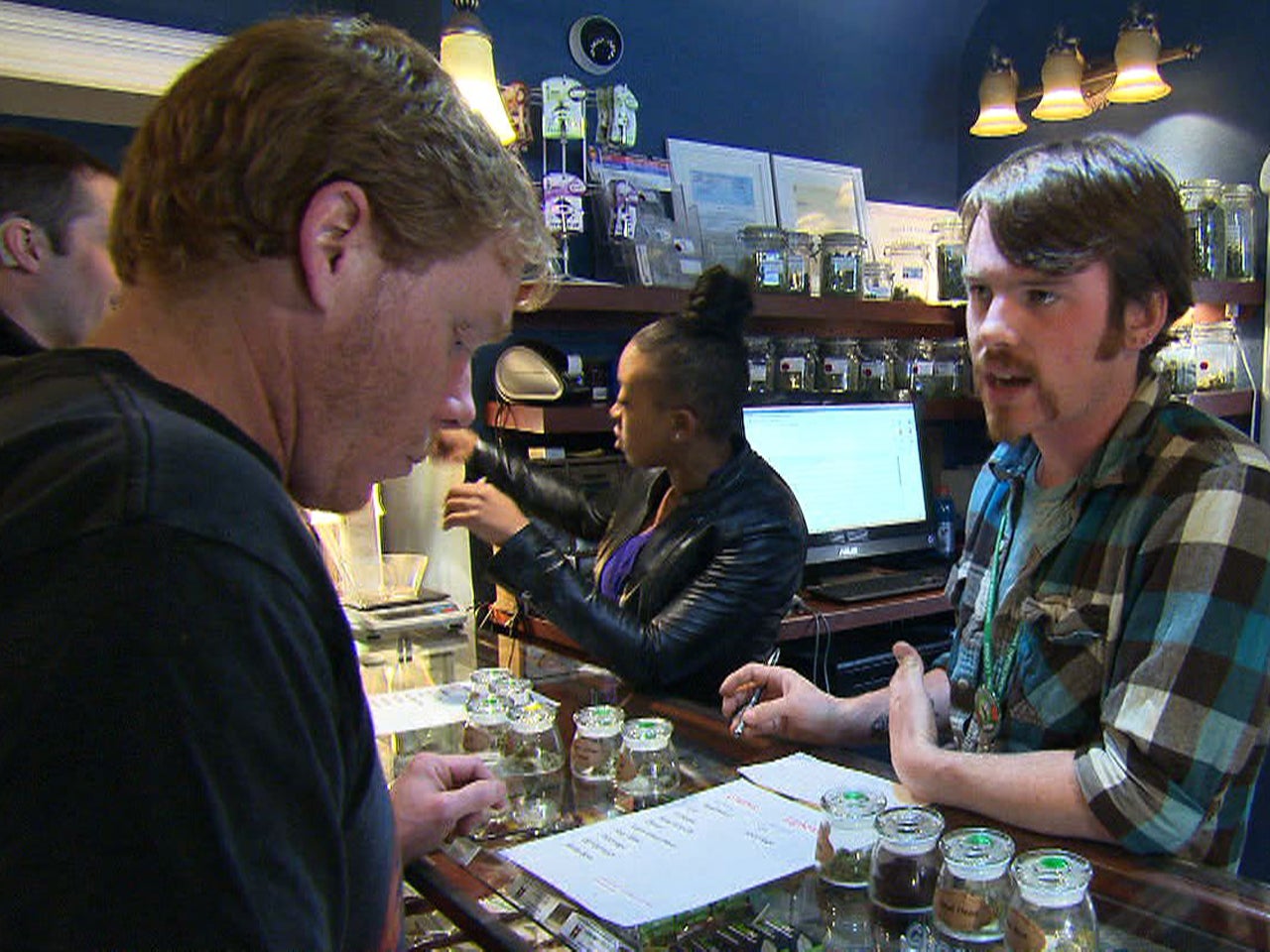 Shunned by banks, Colo. pot retailers beef up security to protect cash
In Colorado, sales of recreational pot have been legal for nearly two months, but federal law still brings a major obstacle: Banks won't take the money. Marijuana retailers are going to great lengths to keep their cash safe.
As marijuana green makes a lot of that other green, it can be both good news and bad news for business owners.
At the pot store called The Health Center, director of operations Tiffany Goldman is nervous. "Security is probably the most important thing that we have to think about in this industry," Goldman said.
So armed guards transport plants, check IDs and, most importantly, keep an eye on the money.
They work for Ted Daniels at Blue Line Protection. A former narcotics police officer, he can't hire guards fast enough for one of Colorado's newest and most dangerous jobs. There have been more than 20 burglaries at marijuana shops this year. Some stores have had tens of thousands stolen.
Daniels said, "If you asked me to go grow marijuana, I wouldn't know the first thing about it, but I know how to protect it."
He continued, "If a guy comes into a dispensary with a gun and shoots two or three people, the panic button's not gonna stop that. Cameras aren't gonna stop that. And security doors aren't gonna stop that. Our guys are the ones that stop that."
Colorado's governor, John Hickenlooper, opposed legalization. But, now, he must make it work. He said, "We don't want to have organized crime connected with this in any way, and that's why we're working very aggressively with the Treasury Department to- you know, right now it's all cash because no bank will touch them."
The federal government has also sent signals that it won't prosecute Colorado stores for selling recreational pot.
Hickenlooper said the industry has "put the federal government in a terrible place." He added, "If states are the laboratories of democracy, then maybe this is gonna be an experiment that the federal government can learn from. And if we can do it successfully in Colorado and in Washington, then I think that other states will follow."
And if they follow Colorado, Daniels says there is one very critical upside. "Every dispensary that opens up, it probably puts about 10 street dealers out of business," Daniels said. "Why do people need to buy on the street when they can go to a dispensary and buy it legally?"
For the moment, Colorado stores will keep trading cash for security, waiting for the day the federal government and the banks treat them like just another legitimate American business.
A new CBS News poll found Wednesday, for the second month in a row, a slim majority of Americans support legalizing marijuana.
Thanks for reading CBS NEWS.
Create your free account or log in
for more features.