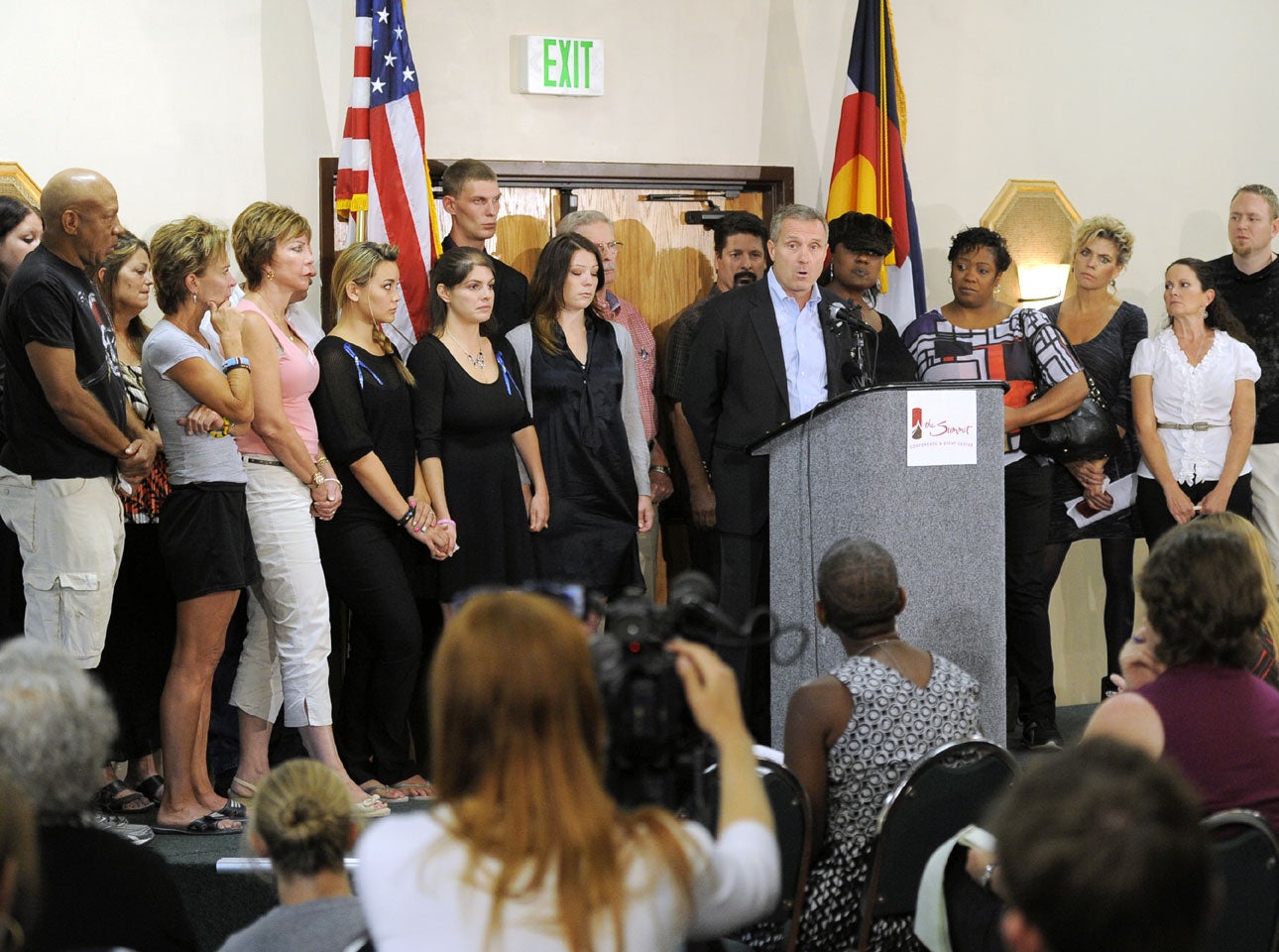 Colo. victims' families question fundraising
Updated 5:43 p.m. ET

(CBS News) Family members of the victims in last month's Colorado theater shooting went public with their anger Tuesday afternoon over how a coalition was handling $5 million raised in their names.

Speaking on behalf of relatives of the 12 people shot to death and 58 injured at the midnight screening on July 20, Tom Teves - father of victim Alex Teves - accused nonprofits Giving First and the Colorado Organization for Victims Assistance (COVA) of poor leadership and politics that has prevented them from having a say in how the money is distributed.

"This is the worst thing that has ever happened in any of our lives. All of our loved ones are either dead, injured," said Teves. "They never maybe the same again, and we have to stand up and fight for the money that say Warner Brothers gave in our behalf. You, everybody that I've spoken to said 'We can't comprehend how you're feeling'. Guess what? You're right. You can't comprehend how we're feeling."

Of the just over $5 million that has been raised by the Aurora Victims Relief fund, $450,000 has been distributed, according to the Community First Foundation website. Of that, $350,000 went to COVA in order to give $5,000 to each of the 70 victims' families. The leftover $100,000 was distributed to 10 nonprofits.

The families gave accounts of behind-the-scenes red tape and bureaucracy they have endured since a gunman dressed in body armor and a mask opened fire at a crowded movie theater in Aurora.

Alex Teves, 24, was killed while protecting his girlfriend. His father expressed frustration with how Giving First used the pictures of murdered loved ones without permission to reel in money that hasn't reached the victims' families. He also called on Colorado Gov. John Hickenlooper to do more to help them.

"You pledged 12 times, 'We will remember.' Are you a man of your words? Or were they just words?" he said.

A spokesperson from Hickenlooper's office said a meeting with victims' families and the 7/20 Recovery Committee is scheduled Friday and more money from donations is on its way to those families.

"Everyone involved is trying to do the right thing in a very difficult situation," said spokesperson Eric Brown. "We understand the frustration shared today by victims' families. That's why we have been advocating for them to have a greater voice in the process. We have also actively supported the 7/20 Recovery Committee to improve communication and the ongoing distribution of assistance."

Among the teary-eyed people on stage were those who lost loved ones and others who were taking care of their injured sons and daughters. Relatives said they needed the money for things like paying for travel to Aurora, to help pay the bills when victims were unable to work and medical expenses.
"Nobody's trying to get rich," said the mother of Jorell Brooks, who was shot during the rampage. "We just want to be able to get through this thing with some sort of dignity."
Marla Williams, president and CEO of the Community First Foundation, said the committee is doing its best to reach out to victims, but communication has been difficult due to a court order sealing documents. She also said the committee is working to add a representative of the victims' families.
"I appreciate the frustration," Williams said. "Given the circumstances, I'm not sure [the process of distributing funds] could have moved a whole lot faster."
The suspect in the shooting, 24-year-old James Eagan Holmes, is charged with murder and attempted murder and two other counts.
Police said Holmes was heavily armed when he opened fire on the audience in a packed theater in the Denver suburb of Aurora during a showing of the latest Batman movie.
Holmes is being held without bail and has not entered a plea. Defense lawyers have said he is mentally ill.
At the press conference, the victims' families also expressed frustration about how Holmes was getting more attention in the media than the victims were. Teves only referred to him once, calling him "the coward."
Thanks for reading CBS NEWS.
Create your free account or log in
for more features.