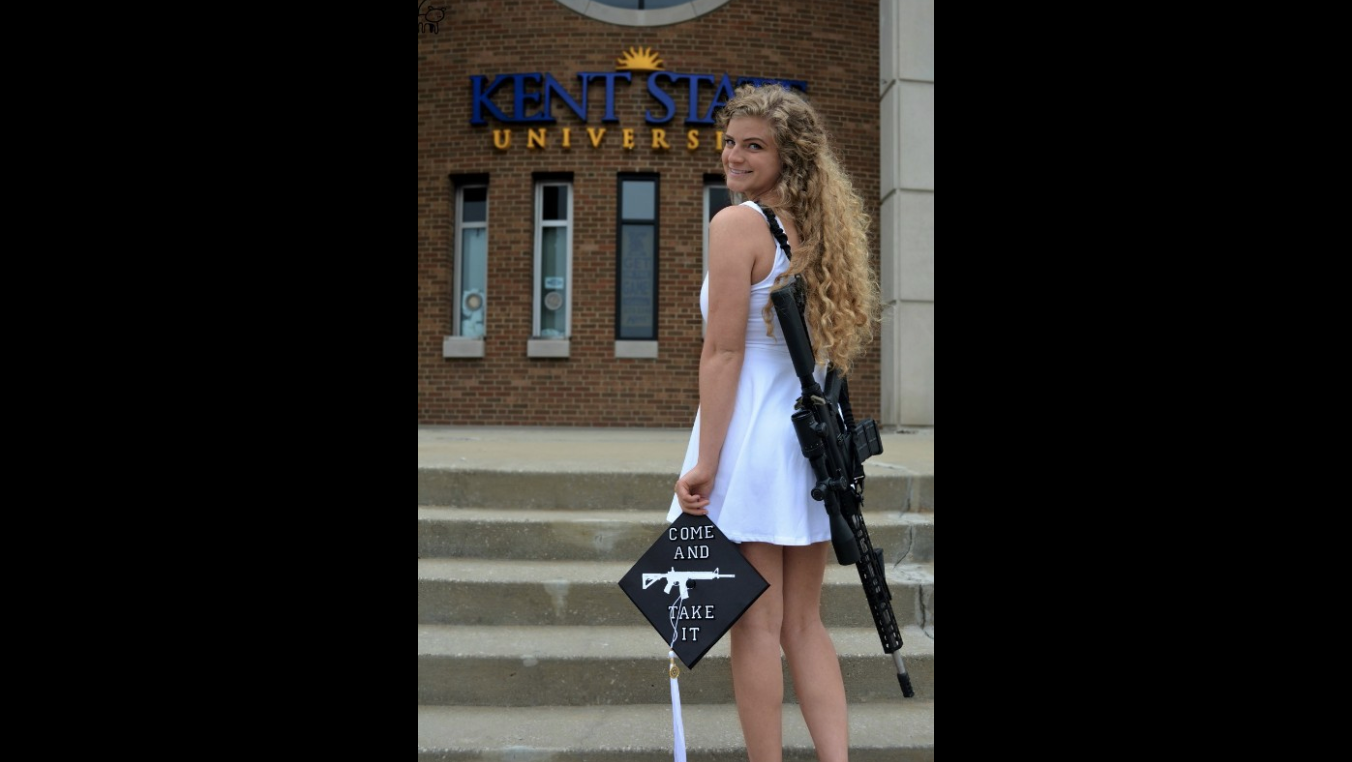 College grad wears gun holster with AR-10 in her graduation photos
A recent college graduate from Kent State University in Ohio is gaining attention online for graduation photos she posted on Twitter.
Kaitlin Bennett shared photos of herself wearing an AR-10 rifle strapped to her back and her graduation cap in hand. A picture of a gun and the words "come and take it" decorated the graduation cap.
"Now that I graduated from Kent State, I can finally arm myself on campus," Bennett wrote in the post. "I should have been able to do so as a student - especially since 4 unarmed students were shot and killed by the government on this campus."
Bennett is referring to the killing of four people on Kent State's campus in 1970. After days of unrest over America's invasion of Cambodia during the Vietnam War, student protesters clashed with Ohio National Guardsmen. The guardsmen opened fire, killing four students and wounding nine others.
Bennett tweeted several images from a photo shoot that she took to mark graduation. In the photos, she poses around Kent State University's campus wearing a white dress and and a gun holster around her body. She explained in one tweet that the gun is an AR-10 and it "fires at the same rate as any modern pistol," not an assault rifle.
It is a tradition at many colleges for students to decorate their graduation caps with clever sayings and personal messages. The message Bennett chose: "Come and take it," referring to her gun.
Some Twitter users replied to Bennett's photos with disapproval or worse. She posted screenshots of her exchange with an aggravated Twitter user who appeared to threatened her physically. Bennett says Twitter suspended that person's account.
"This rifle is legally owned. Assault rifles have been banned for decades. Do you not see the problem here? You say you don't want to take away legally owned guns, but had NO IDEA that the rifle pictured is legally owned," she replied to other commenters.
When someone questioned if the police would support Bennett's public display of the firearm if she were black, Bennett replied. "The black officer that was with us during this photoshoot loved it, actually. Give him a call," she wrote.
Bennett also got support on Twitter, with one person writing, "The gun offsets your dress beautifully!" "Stand your ground. You go girl a lot of us have your back," another commenter wrote.
The new graduate is one of the founders of the "Liberty Hangout" group, her Twitter bio reads. The group has been
"promoting peace, prosperity and property rights since 2015," according to its website. The college student-run organization is a right-wing group that vows to protect the Second Amendment.
Bennett said in a tweet that now that she has graduated, she is allowed to carry a gun on campus. However, Kent State's policy regarding deadly weapons states "Students, staff, faculty, and third parties doing business with the university are further prohibited from possessing, storing, or using a deadly weapon while outside on university grounds, that is owned, operated or leased by the university."
Thanks for reading CBS NEWS.
Create your free account or log in
for more features.