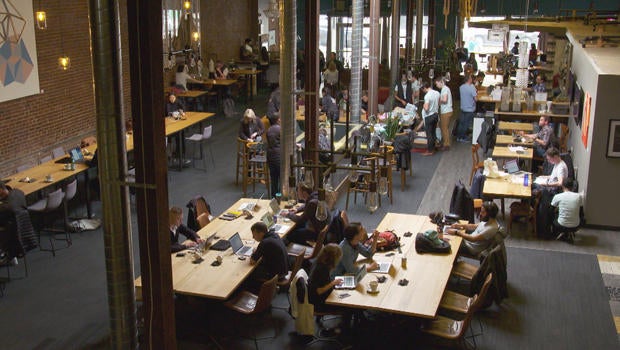 Co-working: The new way to work
A day at the office is anything BUT just another day -- at least it is at the office Tony Dokoupil takes us to:
If you want a glimpse of professional paradise, or at least one vision of it, look no further than WeWork. Co-founder Adam Neumann presides over an empire of offices designed to encourage interaction -- along with free goodies, a barista and foosball tables.
But to be clear, most of the people at WeWork's 242 worldwide locations are not Neumann's employees, but his customers … renting work space in a booming field known as "co-working."
"You can think about it as, like, you would think of a gym -- you pay a membership, you get to share all the equipment. It's really a shared infrastructure for business," said Steve King, who studies co-working. He says the industry has grown from as little as 70 people in 2007 to 1.5 million worldwide a decade later, and a projected five million by 2023.
"The independent workforce continues to grow," said King. "Every year, there are more freelancers than there were in the last year. And then a growing segment is large enterprises. The large corporations also see the advantage of having flexible workspace."
And, Neumann says, many larger companies, including some in the Fortune 500, have invited WeWork to redesign their existing offices, too.
WeWork, founded in 2010, has become one of the most valuable young companies in America, worth an estimated $20 billion, a sum that begins to make sense when you hear from members like food safety consultant Laurel Cudden.
"Number one, they fill my soul. I feel happy being here," she said.
"They 'fill your soul'?" asked Dokoupil.
"I'm happy!" she laughed. "There's this magic that happens when you're in a community."
Supporting these new communities is the real mission of WeWork, and a growing number of competitors -- a mission that goes way beyond the office.
This time last year, freelance writer Michael Jensen and Brent Hartinger were bored working out of their house in Seattle, when they heard about Roam.
"Sometimes it feels like we've discovered the secret of the universe, you know, that if people knew this, way more people would do it," said Hartinger.
Now they "co-live" here ... "co-work" in a space on the same property, and "co-relax" the rest of the time, with shared meals and a constantly changing crowd of "Roamers."
For a daily fee, Roamers can live at outposts in Miami, London, Tokyo and Bali, with eight more properties planned, all for people looking for a sense of home, but not a permanent address.
One member of another co-working demographic -- Sarah Bagley, a mother of three -- is a member of Play, Work, Dash, a combination co-working and childcare space outside Washington, D.C.
Dokoupil asked, "Did you go through a period where you were trying to make do without a space like this?"
"And you can ask me how well that went!" Bagley replied, eyebrow raised. "It's amazing what you can do when you are not having your brain divided between 'What is my toddler doing?' and trying to focus on what's being done."
For a few hundred dollars a month, parents get a desk, plus up to three hours of childcare.
"I'm imagining people coming in, 'My gosh, this is what I've been looking for,'" Dokoupil said.
"Yeah. Oh, we get a lot of that," laughed founder Nicole Dash. "We do. Like, 'This is amazing. It's better than a spa visit!'"
Dash says what she's really building is a movement: "I don't think that having children and being a professional are mutually exclusive. So that's part of the movement. I thinks it's also allowing parents to find and decide their own balance for their own family."
Back at WeWork, Adam Nuemann is also hoping to change the balance of modern life, adding apartments called WeLive, schools called WeGrow, and in the future, whole cities powered (as he puts it) by "we."
"The most precious resource we have is time," Neumann said. If we're gonna just be in a place and work for only the sake of making money and pass on everything else and then go home to live, we give up half of our life, or maybe even more."
"So, every waking hour is partially work, which is no longer really work …"
"And partially play. And all life comes into one."

For more info:

Story produced by Amol Mhatre.
Thanks for reading CBS NEWS.
Create your free account or log in
for more features.