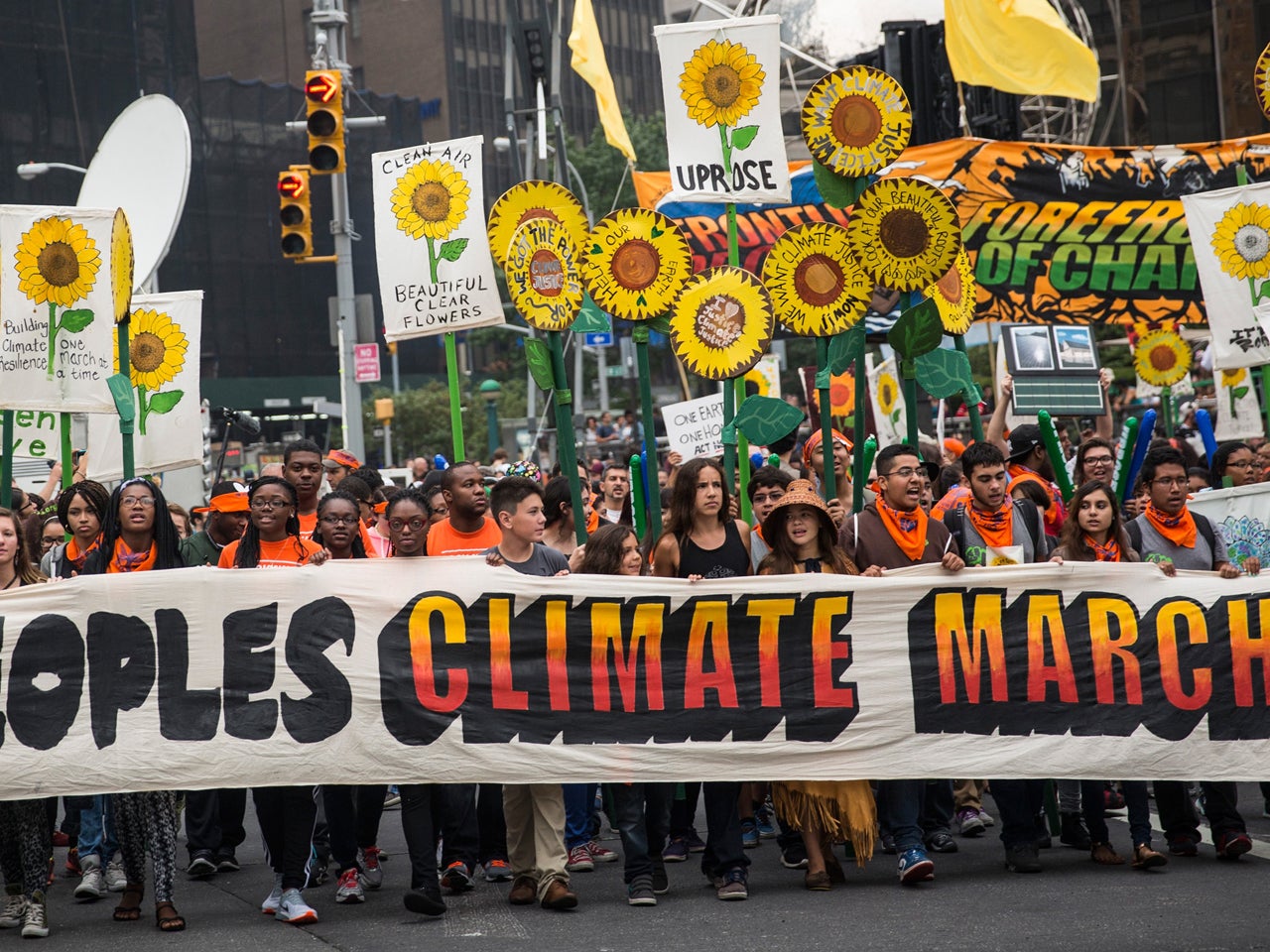 300,000 marchers ring climate warning bell in NYC, around globe
NEW YORK - Over three hundred thousand activists walked through Manhattan on Sunday, warning that climate change is destroying the Earth - in stride with demonstrators around the world who urged policymakers to take quick action.
Starting along Central Park West, most came on foot, others with bicycles and walkers, and some even in wheelchairs. Many wore costumes and marched to drumbeats. One woman played the accordion.
But their message was not entertaining: "We're going to lose our planet in the next generation if things continue this way," said Bert Garskof, 81, as a family member pushed his wheelchair through Times Square.
The crowds of marchers, which included actors Leonardo DiCaprio, Mark Ruffalo and Evangeline Lilly, wound through midtown Manhattan, joined along the way by United Nations Secretary-General Ban Ki-moon, former Vice President Al Gore and New York City Mayor Bill de Blasio.
In New York organizers said there were around 310,000 marchers, making it possibly the biggest single demonstration on climate change to date.
The march was one of a series of events large and small held around the world - organizers said 40,000 marchers took part in an event in London, while a small gathering in Cairo featured 50-foot art piece representing wind and solar energy -- two days before the United Nations Climate Summit. More than 120 world leaders will convene Tuesday for the meeting aimed at galvanizing political will for a new global climate treaty by the end of 2015.
"The people have been clearer on this problem than the policymakers," DeBlasio told reporters after the march, according to CBS News foreign affairs analyst Pamela Falk. "The fact is that most elected officials and other leaders have found this inconvenient to act on, for a long time. Things like (Superstorm Sandy) have made it very clear. I think that the average citizen is ready to do their share and politicians should get out of the way. And, any politician who doesn't get out of the way will suffer the consequences electorally."
"Summits," DeBlasio said, "sometimes spark great change, sometimes they don't. I felt today that I was seeing history starting to be made."
In making a unique agreement between the city and the U.N., the Secretary-General said Mayor DeBlasio's plan to cut greenhouse gas emissions by 80 percent by 2050 was a model that other cities around the world should copy, reports Falk.
Since June, when New York's Mayor DeBlasio and Ban met, the apparent personal chemistry between the two has resulted in a focus on climate change -- and the crowd gathered around them loved it, Falk reports.
"I am very grateful to Mayor DeBlasio's strong commitment to make New York City a model by reducing building-based greenhouse gas 10% by 2025, and to have an 80% reduction by 2050," Ban told CBS News at the march.
When the U.N. Climate Summit takes place Tuesday, organizers hope to lay the groundwork for global plan to curb emissions and the secretary general has asked nations attending to make announcements on their plans to reduce emissions, strengthen climate resilience, and mobilize political will for a meaningful legal agreement in 2015, which the U.N. hopes will include binding obligations to reduce greenhouse gas emissions.
The New York march drew people from all over the country. A contingent from Moore, Oklahoma -- where a massive tornado killed 24 last year -- took part, as did hundreds of New Yorkers affected by Superstorm Sandy, which the U.S. National Oceanic and Atmospheric Administration and the British meteorological office said was made more likely by climate change.
Marchers in Manhattan held signs and protested various concerns -- from fracking, to fossil fuels, to clean water, CBS New York reports.
One demonstrator said time is running out to take action, that something needs to be done now if future generations hope to be able to live on the planet.
Some say that action is within reach if politicans and corporations have the right financial incentives to explore renewable energy sources.
At one point, the march briefly came to a halt, as demonstrators held a moment silence for what they described as victims of the climate crisis. They then launched into a minute of cheering and applause as they said they were sounding the climate alarm.
Myrtle E. Williams, a nurse at a nursing home in the Rockaways, said Sandy was a "real eye opener." The storm nearly two years ago "made people wake up and say this is real devastating," she says.
Williams said Sandy brought home the devastation people usually see on television from far away, like the Asian tsunamis and the hurricanes that hit southern states.
"I think people are becoming more aware when it happens to them," she said. "When it comes to your door, you can equate with other people who are going through something just as devastating."
Now the question she asks: "Can we make a change so that this will never happen again?"
In London, celebrities including actress Emma Thompson and musician Peter Gabriel joined tens of thousands of people in the march through the capital's center.
Campaigners marched through the streets chanting "What do we want? Clean energy. When do we want it? Now."
Speaking at the start of the march, Thompson said: "This is important for every single person on the planet, which is why it has to be the greatest grass roots movement of all time.
"This is the battle of our lives. We're fighting for our children," she said.
In Australia, thousands of people marched in cities across the country on Sunday as part of a global day of action on climate change. The largest rally was in Melbourne, where an estimated 10,000 people took to the streets with banners and placards calling on the Australian government to do more to combat global warming.
Australian Prime Minister Tony Abbott was a particular target of the protesters. Abbott's center-right coalition has removed a carbon tax and has restricted funding for climate change bodies since coming to power last year.
Thanks for reading CBS NEWS.
Create your free account or log in
for more features.