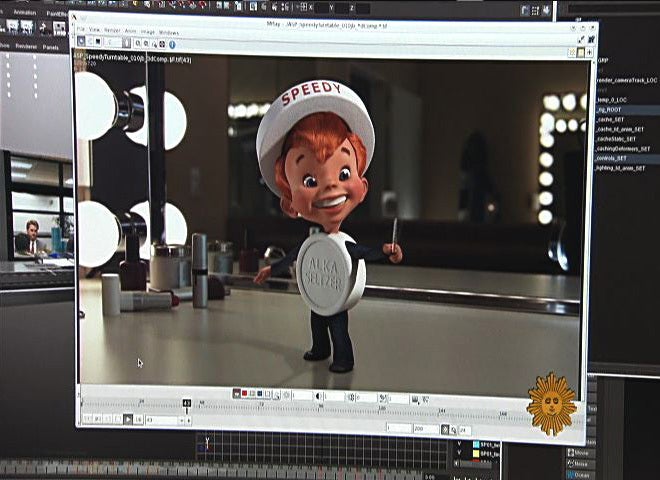 Classic ad icons get a makeover
For a long time, they were gone but not forgotten. No more. Martha Teichner has a blast from the past:
Speedy Alka Seltzer ... Of course he'd never heard of him. Speedy's television career ended in 1964, more than twenty years before Shayne Ryan was born.
But lately, Ryan and Jennie Bichsel, animators at a company called Framestore in New York, have been working a little computer-generated magic on old Speedy, and like a latter-day Rip Van Winkle, he's back.
Photos: Memorable advertising icons
"In 1968, I think it was, there was a drugstore in Evanston, Ill., where I grew up, and I used to see this in the store," said J.J. Sedelmaier of his Speedy Alka Seltzer thermometer. "So when I found out they were going to close, I went and said, 'Oohhh, can I have that?'"
So Sedelmaier figures it was fate that forty-something years later he would be hired to mastermind Speedy's makeover.
"You've got this narcotic of nostalgia that anything that you grew up with you have an affinity for," he said. "There's a soft place in your heart and you respond to it."
Which explains why Mr. Peanut is also back, although now, voiced by actor Robert Downey, Jr, he doesn't just stand around looking dapper.
You know them - they're like old friends, even the new ones. I mean, a talking gecko?) These sometimes absurd characters were invented to sell you something. Why is it the good ones have found their way into pop culture?
"When you have characters, they have stories attached, and that's what people love - they love filling in the details of the characters," said Jeff Bremser, creative director of a planned advertising icon museum in Kansas City, Mo.
"Wish I could think of some that have failed, but we forget 'em!" he said.
Remember Freshen Up Freddie, former pitchman for Seven-Up? No?
What about the Domino's Noid?
"That's the key, that you're able to connect your icon to the storyline or to the product," said Howard Boasberg, the museum's executive director. "It doesn't do any company any good to have a Cap'n Crunch if you don't remember that it's a cereal."
Ah, yes, cereal. Just add milk ... and television.
"When television came around in the 40s, 50s, they started developing animation," said Bremser. "There was an explosion of icons, mainly coming out of an agency in Chicago called Leo Burnett. They did a lot of these characters for cereals."
"Burnett was known as the 'Critter Agency,'" said Boasberg/
Critters like Toucan Sam for Fruit Loops ... the Jolly Green Giant ... Morris the cat. Burnett produced one of Teichner's personal favorites, the Pillsbury Doughboy.
Charlie the Tuna was from Burnett, and the only Tony the Tiger.
Both Charlie and Tony were drawn by Don Keller: "Tony's head was like a football shape, and his
Shoulders - he didn't have shoulders. Now he's very athletic, and very muscular. We were just solving advertising problems, and now it turns out to be history."
Yes, history! Who could have dreamed that the Quaker Oats Man would be wrinkle-free at the ripe old age of 134? Or the Michelin Man would still be fully inflated at 113? Or that Mr. Peanut would be newly hip at 95?
Do you think they've had a little work done?
For more info:
JJ Sedelmaier Productions
Framestore
Advertising Icon Museum
Bernstein-Rein Advertising
Thanks for reading CBS NEWS.
Create your free account or log in
for more features.