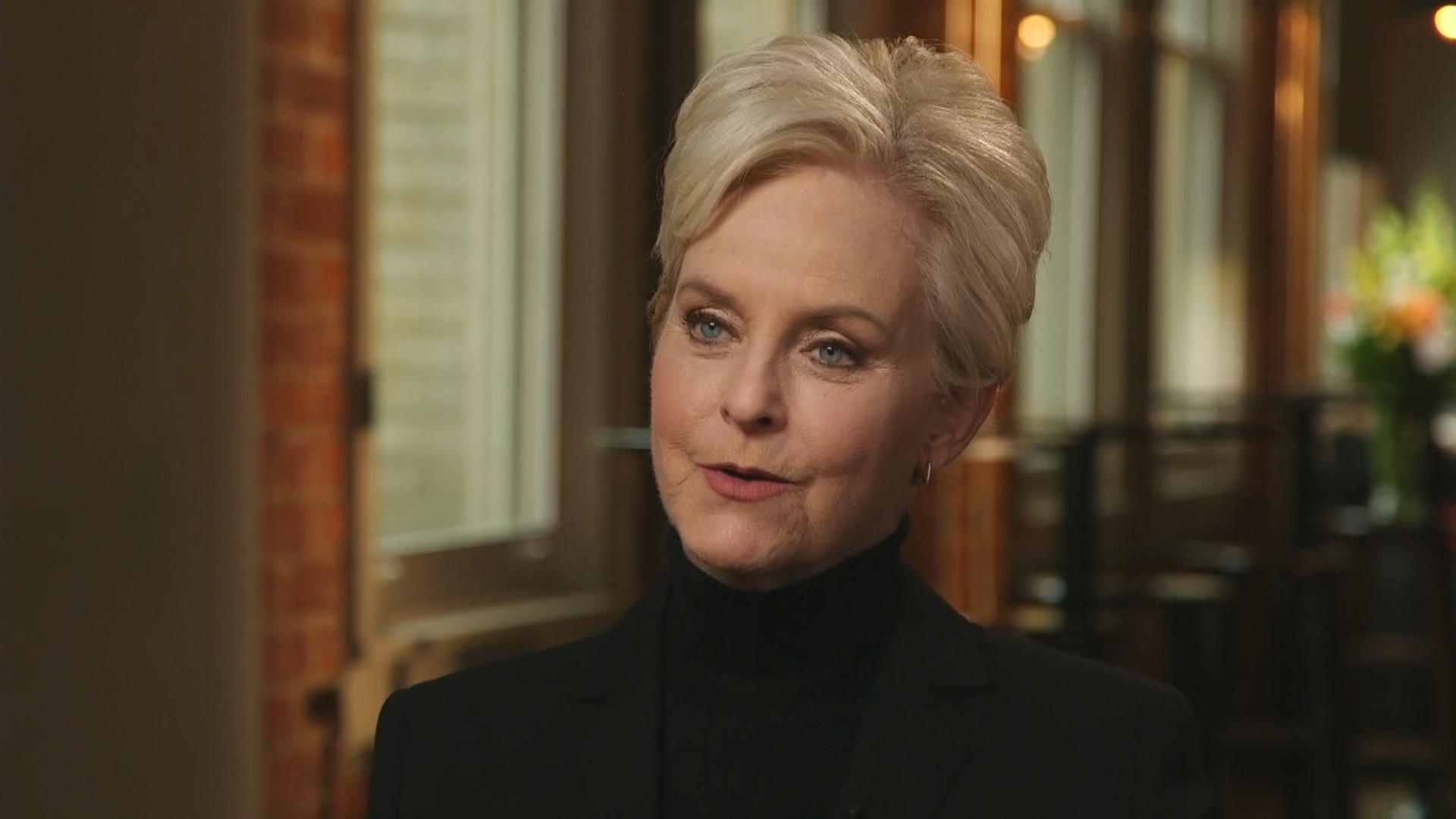 Cindy McCain says 2 of her children may have political aspirations
Cindy McCain, the widow of Arizona Senator John McCain, said that although she had been approached to fill her husband's seat after his death, she said she never spoke with him about it. "My job right now is to make sure my family's OK and make sure that we are moving on in the right direction," she said.
And if she isn't going to carry the McCain name forward in politics, she said, "I got a house full" of prospects.
In an interview on "CBS This Morning" Friday, McCain said one or two of her children have political aspirations."There are two I know that won't, but there's two that I think will."
She declined to name which of their four children (John McCain had three other children from a previous marriage), but added, "They've all grown up in politics. It's hard not to – you either catch the bug or you don't."
Their daughter Meghan, for example, attracted attention when she spoke at her father's memorial service in Washington, D.C., pointedly criticizing President Trump, who had not been invited. The president and Senator McCain were decidedly at odds over the direction of the Republican Party. McCain died of cancer last August after serving six terms in the U.S. Senate.
"In everything I do I think, 'Gosh, what would John do?'" Cindy McCain said. "You know, what would he think, or what would he tell me to do!"
When asked for an example, she laughed, "Oh my gosh! Especially in this political climate now, I find myself saying things I know that he would've said or thought about, which is kind of fun."
"What do you think he would say about where things are now?" asked co-host John Dickerson.
"I think he'd say a lot of things," McCain replied. "I think he would be terribly frustrated. You know, he was the one that was kind of the conscience of the Senate, and we've lost his voice. And consequently, I saw an elective process this year unlike anything I've ever seen. You know, I think many people would say that. It was abominable. He would've, I know, quite frankly, would have said, 'Enough. This is not only wrong, but it's bad for the country.'
"I mean, this level of discourse [today] is really awful. And so when I see the differences and the hatred that's going on right now, it's hard."
Dickerson asked, "Do you feel like you still have a home in the Republican Party?"
After a long pause she replied, "Yes. John [and I] have said the same thing: We will always be Republicans. I think the party itself will – as you know, politics is very cyclical, and we both believed, and talked about it actually, that we believe the pendulum has swung. And it will swing back. I think we'll come back to the kind of party that we've always been, and that's the party of Abraham Lincoln. I mean, that's who we are."
"Many of our leaders fail to remember nowadays that disagreement is part of the process – disagreement is, but not distrust. Listen, we're all Americans. We're all here for the same reasons. And trust is part of this, trust in knowing that people are there for the right reasons. And they are. I believe in the process, and I know John did."
Dickerson asked, "You have spoken out at various times in politics. Not often, but occasionally."
"Yes, I've gotten myself in trouble before!" she laughed.
"How does that role change for you now?"
"I am not an elected official, but I do have the right to my own opinion," she said. "One thing John did say to me is, 'You stay high. You stay high on these things,' and I agree. I agree."
To watch more from John Dickerson's interview with Cindy McCain click on the video player below.
Thanks for reading CBS NEWS.
Create your free account or log in
for more features.