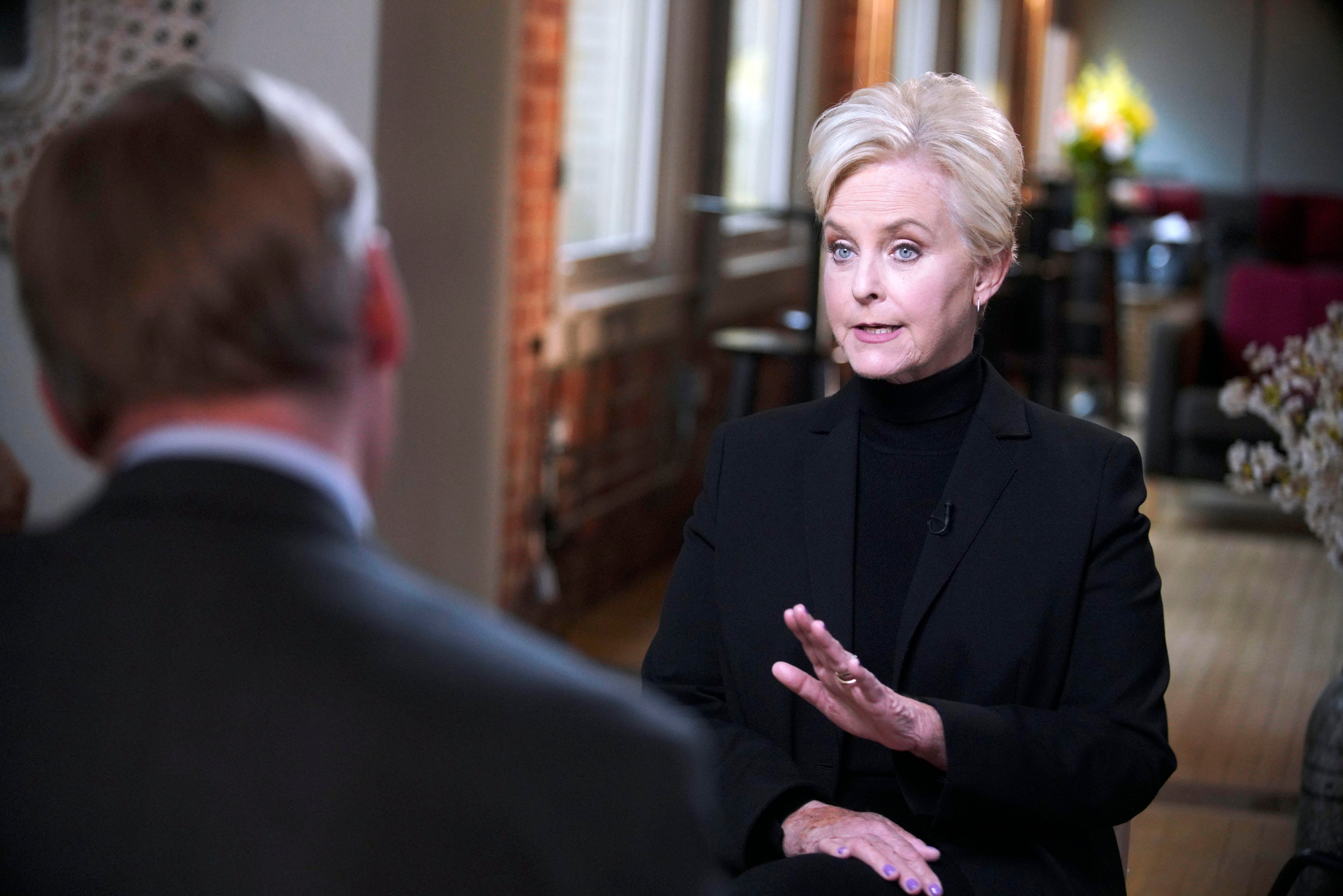 Cindy McCain on Trump: "Our country needs a strong leader, not a negative Nancy"
Cindy McCain believes her late husband Sen. John McCain would be "terribly frustrated and terribly distraught" by the current state of political discourse. She shared her feelings about the lack of civility in politics today and President Trump with "CBS This Morning" co-host John Dickerson in her first interview since the senator's death in August.
McCain told Dickerson she hopes Mr. Trump will learn from the midterm elections and realize "the country needs a strong leader, not a negative Nancy."
"It's very humbling to lose and I hope he learns from it," she said. "We need our president. We need a White House that's strong, we need a White House that's not sparring with each other. And right now I think we're -- things are in disarray, and I would hope through this that he does learn."
Sen. McCain, a military hero and longtime lawmaker, was diagnosed with glioblastoma, an aggressive form of brain cancer, in July 2017. But he remained an outspoken member of Congress even as he fought the disease.
"He was the one that was kind of the conscience of the Senate, I believe, and his ability to at least bring people together and talk about it in whatever way he could was very important, and we've lost his voice," McCain said.
She believes her husband would want current leaders in Washington to take a step back and learn from past relationships her husband shared with members of the opposite party, like Democratic Sen. Ted Kennedy, who died in 2009.
McCain also discussed the message her late husband intended to send with his memorial service, which many saw as a rebuke of President Trump. According to McCain, it was not, nor was that his intention.
"His message was just that we need civility...we need to go back to a country that was lovingly respected around the world, even in times of difficulty. And understood that when we gave our word we meant it."
That message of unity was on display as McCain's family mourned his death. But when his daughter, Meghan McCain, paid tribute to her father at a memorial service at the Washington National Cathedral, she sharply admonished President Trump's motto, "Make America Great Again."
"The America of John McCain has no need to be made great again because America was always great," Meghan McCain said.
The remark, which was met with applause, was a surprise to Cindy McCain, who said she did not know what her daughter was going to say.
"I will say that our children obviously took this very hard. All of them did, especially Meghan. And Meghan is certainly entitled to and speaks her mind just like her father did," McCain said. "And I respect her for that, and I had not read her speech. I did not know what she was going to say but I was very proud of her, very proud of her that day. It was hard to give."
Although neither President Trump nor the First Lady reached out to her after the funeral, McCain said it was okay, because it "was not what I needed at the time. I needed my family, and I had them."
Her personal feelings about the president remain tethered to the office he holds and what that office represents but she said she still found it hard to listen to Mr. Trump's repeated attacks on her husband, which included calling Sen. McCain, who was a prisoner of war in Vietnam for more than five years, "not a war hero."
"My personal feeling is that he is now the president of the United States. I respect the office and respect the, you know, what this means to the country. You know, our families have had their differences and I'll leave it at that. I mean, we are-- we-- it's been-- it's at times been hard for me to listen to him about my husband, I'll be honest."
Thanks for reading CBS NEWS.
Create your free account or log in
for more features.