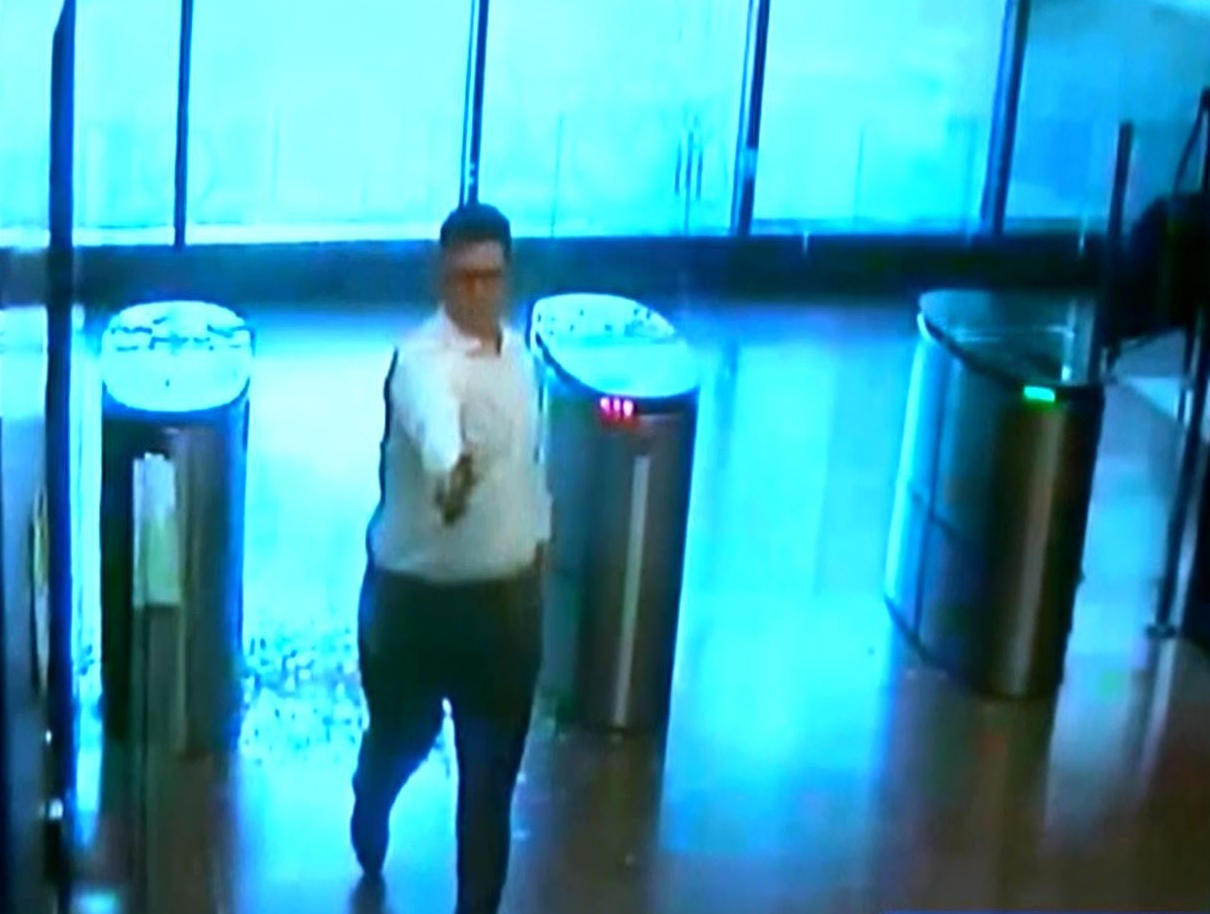 Cincinnati shooter's gun jammed during four-minute rampage, police say
CINCINNATI -- The shooter who killed three people in the lobby of a downtown Cincinnati office high-rise could have killed many more if his gun hadn't jammed during the four-minute rampage, city leaders said Friday. Newly released security footage from inside the lobby showed the gunman firing randomly while carrying a briefcase with hundreds of rounds of ammunition over his shoulder.
The footage also showed 29-year-old Omar Enrique Santa Perez walking quickly past a security turnstile Thursday morning just as he was shot by police officers who fired through a plate glass window. Cincinnati police chief Eliot Isaac said investigators don't know why Santa Perez decided to open fire in the building where Fifth Third Bancorp has its headquarters.
Santa Perez never worked there and a search of his apartment did not turn up any answers yet, the chief said. Isaac said investigators looked at the 9 mm handgun that Santa Perez bought legally in August and noticed it had jammed at some point.
He had fired 35 rounds inside the lobby as receptionists and other workers starting their day dove for cover, Isaac said. Santa Perez had entered through a side door, wearing dress pants and white button-down shirt.
The chief said Santa Perez drove to the area in his own vehicle and entered several nearby businesses before entering the high-rise, CBS affiliate WKRC-TV reports. Initially, police had thought Santa Perez had entered at the loading dock and began shooting there, but Isaac said Friday that was because some of the shooting victims had ran to that area.
Santa Perez's aunt, Yudy Martinez Perez, slumped against a kitchen wall and muttered denials after she heard the news, The Cincinnati Enquirer reported. Martinez Perez described him as "very quiet" and said he had been working various jobs but his family didn't know where.
One of the victims, a 25-year-old, was recognized by the coroner. Dr. Lakshmi Sammarco had met Pruthvi Kandepi at a local Hindu temple.
The two also shared the same hometown and language, Telugu. Sammarco posted Thursday on Facebook, asking how officials will explain to his parents "they will never see their son again because of a senseless shooting in a foreign country."
The local Telugu Association of North America office said they plan to help Kandepi's father. He wants his son's body to be taken back to India.
The other two victims were identified as Luis Calderon, 48, a bank employee, and Richard Newcomer, 64, a contractor who worked for Gilbane Building Company. One of the people wounded was in fair condition Friday and another patient was in serious condition at University of Cincinnati Medical Center.
Authorities believe that Santa Perez has lived in the Cincinnati area since 2015. Police swarmed his apartment in North Bend, Ohio, about 15 miles away.
Records show the shooter formerly lived in South Carolina and South Florida and had been charged with some non-violent crimes years ago.
The site of Thursday's shooting sits alongside Fountain Square, often a site of concerts, dancing, food trucks and other events around lunchtime or in the evenings. Gov. John Kasich ordered flags to be flown at half-staff at all public buildings and grounds in Hamilton County, and at the Statehouse, through Monday.
Cincinnati Mayor John Cranley praised the city's police officers who confronted and took down the shooter. "If he had gotten on the elevator, gone up to a floor, if he had been there earlier or a little bit longer, many more people would have been killed," Cranley said.
Thanks for reading CBS NEWS.
Create your free account or log in
for more features.