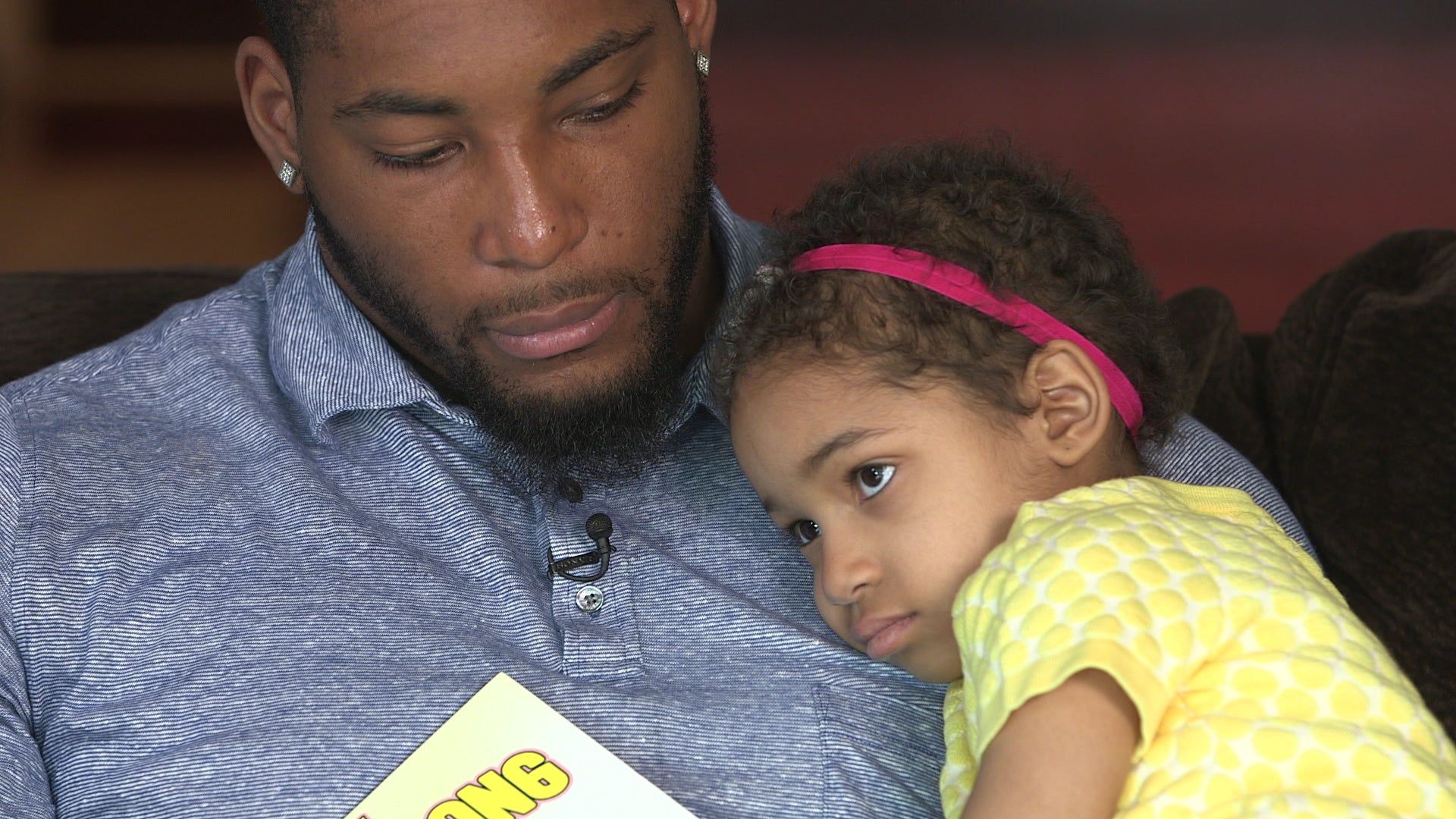 4-year-old cancer patient Leah is "Still strong"
Last June, doctors diagnosed Leah Still, daughter of Cincinnati Bengals defensive tackle Devon Still, with stage-four neuroblastoma. Aggressive tumors were attacking Leah's vital glands. Doctors gave her a 50/50 chance of survival. And then her father was cut from his team.
Those two moments would turn out to be the start of a surprising journey for the father and daughter team, with an ending fit for a storybook, reports CBS News correspondent Jim Axelrod.
Devon said that, to his surprise, it's his little girl who has been the strongest throughout the ordeal.
"I honestly didn't know what true strength was and I didn't think that a 4-year-old was going to come along and show me," Still said. "There's no rule book, there's no directions on how to handle this, and we just handled it the best way we could."
Leah and her father got some unexpected help along the way. After cutting Still in August, the Bengals changed their mind and signed him to the team. A spot on the roster meant he could keep his health insurance.
For a full season, Still traveled between Cincinnati and Philadelphia, where he and Leah's mother made sure she got through each painful treatment.
Although Leah said she was scared at the children's hospital, she nodded "yes" when asked if having her dad there helped.
In and out of hospitals, Still captured their intimate moments of encouragement and shared them with the world on social media.
"She loves taking pictures and making videos, so that was the first thing that came to mind, and it really put a smile on her face, and we didn't really expect it to go viral like it did," Still said. "It was just a moment me and my daughter were sharing."
But his posts were shared over and over, and soon millions of people were cheering for Leah.
Even rival NFL teams rallied to raise money for cancer research. By November, sales of Still's #75 jersey had raised more than $1 million for the Cincinnati Children's Hospital, and the night the Bengals took on the Cleveland Browns, five days before she started radiation treatments, Leah was able to see her father play.
Still could hardly contain his emotions.
"I, in a way, had the easy job. All I had to do was go out there on camera and talk about my daughter's fight with cancer. She had a tough job of sitting there battling the disease," Still said.
"I don't see the super hero dad that everyone sees, when I look into the mirror. I honestly just see a father who is willing to do whatever for their daughter," Still said. "I feel like any father that was put into this position would do the same thing that I did."
Leah recently had her biggest breakthrough yet. In March, doctors called Still to say his daughter was cancer free.
"I wasn't sure how to handle it because it's something I've been waiting months for -- to hear doctors say that my daughter is in remission," Still said.
It was almost as if he didn't know to trust it at first.
"Once it set in and I really understood what the doctors were saying, I just started crying and I looked to the back seat and just started hugging my daughter," Still said.
There may not have been a rulebook when they started their battle against cancer so, together, Still and Leah wrote their own. "I Am Leah Strong" is the story of her journey and a guide for other families facing similar struggles.
"She is wise beyond her years. This has made her grow up a lot and hopefully, as she gets older and really understands the magnitude of what she did and how hard she fought and how much she helped out other families that are going through pediatric cancer, it will make her grow even more," Still said.
Leah's not totally in the clear just yet. She still receives treatments three times a day, but with Leah in remission, Still is able to focus a little more on football.
Thanks for reading CBS NEWS.
Create your free account or log in
for more features.