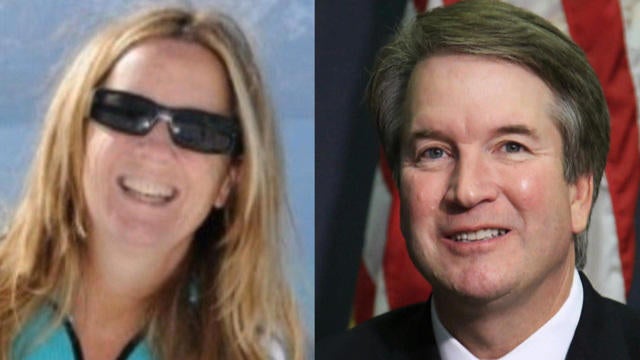 Senate Republicans hire female prosecutor to question accuser and Kavanaugh
Senate Judiciary Chairman Chuck Grassley, R-Iowa, announced the hiring Tuesday of a woman prosecutor to question President Trump's pick to serve on the Supreme Court, Judge Brett Kavanaugh, and the woman who has accused Kavanaugh of sexually assaulting her 35 years ago, Dr. Christine Blasey Ford.
Rachel Mitchell was described by Grassley as a career prosecutor with decades of experience prosecuting sex crimes. She comes from the Maricopa County Attorney's Office in Phoenix, where she heads the Special Victims Division, which covers sex crimes and family violence.
There are 11 Republicans on the majority side of the Judiciary Committee -- all of them men -- and hiring Mitchell enables the the all-male majority to skirt any worries they might have about how it would look if they were doing the questioning.
Grassley said in his statement that he's "committed to providing a forum to both Dr. Ford and Judge Kavanaugh on Thursday that is safe, comfortable and dignified."
He also said his goal "is to de-politicize the process and get to the truth, instead of grandstanding and giving senators an opportunity to launch their presidential campaigns." Grassley also stressed that he had promised Ford he'd do everything in his power "to avoid a repeat of the 'circus' atmosphere in the hearing room that we saw the week of September 4," when Kavanaugh testified at his confirmation hearings.
A GOP lobbyist familiar with the process told CBS News that Mitchell was "a Jon Kyl suggestion." Kyl was Kavanaugh's "Sherpa" during his confirmation process before Kyl was tapped to fill the late John McCain's Senate seat.
The GOP lobbyist said, "She is very good with survivors/victims. [She] handled multiple cases in [Arizona] in a very extremely sensitive position." The lobbyist said Mitchell is the "ultimate professional with an impeccable record. It's rare for someone to stay in the same office for as long as she has and have the broad respect of anyone who has worked with her."
On the other hand, a longtime member of the Arizona legal community tells CBS News, "Everyone is surprised by this. She has been a victim's advocate and supervisor for a long time. I had one case with her. She was nondescript."
Thanks for reading CBS NEWS.
Create your free account or log in
for more features.