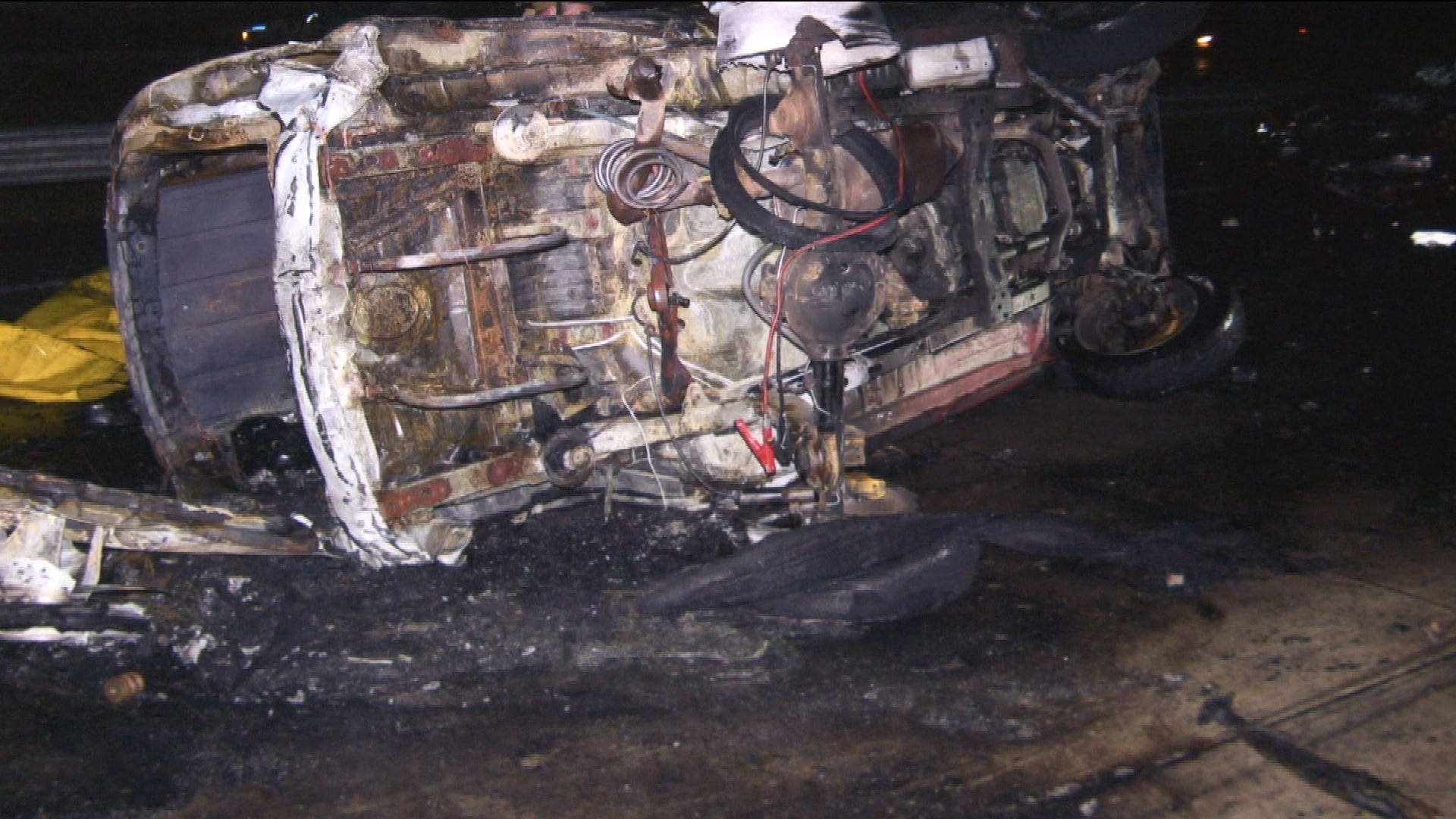 Chrysler exploding gas tank "remedy" not enough for some
About a year and a half ago, Chrysler recalled 1.5 million vehicles over a gas tank issue, but there are still concerns the solution may not go far enough and complaints the company isn't moving fast enough to make the vehicles safer. The fatality numbers rival GM's faulty ignition switch recall.
Regulators called the location of the gas tank a safety risk, because of how it hangs below the rear bumper. If another vehicle crashes into the back, the fuel tank can rupture, resulting in a deadly fire. Government figures put the death toll from deadly fires in the jeeps upwards of 50 people, but safety advocates say that figure is much higher, reports CBS News correspondent Jeff Pegues.
---
---
Kayla White, 23, was eight months pregnant with her first child, a boy she'd already named Braden, when her 2003 Jeep Liberty was struck from behind on a Michigan highway.
"My phone rang at one time, my house phone, with zeros all across it and I knew she was gone," Kayla's mother Sue said.
After the crash, the plastic gas tank of her Jeep melted away and witnesses said there was an explosion when the SUV was rear-ended. Kayla died in the fire.
"We don't want it to happen to anybody else," her mother said. "These vehicles need to get off the road and you see them every day and they're oblivious to it. They think, 'We're driving a safe vehicle,' and you're not."
Test after test has shown the potential danger of the rear-mounted fuel tanks in model year 1993-2004 Jeep Grand Cherokees and 2002-2007 Liberties.
In 2010, the National Highway Traffic Safety Administration (NHTSA) started investigating. For three years, Chrysler argued the vehicles were not defective and that the investigation should be closed. Then, in June 2013, NHTSA sent a letter asking Chrysler to recall those vehicles tentatively saying there was a "defect" that presented an "unreasonable risk" of "burn[ing] to death in rear impact crashes."
It wasn't until after a private meeting between then transportation secretary Ray LaHood, NHTSA administrator David Strickland and Chrysler's CEO Sergio Marchionne that the company agreed to take action.
CBS News obtained emails between Strickland and a Chrysler executive. Strickland wrote, "The meeting would only be with the secretary and I, no other staff, as Sergio wanted."
In a recent deposition, exclusively obtained by CBS News, Marchionne said, "We ultimately resolved the issue...after that meeting."
"This was a deal that was cut between the NHTSA administrator and the secretary of transportation and Chrysler," former NHTSA administrator Joan Claybrooke said. "It was a deal, the deal was that Chrysler had refused, refused, refused to ever do a recall of these vehicles. They knew that they had a problem and so they wanted to do the cheapest thing that they could do."
She said that meant putting a tow hitch on the 1.5 million affected vehicles as part of a voluntary safety recall. But safety experts and victims' lawyers say the fix is inadequate, pointing to a deposition with Chrysler engineer François Castaing, the so-called father of the Jeep, two years before the recall.
"A tow package does not protect the tank," Castaing said.
When asked why NHTSA and Chrysler would agree to the recall and to that specific fix, Claybrooke responded, "beats me."
Chrysler declined to comment on camera but in a statement said the "installation of a hitch assembly is the agreed-upon action." And that "it provides incremental benefit in low to medium-speed impacts."
In November, NHTSA sent a letter to Chrysler ordering a faster recall. At the time just "3 percent" of the affected vehicles had been given the fix and NHTSA had received complaints that owners were "being turned away" and told that their vehicles were "safe to drive without the remedy." NHTSA responded that if accurate the dealership's conduct was "unacceptable."
White burned to death in her Jeep Liberty the day before that letter was sent. Jerry Thurswell -- her family's attorney -- said White tried to get the remedy. But was told the part was unavailable.
"This is a pregnant woman, a young girl, eight months pregnant and she gets burned up alive, would have walked away without an injury according to the autopsy, but for the fact that the car exploded," Thurswell said.
Chrysler has accelerated the installation of the hitch on recalled Grand Cherokees and Liberty SUVs -- over 250,000 have the remedy. But some dealerships across the country are still telling customers their vehicles are safe without it.
"Make it right, get these vehicles off the road," her mother said. "Take responsibility for your -- for what's wrong. Fix them. Admit fault. My daughter is gone. She's never coming back."
Chrysler still maintains there is no defect, that its vehicles are safe and met all safety standards in place when they were sold. It argues the fire deaths, including White's, were related to high speed crashes "far in excess of any reasonable expectations" for fuel tank performance.
NHTSA tested the trailer hitch solution in 2014 and reported it provided incremental safety benefits in low to moderate speed crashes and defends the deal saying it doesn't have legal authorities over vehicles more than 10 years old.
Marchionne and LaHood declined to comment on camera and Strickland did not respond to CBS News' request.
Thanks for reading CBS NEWS.
Create your free account or log in
for more features.