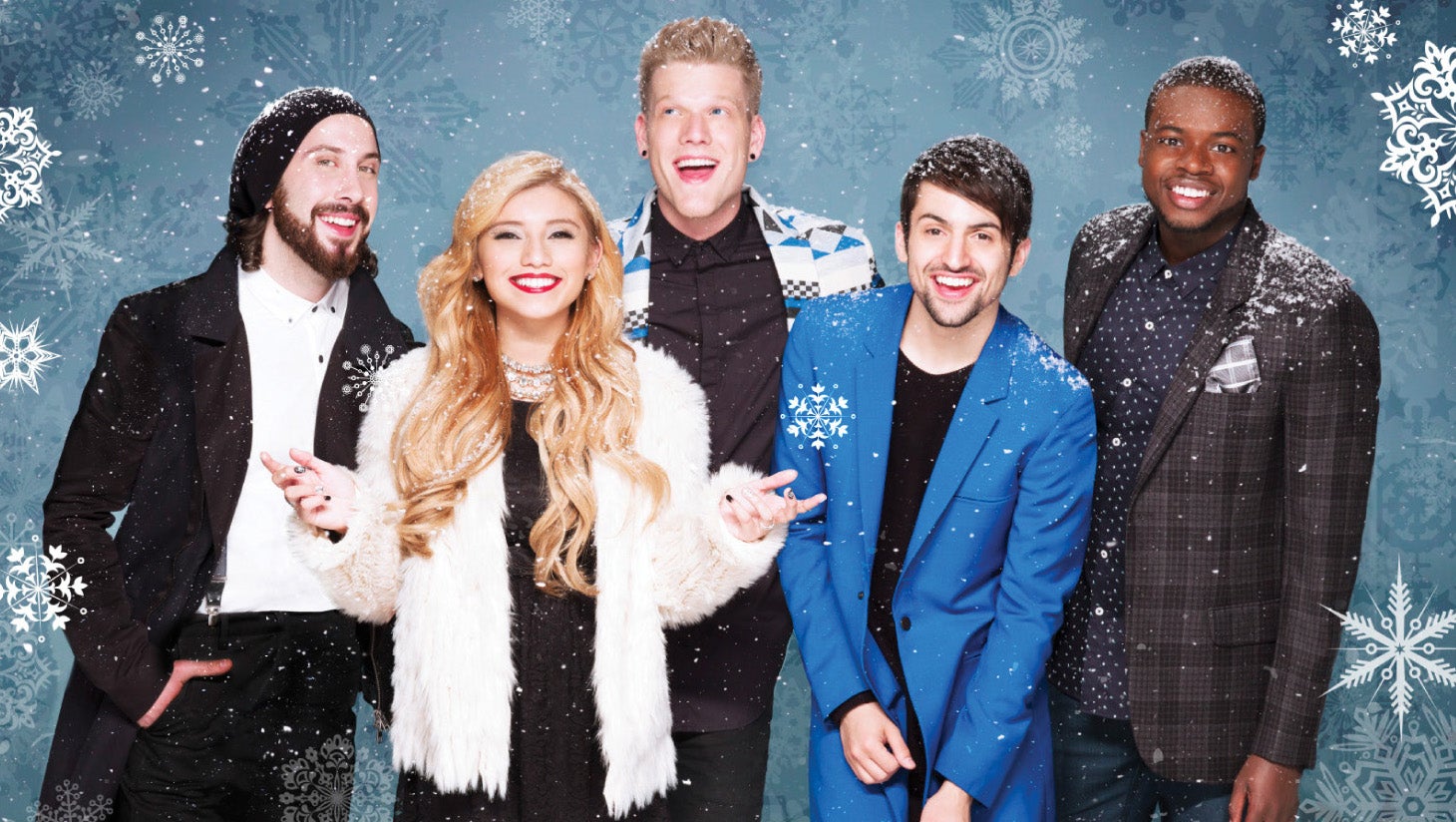 New Christmas albums and songs of 2014
Is it just us, or does Christmas music seem to seep into our lives earlier and earlier with every year?
Everyone loves a good holiday song, but now that Thanksgiving is behind us, snow has fallen, and December has officially begun it seems like just right time to start playing holiday tunes.
On the radio and inside stores, Mariah Carey's "All I Want For Christmas Is You" or Bing Crosby's "White Christmas" will undoubtedly be played at some point this season.
Those great classics aren't going anywhere, but if you're looking for something new, we've rounded up this year's new holiday offerings -- from Pentatonix to Motown and even "Downton Abbey."
So sit back, grab some egg nog -- and turn up the music.
"Downton Abbey"
"Downton Abbey" fans in the U.S. don't have to wait until 2015 for a dose of the Crawleys.
The producers of the hit TV series teamed with Warner Bros. Records for "Christmas at Downton Abbey," a collection of festive hymns and classic carols. This 45-track double CD, out now, includes seven exclusive recordings by members of the cast. Elizabeth McGovern (Cora Crawley, the Countess of Grantham), sings "It Came Upon a Midnight Clear" and does a duet on "The First Noel" with fellow co-star Julian Ovenden, who portrays Charles Blake on the show.
McGovern said in a statement, "It was so exciting for me to have been given the opportunity to sing two songs in a totally different context to that which I'm accustomed. Without my guitar, without my band! And I didn't write them!"
---
Aimee Mann and Ted Leo
Aimee Mann and Ted Leo are back with a new single this holiday season called "Nothing Left to Do (Let's Make This Christmas Blue)" available now on iTunes. Mann is celebrating with a holiday variety show featuring special guests include Susannah Hoffs, Paul F. Thompkins, Tim Heidecker, Jonathan Coulton, John Hodgeman and more. Stops include Boston, Los Angeles and New York.
Mann released her first Christmas album, "One More Drifter in the Snow," in 2006.
Band of Merrymakers
Kevin Griffin of Better Than Ezra and songwriter Sam Hollander are behind this year's new holiday single, "Must Be Christmas," featuring the Band of Merrymakers including members of Lady Antebellum, Neon Trees, Fitz and The Tantrums, 311, Better Than Ezra, 3OH!3, Smallpools, The Mowglis, Sinclair and The Honeymoons. A portion of the proceeds from the single goes to the MusiCares Foundation.
"Band of Merrymakers is a rotating-cast Yuletide super group with one goal: to help raise awareness and donations for non-profit organizations and charities we are passionate about," Griffin said in a statement.
---
"Do They Know It's Christmas?"
Former rocker-turned-activist Bob Geldof is behind a new version of "Do They Know It's Christmas?" with the voices of One Direction, Ed Sheeran, Paloma Faith and Coldplay's Chris Martin. Proceeds from the new single go the battle against Ebola.
The original single enlisted stars such as Boy George, George Michael, Bono and Sting to raise money for Ethiopia famine relief.
"The only similarity between '84 and now is that it is the poorest, as ever, that are getting attacked," said Geldof. "And that makes me enraged."
---
Pentatonix
The members of Pentatonix got into the holiday spirit over the summer when they recorded their new holiday album, "That's Christmas To Me," featuring the original title track and many holiday favorites, including "Hark the Herald Angels Sing," "It's the Most Wonderful Time of the Year," "Santa Claus is Coming to Town" and "Silent Night."
There's also a bonus track -- "Let It Go" from Disney's blockbuster Frozen."
"I think that we picked some of our favorites and after that we kind of just filled in with songs that we thought we needed and also just songs that are fun to sing. We wanted it to be Christmasy and jolly," said Avi Kaplan.
"We also wanted to push the boundaries a little bit and do songs that you wouldn't really expect on a Christmas album like 'Sugarplum Fairy' or White Winter Hymnal.' We wanted to get a little progressive and exciting with it," added Scott Hoying.
Earth Wind & Fire
Earth Wind & Fire brings some soul and funk to the Christmas season with the new collection, "Holiday." The set feature familiar favorites "Winter Wonderland," "The Drummer Boy," "Joy to the World" and "Jingle Bell Rock."
There's also the track "Happy Seasons" (inspired by "Happy Feelin'") and "December (inspired by September") on the album, which is out now. It marks the group's 21st studio release.
---
Jim Brickman
Pianist Jim Brickman lends his musical talents to "On a Winter's Night: The Songs and Spirit of Christmas," which features "All I Want For Christmas Is You" and "Blue Christmas," along with guest appearances from John Oates, Kenny Rogers and others.
Brickman is no stranger to the holiday scene. He often stages Christmas shows and has released holiday-themed albums through the years.
Idina Menzel
Idina Menzel wowed kids and adults alike last year with the award-winning "Let It Go" from "Frozen." She's keeping the momentum going with the debut of her Christmas album, "Holiday Wishes." The Broadway star -- with the beautiful voice -- takes on classics, including "The Christmas Song" and "Silent Night."
"I didn't know what to expect when I made this album, but it ended up being very very meaningful," Menzel said in a video for Target, which is releasing a special edition of the album. "I think it's more than just a bunch of holiday songs together on an album. There's a dreaminess and a classic sound to it."
Check out Menzel's version of "Baby It's Cold Outside," featuring Michael Buble:
---
Seth MacFarlene
Seth MacFarlene took a break from "Ted" and "Family Guy" to work on "Holiday For Swing," a new album of 1940s and 1950s show tunes. The collection boasts guest appearances from Sara Bareilles and Norah Jones, along with Frank Sinatra's bassist Chuck Berghoffer as well as a 65-piece orchestra.
He spoke with Billboard about Bareilles guest-appearing on "Baby It's Cold Outside," saying, "That's a song that surprisingly has somehow made the leap into the modern era without being called out for what it is. The girl is clearly saying no. But again, it's just a joy to sing against orchestration that's that good -- you really gotta be s****y to screw it up I guess."
Darius Rucker
Darius Rucker is out with his fifth full-length studio album, and this time it's Christmas-themed. The Hootie & the Blowfish frontman -- and now country crooner -- takes on classics like "I'll Be Home For Christmas" and "Baby, It's Cold Outside" (with Sheryl Crow).
The set also features two originals: "What God Wants for Christmas" and "Candy Cane Christmas."
"I am so excited to finally make a Christmas album," Rucker told Rolling Stone. "This has been a lifelong dream, and I hope my fans enjoy listening as much as I enjoyed making it."
---
Heart
This season Heart offers up "Heart & Friends: Home for the Holidays," a new CD/DVD collection featuring a live Christmas concert with songs like "The River" and "Please Come Home for Christmas."
Special guests appear, too, including Sammy Hagar, Shawn Colvin, Pat Monahan of Train and Richard Marx.
"We had a great time putting on this show with special friends for the holidays. Warm moments and great music from all....and some saucy little elves too," said Ann Wilson.
"We have always held the holidays up as a wonderful whimsical time of year and celebrating it in our beloved home town with friends, songs and family was extremely magical," added Nancy Wilson.
Sara Evans
"At Christmas" is the title of Sara Evans' new holiday album consisting of 10 songs, including "Silent Night," "Oh Holy Night" and "Winter Wonderland." There's also a special version of "12 Days of Christmas" with vocals from two of her daughters Olivia, 12, and Audrey, 10. The title track is a new original song.
"The holidays have always been a very special time for me and my family to get together and give thanks for everything we have been blessed with," said Evans. "This album was my way of celebrating that tradition and hoping to help other families out there celebrate the holidays."
---
LeAnn Rimes
LeAnn Rimes is out with a holiday album for 2014 called "One Christmas," featuring six songs, including "Silent Night," "Carol Of The Bells" and "I Want A Hippopotamus For Christmas."
"I really love the Christmas holiday season," she told Billboard. "For this project, instead of doing one record like I did last time," she said in reference to her 2004 disc What a Wonderful World, "I wanted to do an EP and spread it around over the next three years. I love it. I miss making Christmas music, so I'm happy."
She's also on a Christmas tour, check out the announcement below:
---
The Killers, feat. Jimmy Kimmel
The Killers just released the holiday song "Joel The Lump Of Coal (Feat. Jimmy Kimmel)," marking the group's ninth annual Christmas single for (RED), the to the global fund to fight AIDS.
Kimmel serves as the voice of Santa Claus on the song.
"This is our ninth year giving back to (RED) and the fight against AIDS with our versions of holiday carols," said Ronnie Vannucci, drummer for the band. "Each year we like to spread out and collaborate with our friends. This year, after staying up way too late drinking 'nog with our pal Jimmy Kimmel, we made yet another one, about a lump of coal. We're really excited for everyone to hear it."
Thanks for reading CBS NEWS.
Create your free account or log in
for more features.