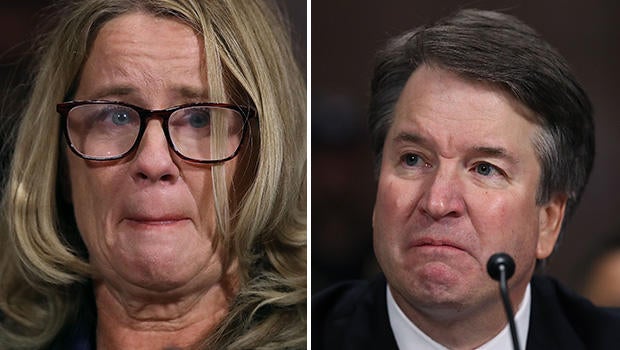 Christine Blasey Ford's friend clarifies statement about alleged assault by Brett Kavanaugh
Leland Keyser, a high school friend of Dr. Christine Blasey Ford, who has accused Supreme Court nominee Brett Kavanaugh of sexually assaulting her while they were both teenagers, has written a letter to the Senate Judiciary Committee to clarify that although she does not remember the house party where the misconduct allegedly occurred, she believes Ford's account.
Keyser had previously released a statement through her attorney saying that she did not remember the party in question, and that she does not remember ever meeting Kavanaugh. In his testimony before the Judiciary Committee Thursday, Kavanaugh often brought up Keyser's statement as proof of his innocence, although he omitted that Keyser said that she believed Ford.
President Trump instructed the FBI to conduct an investigation within one week on Friday, after Republican Sen. Jeff Flake and other moderate senators called for a weeklong delay on a full Senate vote on Kavanaugh's confirmation to give time for an investigation.
On Saturday, Keyser said through her lawyer in a letter to the committee that she was willing to "cooperate fully with the FBI's supplemental investigation" into Kavanaugh.
"However, as my client has already made clear, she does not know Judge Kavanaugh and has no recollection of ever being at a party or gathering where he was present, with, or without, Dr. Ford," the letter from Howard Walsh, Keyser's attorney, said. It continued that Keyser "does not refute Dr. Ford's account, and she has already told the press that she believes Dr. Ford's account."
"However, the simple and unchangeable truth is that she is unable to corroborate it because she has no recollection of the incident in question," the letter continued.
Mark Judge, a friend of Kavanaugh's who was allegedly present during the assault, has also said that he will cooperate with the FBI investigation.
Thanks for reading CBS NEWS.
Create your free account or log in
for more features.