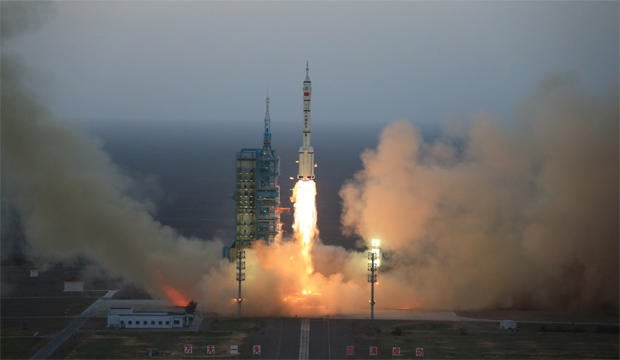 China launches two-man crew to station module
A Chinese Long March rocket boosted two astronauts, or "taikonauts," into orbit Sunday evening for a planned month-long stay aboard the Tiangong-2 -- "Heavenly Palace" -- space station module, China's sixth and longest piloted space flight to date.
The Long March 2F booster lifted off from the Jiuquan Satellite Launch Center in China's Gobi Desert at 7:30 p.m. EDT (GMT-4; 7:30 a.m. Monday local time), roughly the moment Earth's rotation carried the pad into the plane of Tiangong-2's 240-mile-high orbit.
Video from on-board cameras showed mission commander Jing Haipeng, making his third spaceflight, and flight engineer Chen Dong, making his first, calmly monitoring cockpit displays as the Shenzhou-11 spacecraft streaked toward orbit.
Nine minutes after liftoff, Shenzhou-11 separated from the rocket's upper stage, unfolded its solar arrays and set off after Tiangong-2. If all goes well, the crew will monitor an automated docking on Tuesday, kicking off a month-long stay in orbit.
"The rocket is flying according to its original plan and the Shenzhou spacecraft has entered into its preliminary orbit," Gen. Zhang Youxia, chief commander of China's human space program, said through an interpreter. "The solar panel has been unfolded and the crew is in great condition. Hereby I announce the launch of Shenzhou-11 is a complete success."
Chinese President Xi Jinping sent congratulations to the launch team, saying the Shenzhou-11 mission with Tiangong-2 "marks a new milestone in our manned space flight mission in China."
Tiangong-2 is China's second experimental space station module, an upgraded habitat with improved life support systems, power, communications and research equipment.
The goal of the mission is to carry out a variety of experiments while testing the module's critical systems to pave the way toward construction of a large multi-module space station around the end of the decade.
Mission commander Jing spent 15-and-a-half days in space during the Shenzhou-7 and Shenzhou-9 missions in 2008 and 2012.
"The Olympic games are held every four years," he said through an interpreter at a pre-launch news conference. "I conducted my first space mission in 2008. Then again, my second in 2012. Now, another four years has just passed. I think I need to learn from (the) Chinese Olympic shooter who has participated in nine Olympic games. I still have a long way to go!"
Flight engineer Chen is a veteran fighter pilot making his first space flight.
"My current focus is on how to complete the mission perfectly," he said before launch. "I'm feeling relatively calm. But I was very excited when I was chosen. I felt so, so lucky. ... I didn't know much about aerospace, so I needed to spend extra time and energy to study basic theories. There was quite a tight schedule. We felt much pressure at that time."
Like Russia's Soyuz ferry craft, the Shenzhou spacecraft can carry three crew members. But to pull off a month-long mission aboard the prototype station module, China opted to launch just two crew members and to carry additional supplies instead.
"After entering Tiangong-2, the taikonauts will carry out many experiments, which show the roles, effects and value of humans in many space activities," said Wu Ping, a spokeswoman for China's Manned Space Engineering Office.
The crew members will carry out materials science experiments, medical research, three student experiments, plant growth studies and test orbital repair techniques.
At the conclusion of their mission, Jing and Chen will undock and return to Earth in the Shenzhou spacecraft's central descent module, landing under parachutes, Soyuz fashion, in Inner Mongolia.
The Shenzhou-11 flight is the latest in a series of incremental steps leading to assembly of an operational, Mir-class space station, an orbital laboratory that will reach maturity around the time the much larger International Space Station is being retired.
Taking a step-by-step approach, China became the third nation, after the United States and the Soviet Union/Russia, to launch a piloted spacecraft in October 2003 when Yang Liwei blasted off aboard the Shenzhou-5 spacecraft.
Shenzhou-6, carrying two crew members, was successfully launched in October 2005 and Shenzhou-7, carrying Jing, Zhai Zhigang and Liu Boming, flew in September 2008.
Tiangong-1, China's first prototype station module, was launched in September 2011 to serve as a target for rendezvous and docking missions. One month after launch, the unmanned Shenzhou-8 spacecraft carried out an automated rendezvous and televised docking with the research module.
China followed that flight by launching Jing, Liu Wang and Liu Yang on the Shenzhou 9 mission in June 2012. They carried out the program's first piloted rendezvous and docking.
Tiangong-2 will host astronauts "for up to 30 days whereas in the past it was short visits only," said Joan Johnson-Freese, a professor at the Naval War College and a noted expert on China's space program. "Life support systems was one of the areas that China really had no experience in whatsoever, so they've been taking it very slow and cautiously."
If all goes well, China will launch the unpiloted Tianzhou-1 cargo ship next spring to autonomously dock with Tiangong-2. Like Russian Progress space freighters, Tianzhou 1 will be capable of automatically transferring propellants, a crucial requirement for space station assembly and maintenance.
"That will further their docking capabilities needed for the larger space station," Johnson-Freese said. "Tiangong-2 is supposed to be able to stay in orbit for two years or longer, so that's taking them really close to 2019 or so. I think this will be their last big technology test phase before going to their large space station."
Tiangong-1, launched in September 2011, gave the Chinese experience with autonomous dockings. It was visited by two crews, including China's first two female astronauts, with stays lasting up to 15 days or so.
Like Tiangong-1, Tiangong-2 measuring 34 feet long and 11 feet across at its widest. But Tiangong-2 is a much more advanced spacecraft, with enhanced life support equipment, refueling systems, more than 40 experiments and accommodations to support two astronauts for a month at a time.
"The astronauts can now have a better dining and sleeping environment in the spacelab, and they have also physical exercises for experiments and recreation facilities," Wu Ping said in translated remarks last month. "These changes will make the 30-day life for the astronaut in space more comfortable, convenient and more colorful."
The Shenzhou spacecraft and the two Tiangong spacelab modules are critical elements of China's Project 921, which is aimed at perfecting low-Earth orbit space transportation, rendezvous and docking technology, in-orbit maintenance before the eventual construction of a large 65-ton space station.
For comparison, the International Space Station operated by the United States, Russia, Europe, Canada and Japan, is the size of a football field, weighs more than 450 tons and has a multi-module pressurized volume comparable to a 747 jumbo jet. It has been staffed with rotating crews of up to six astronauts and cosmonauts for the past 16 years.
Thanks for reading CBS NEWS.
Create your free account or log in
for more features.