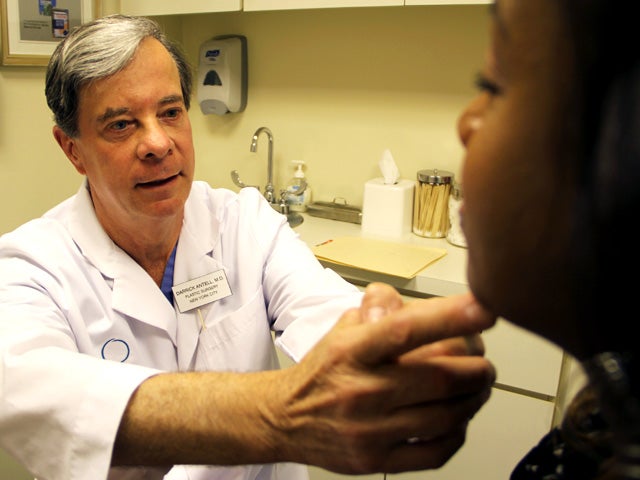 Chin implant surgery rates rise 71% since 2010: Why?
(CBS News) Notice something different about a friend's face? If new statistics are any indication, your friend might be sporting a new chin.
Plastic surgery takes years off appearance, study finds
PICTURES: 13 bizarre but popular plastic surgery procedures
PICTURES: Top 10 most popular cosmetic procedures in U.S.

A new report from the American Society of Plastic Surgeons shows chin implants are the fastest growing plastic surgery procedure in the U.S., up a staggering 71 percent since last year.
In 2011, almost 20,700 Americans got chin augmentation surgery, known as a "chinplant," with slightly more men opting for the procedure.

"The chin and jawline are among the first areas to show signs of aging," Dr. Malcolm Z. Roth, president of the American Society of Plastic Surgeons, said in a written statement. "People are considering chin augmentation as a way to restore their youthful look just like a facelift or eyelid surgery."
More men and women who were 55 and over got the procedure than any age group - 8,459 people, followed by 5,075 people in their forties. For the procedure, a plastic surgeon creates a pocket in front of the chin and under the muscles in which an implant made out of silicone or other materials are inserted. According to the National Institutes of Health, the procedure lasts between 1 and 3 hours.
What's behind the rising rates? Roth thinks in part it's technology driven - but not in the sense that surgeons have a more cutting edge techniques.
"We also know that as more people see themselves on video chat technology, they may notice that their jawline is not as sharp as they want it to be," Roth said. "Chin implants can make a dramatic difference."
One manager at a software company who underwent a chin implant, Lizette Stephens, said she got the surgery after seeing her double-chin on lots of client video chats.
"It really, really bothered me," Stephens said. "I wanted to do something about it to get a more profound profile and more definition in my chin area."
Chinplants weren't the only procedure to see a big bump in rates. Lip augmentation rates went up 49 percent since last year, while cheek implant rates shot up 47 percent. Laser-skin resurfacing saw a 9 percent climb, soft tissue filler procedures increased 7 percent, and facelifts increased 5 percent.
The rates pale in comparison to surgeries like breast augmentation, which are performed on roughly 307,000 Americans each year, according to ASPS.
For last year's statistics, the ASPS' notable finding was more men were going under the knife than ever before, with more than 1.1 million getting plastic surgery in 2010, HealthPopreported.
Thanks for reading CBS NEWS.
Create your free account or log in
for more features.