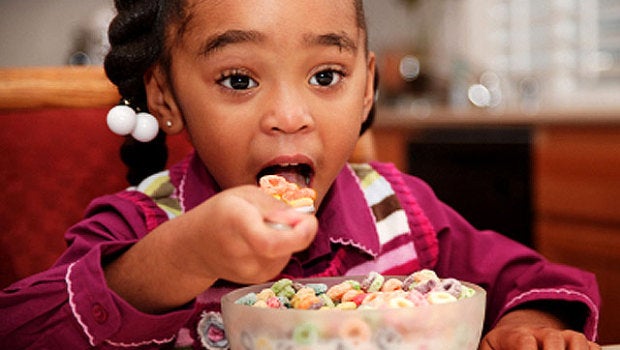 Some kids' cereals have as much sugar as cookies, report says
A new report by a consumer watchdog group says a shocking amount of sugar is packed into children's breakfast cereals. Eating a bowl of kids' cereal every day would add up to consuming the equivalent of 10 pounds of sugar a year, according to the report by the Environmental Working Group (EWG).
"Breakfast cereals are the single greatest source of added sugars in the diets of children under the age of eight," said nutritionist and EWG consultant Dawn Undurraga, co-author of the report which looked at 181 cereals marketed for children.
Recent research has shown that there has been some progress in reducing obesity rates in young children, but for all other age groups there has been little sign of improvement. One of the reasons for the lack of progress may be due to the high amounts of sugar that Americans consume -- far more than the commonly recommended amount of 10 to 15 percent of total calorie intake. In March, the World Health Organization lowered sugar intake recommendations to less than five percent.
The report says that 34 percent of the calories in children's cereals come from sugar. For two-thirds of the cereals, a single serving contains a third of the sugar a child should consume in a day. For 40 cereals, a single serving contains over 60 percent of the daily amount of sugar, according to researchers.
There are very few low-sugar options among the children's cereals reviewed. An EWC reevaluation of 84 cereals reviewed in 2011, showed only 11 had reduced their sugar content. Many brands still had as much sugar in a single serving as three Chips Ahoy! cookies, according to the report.
Moreover, the serving size was found to be an "unrealistically small amount in most cases," researchers said, so many children are likely to eat even more in a sitting.
"The [EWG] report rightly raises substantial concerns about added sugar and potential associated risks of obesity, which remains epidemic in US children and costly to society," Dr. Leonardo Trasande, an associate professor at the Department of Population Health at NYU Langone Medical Center, told CBS News in an email. "In 2008, we documented that the annual health care expenditures attributable to obesity in children were $2.9 billion."
The EWG study also found that 12 cereals were more than 50 percent sugar by weight. National brands such as Kellogg's Honey Smacks, Malt-O-Meal Golden Puffs and Post Golden Crisp were among those cited as having more than 50 percent sugar by weight. Several store brands had even more; topping the list was Lieber's Cocoa Frosted Flakes, which packed in a whopping 88 percent sugar by weight, according to the report.
The least sugary children's cereals, containing one teaspoon or less, included national brand Kellogg's Rice Krispies (gluten free) at three percent and store-brand Springfield Corn Flakes Cereal at seven percent. Eating unsweetened whole-grain hot cereals with fruit on top is a much healthier choice, the group said.
"In general, families should take greater care to reduce the intake of all sugar-sweetened beverages and foods, and eat a diverse diet," said Dr. Trasande.
Thanks for reading CBS NEWS.
Create your free account or log in
for more features.