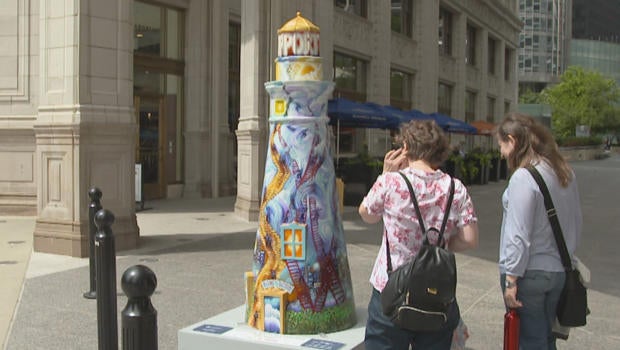 Chicago's Lighthouses: Shedding light on artists with disabilities
Some street art in Chicago is shedding light on the challenges millions of us face every day. Let's take a stroll with Dean Reynolds:
This summer in Chicago beacons of hope have sprouted on the sidewalk, dotting Michigan Avenue's "Magnificent Mile" with a message for the masses.
"Kindness is a language which the deaf can hear and the blind can see," said Janet Szlyk, president of the Chicago Lighthouse, a social service organization which works on behalf of the visually-impaired, physically or emotionally challenged, and military veterans.
The lighthouses are part of a campaign by Lighthouse to illuminate and celebrate the potential of people with disabilities.
Many of the 51 lighthouses on display are works of art created by those whom fate has tested, such as artist Pooja Pittie.
"Focus on what you can do, not what you can't do," she told Reynolds.
Her muscular dystrophy has not impeded her brush strokes.
Describing her painted lighthouse, Pittie said, "It's called 'Boundless.' And to me, that word, it just evokes a world full of possibilities."
A phone app provides information on the works and the artists.
Reynolds said, "It must give you a great sense of accomplishment."
"Every day," she said. "Every day I show up at the easel and paint, I feel that."
Szlyk said, "They feel empowered. That's the key word: empowerment."
About half of the artists showcased in the exhibit are living with disabilities. "It really highlights Chicago as a city of inclusion," Szlyk said.
Chicago has a history of similar street displays – cows one summer, police dogs during another.
These lighthouses carry messages.
Erika Vessana's piece is called "Blindfold Brushes." And passersby can see what it's like to not see.
"Rise Up" is another work.
"It's about people with disabilities installing a light bulb into the lighthouse," said the artist, Francisco Ramirez. "They are all reaching up in some sort of way, to be a beacon."
Ramirez says it shows disabilities (such as his bipolar disorder) are speedbumps, not roadblocks.
Szlyk said, "So often I hear of people who have great resumes, great education, great credentials, and they go for an interview, a first interview, and don't make it to a second interview because of an obvious disability. We are talking about tens of millions of Americans who could be in the workplace, but are somehow not making their way in."
The Chicago Lighthouse is trying to change that. It already has a workforce that produces clocks for the home and office; and hundreds more work at call centers it runs, underlining the point that the disabled can be productive.
The irony of this new campaign is that some of the artists obviously can't see their own product.
Carlos Hranicka has significant vision loss, but nonetheless helped to create a tapestry adorning one of the pieces.
He hopes people who see will think.
"They'll have a second opinion about what kind of talents disabled or blind or visually-impaired people have," Hranicka said.
And what better way to show it.
When asked if this exhibition might be the beginning of lighthouses all over the world, Szlyk said, "I would be thrilled if this started a trend that spread all over the world."
"Shining a light into the darkness?"
"Yes."

For more info:

Story produced by Charlie Brooks.
Thanks for reading CBS NEWS.
Create your free account or log in
for more features.