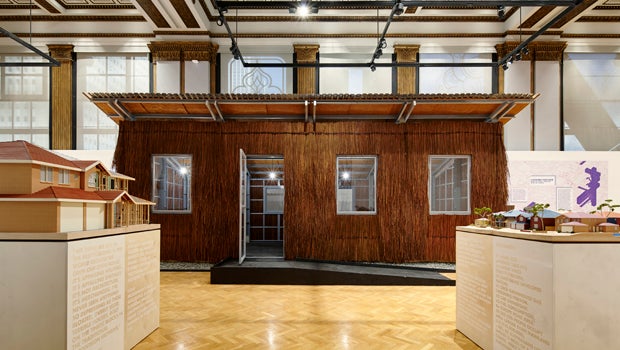 ​Chicago launches its first Architecture Biennial
Time now to salute one American city's towering achievements. We speak of Chicago, and a skyline that attracts admirers by the boatload. With Anna Werner, we join the sightseers:
If Broadway hits the heights, and Hollywood tops the box office, then you might say Chicago towers above them all -- for its architecture.
Considered the birthplace of the modern skyscraper, the city has made architecture one of its main tourist attractions. On any given day, dozens of architecture tours wind through the city's waterways and streets. The buildings are considered works of art ... and their designers are treated as directors are in Hollywood.
"Do architects get more respect in Chicago than they do in other places?" asked Werner.
"I think so," replied architect Jeanne Gang. "We don't have movie stars or the film industry."
"You got Michael Jordan!"
"Yeah, he's pretty famous, too. So, athletes and architects!"
Architectural giants like Frank Lloyd Wright, Ludwig Mies van der Rohe, and Helmut Jahn were all contributors to the Chicago cityscape. Jeanne Gang has also made he rmark, with her building aptly named Aqua (left).
"When I'm in a taxi or just coming along and someone points out our building, my building, I'm always taken aback," Gang said. "'Cause I think it's ingraining into the collective memory of the city at this point, and it's pretty exciting for me."
But this incredible skyline emerged out of tragedy: The Great Chicago Fire of 1871. The fire decimated the city's wooden structures, leaving an estimated 300 people dead and more than three square miles in ruins.
Reconstruction soon followed -- a process that would redefine both the city and the country.
"If you think about the history of New York, it was a Dutch settlement. Chicago really is the beginning of American city planning," said Chicago Architecture Biennial director Sarah Herda.
And this year marks another defining note in the city's rich architectural history: the inaugural Chicago Architectural Biennial. It's a combination of exhibit and think tank devoted entirely to architectural ideas.
"We have over 130 participants from 30 countries on six continents," said Herda. "So we really wanted to create a global platform to talk about what's most urgent in architecture today."
One topic on the table: Affordable housing. One residence, developed for the Mekong Delta outside of Ho Chi Minh City in Vietnam, was designed to address the housing crisis that exists there, with a house that was affordable and easy to build. The bamboo thatch, which has a steel frame and can be skinned in different ways for different climates, can be assembled in one day. Cost: $3,500.
Other exhibits challenge conventional design, such as reinvented office space.
"We climb in here and no matter where you are in this construction you're never sitting."
"So why is this something that's considered architecture?" asked Werner.
"Well, it's absolutely about redefining space," replied Herda. "So it's creating a new environment for work to replace the office cubicles you are probably more familiar with."
Perhaps the most talked-about exhibit is a reimagined police station by Jeanne Gang. The design is intended to help build trust between police and citizens -- a topic currently on the minds of many in Chicago.
"We kind of divided the police station into two parts -- a secure area and a more public zone," said Gang. "Mental health services, for example; a nutritionist; a computer lab. And those are things that we felt could reanimate the police station and make it more of a place that people want to come to."
The Architecture Biennial ends this week, but it will return in the fall of 2017, to maintain Chicago's tradition of inventive architectural design.
"There's a kind of dignity that good architecture can bring to everyday life," said Herda. "And I think that the architects in this exhibition are really concerned with just that."

For more info:
Thanks for reading CBS NEWS.
Create your free account or log in
for more features.