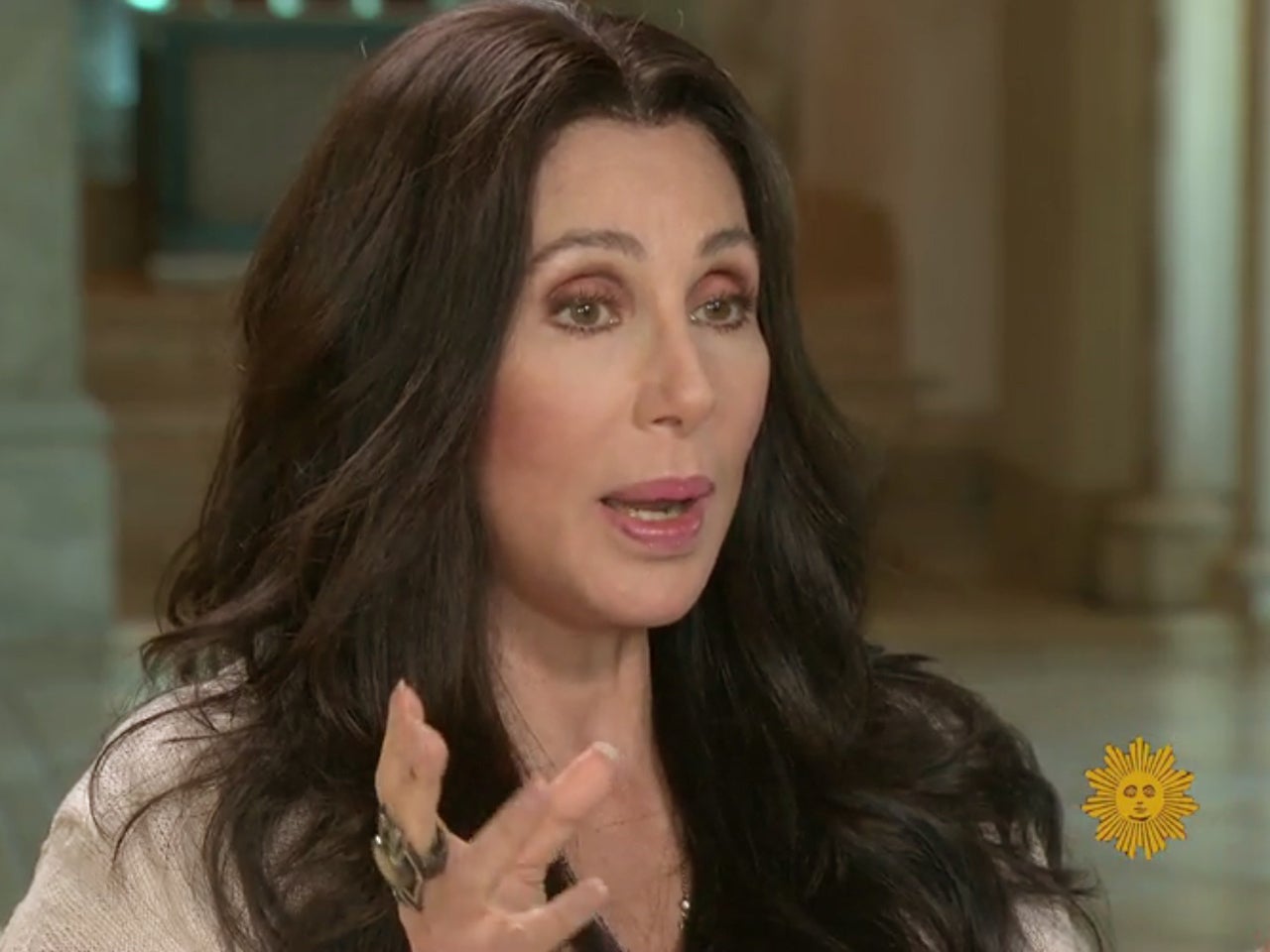 (CBS News) In 1965 "I Got You, Babe" was a huge hit for Sonny and Cher. With a new album just coming out, Cher is carrying on a recording career nearly 50 years long. Anthony Mason has the profile of a legend:
When Cher appeared on her first television special in 1975 -- the singer's solo TV debut after her break with Sonny -- she was joined by her guest stars Elton John and Bette Midler in a skit about a retirement home for entertainers.
"It's very funny," said Mason.
"Yes," Cher agreed. "And not very far from the truth.
"People are so shocked that I say I don't like getting older, because I think you're supposed to say, 'Oh, I'm better than ever, and it's great, and blah, blah, blah. Unh-uh. Not happening for me."
She's spent nearly half a century in show business, breaking through with Sonny in the '60s, going solo in the '70s, winning an Oscar in the '80s, becoming a dance queen in the '90s.
"Icon" doesn't even begin to cover the woman one critic called the "Sherman Tank of divas . . . armored and unstoppable."
And if you were wondering whether, at 67, she's still the same old irreverent Cher . . . she is.
When asked by Mason if she should be in the Rock and Roll Hall of Fame, Cher replied with a laugh, "You know, f*** them."
"Those are my feelings," she added. "I don't need to be in a Hall to rock. So, you know, whatever."
She sold more than 100 million records worldwide, and this week Cher will release her first studio album in more than a decade, "Closer to the Truth."
The singer remains her own toughest critic.
"My sense is that you've always kind of underestimated your own voice," Mason said.
"I'm not a huge Cher fan," she replied.
But she wanted to be a star almost from the moment she first went to the movies. She was four when her parents brought her to what was then called Grauman's Chinese Theatre in Los Angeles.
"It was breathtaking," Cher said, "And there were statues everywhere. It was just like going to heaven."
She said that when she saw "Dumbo" and "Cinderella" there, "I thought, this what I'm doing, this is what I was meant to do."
"Is that where the idea where you were going to be a star was hatched?" Mason asked.
"Absolutely. Absolutely."
The theatre, newly restored and now named the TCL Chinese Theatre, also houses a costume collection. It was there that Mason met up with Cher's mother, 87-year-old Georgia Holt.
"You guys look amazing, I don't know what you're doing ..." said Mason.
"Witchcraft," Cher replied.
As a birthday present this year, Cher made a documentary for her mom about their lives. Holt, an actress who married eight times, said she always told her two daughters "to be special, to be somebody. My father used to say it to me when I was little, and I said it to the kids."
But, added Holt, "I didn't know she was going to grow up to be this big. I had no idea!"
To view a trailer for "Dear Mom, Love Cher," click on the video player below.
"You two went through some rough spots though, didn't you?" asked Mason.
"Yeah! We're tough women," said Cher.
Holt interjected, "She used to drive my car down Sunset Boulevard . . ."
"Oh God, mom, are we going to go through this?"
"But I was cool on the big things."
"Yes, mom, you were great," said Cher, "and there were a few big things."
Like? Moving out when she was 16, and later moving in with Sonny Bono, who was 11 years older.
But it was on "The Sonny and Cher Comedy Hour" in the 1970s that the iconic Cher was born.
"Sonny was the nice guy, I was the bitch that sang well and looked great in clothes," was how Cher described their act. "There were people who just tuned in, women, to see what I was wearing. Then it started to be a big deal for me because it was a big deal for people. And so it gets interwoven in you."
There would be no Madonna or Lady Gaga or Katy Perry without Cher.
"In a lot of ways," Mason said, "you paved the way for these people."
"Yeah. That's true, absolutely," Cher said.
At the MTV Video Music Awards in 2010, it was Cher who gave the award to Gaga, who wore a dress made of meat that night:
"I was looking at that dress and I thought, 'My God, this dress is made so beautifully,' " Cher recalled.
"Is that something you would have ever worn?" Mason asked.
"I don't think so. My taste doesn't go there."
WEB EXTRA: To watch Cher discuss fashion, Lady Gaga and Miley Cyrus on the MTV Video Music Awards, click on the video player below.
"Did you watch this year's MTV Video Music Awards by any chance?"
"No; I saw what you're trying to get me to talk about," Cher responded.
"You're a person who was willing to do some outrageous things. What did you think of [Miley Cyrus' act]?"
"I didn't like it," Cher said. "If she'd come out naked, I would have -- if it was beautifully done I would have said, 'You go, girl.' I don't care about that. I don't like to see things done badly."
"Badly how?"
"Outfit, terrible. Dancing, terrible. Singing, average. Performance, terrible."
"You've obviously tried to be provocative sometimes in your career?" Mason suggested.
"Yeah, but I always just do what I want," Cher said. "But look: What was the bad thing, you tell me? What was the part that was hard to take?"
"It was never hard to take for me," Mason replied.
"I never had anything on that you couldn't see on the beach," Cher said.
Maybe not the outfit she wore to the Oscars in 1986? Cher had been snubbed for a nomination for "Mask" that year, and she was determined to make a statement:
"I was in that gigantic big mohawk and, you know, the black Indian thing. But if you saw it, it was beautiful, you know?" Cher said. "I was going out with Josh Donen at the time, and Josh was totally freaked out when I walked out of the bathroom in this."
"You mentioned Josh Donen; he said at one point, 'I think the reason she wears those gowns is to protect who she is, to distract people,' " Mason said.
"I don't know. Joshy said that? That's very smart."
"Is he right?"
"Nah," Cher replied. " 'Cause clothes don't do anything. Clothes are nothing. Clothes are pretty. Clothes are . . . nothing."
She won an Oscar in 1988 For "Moonstruck." But the only starring role she's had in the past decade was in the 2010 film, "Burlesque." And Cher says her looks haven't helped her:
"This guy said this thing and I found it really interesting: he said, 'What do you do with Cher? She's too old to be young, and she's too young to be old.' I can't go the other way, so I'll have to wait 'til I'm old enough to be old."
Would she make more movies if she got offers? "Yeah," she said.
In our two-hour conversation in her sprawling Malibu home overlooking the Pacific, only one subject was off-limits with Cher:
"How's you love life?" Mason asked.
"None of your business," she replied. "That's how it is."
But she was open about her son Chaz's highly-publicized sex change.
She said, "I was so afraid of losing someone."
"Your daughter?"
"Yes. But Chaz is the same person. I was just thinking, 'Well, where's that child going to go? What's going to happen? You know, how was this going to work?' And in the transition part it's difficult."
"You said you had a little trouble with the pronoun in the beginning," Mason said.
"Oh, we still do. All the time. It's ridiculous. But no, he's definitely a man."
So what's next for the legend who has already left her prints enshrined in cement at the Chinese Theatre? She was approached recently about singing at the Winter Olympics in Russia; she turned it down.
"You just can't, you can't cross that line," she said.
"Which line?"
"The gay line," Cher replied. "You just can't."
Russia just passed strict anti-gay laws. Cher said, "My gay following has kept me, in the old days, alive, you know? When no one else came to see me. I've had really bad times."
"They've always been there?"
"Always."
"But she will go back out on the road next year, when she'll turn 68.
"If I don't try now and I wait, I won't be able to. I won't be able to tour after this."
"You've had so many chapters in your life," said Mason.
"I know," said Cher. " 'Isn't she over?' 'Isn't it time to close the book on her?' "
Not Cher. Not yet.
WEB EXTRA: Read an extended transcript of Cher's interview with Anthony Mason. in which she talks in depth about Sonny, designer Bob Mackie, honesty, and what Jack Nicholson and Meryl Streep thought of her acting.
Photo gallery: Five decades of Cher outfits
CBSNews.com's complete music coverage
For more info:
Thanks for reading CBS NEWS.
Create your free account or log in
for more features.