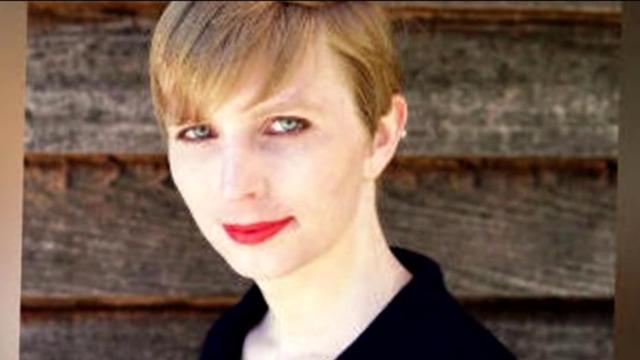 Chelsea Manning tweets she's "safe" after deleting concerning photo
Chelsea Manning, the transgender soldier and activist who gained attention after being convicted of leaking classified government and military documents to the website WikiLeaks, tweeted that she is "safe" after a now-deleted photo of a person standing on a ledge with the words "I'm sorry" caused concern online.
The photo was posted on Manning's account on Sunday night, showing a person's feet standing on what appears to be a ledge of a building with a street shown below. It's unclear if it was Manning in the photo.
Later Sunday evening, the photo appeared to be deleted and instead a tweet was sent from Manning's account reading, "Chelsea is safe. She is on the phone with friends, thanks everyone for your concern and please give her some space."
Kelly Wright, a friend of Manning who also is the communications director for her Senate bid, told The Associated Press on Monday that the 30-year-old transgender woman now needs the "space to heal." She did not reply when asked if Manning was seeking professional help.
When asked whether Manning had suspended her Senate campaign, Wright wrote: "Negative."
In her text message, Wright said Manning's adjustment to life outside prison has been "extremely difficult."
"I have seen firsthand and up close the violence inflicted on her by years of imprisonment, solitary confinement and torture," Wright said. "This is made worse by the impossibly high expectations our society sets for public figures, especially on social media."
Manning, whose name was Bradley at the time of her arrest in 2010, worked as an intelligence analyst in Iraq. She was convicted in 2013 in military court of six violations of the Espionage Act and 14 other offenses for providing to WikiLeaks more than 700,000 secret military and State Department documents, as well as battlefield videos.
Since was released from a military prison last year after serving seven years of a 35-year sentence when President Obama granted her clemency, Manning has now turned to politics, filing paperwork for a Democratic primary bid in Maryland.
Manning, who currently resides in Bethesda, Maryland, is seeking to unseat Democratic Sen. Ben Cardin who is seeking his third term in the Senate.
Thanks for reading CBS NEWS.
Create your free account or log in
for more features.