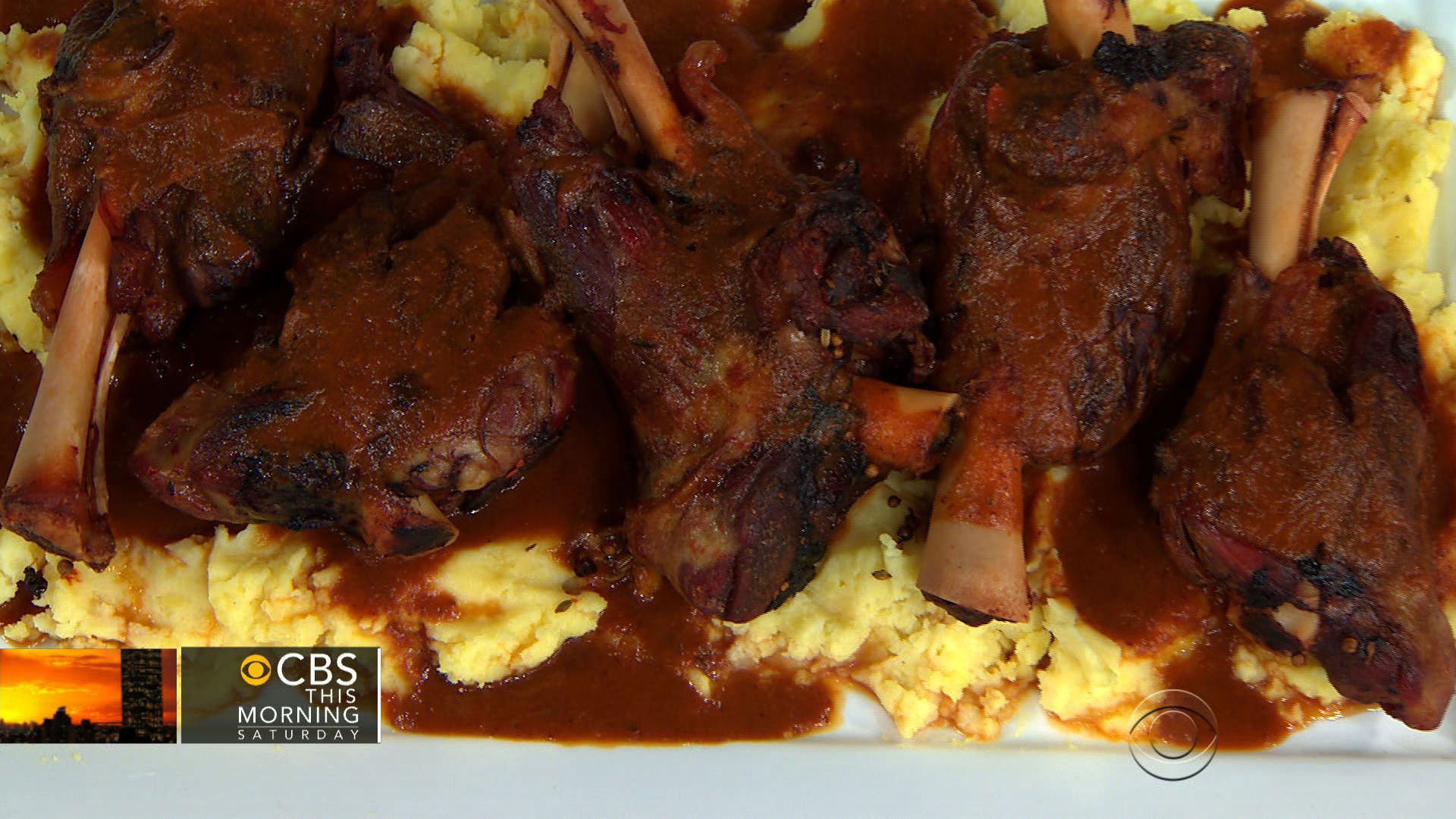 Chef Tony Maws' Morrocan harroset braised lamb shanks
Chef Tony Maws' culinary training was earned on a long and winding cooking road, which has paid off for the award-winning chef.

Special section: Food and Wine

The James Beard Foundation nominated him three years in a row for Best Chef Northeast before he took top honors in 2011. He's been named Best Chef by Boston Magazine, and Food and Wine named him to its Best New Chefs Hall of Fame as well as One of America's 10 Best New Chefs.
Maws graduated from the University of Michigan with a B.A. in psychology and didn't know what he wanted to do after graduation, so he traveled to Europe for a year. Upon returning, he got a job as a waiter in Martha's Vineyard, Mass. While working as a waiter, he began writing to chefs around the country before being hired by Chris Schlesinger of East Coast Grill.

In 2003, he opened Craigie Street Bistrot in Cambridge, Mass. It soon needed a larger space, and in 2008 he opened the now hugely popular Craigie on Main, also in Cambridge, as well as Kirkland Tap and Trotter in Somerville, Mass., which opened in 2013.
Maws joined "CBS This Morning: Saturday" and shared his ultimate dish, Morrocan harroset braised lamb shanks.
Morrocan harroset braised lamb shanks
For the marinade:
4 ea lamb shanks
Orange peel from 1 orange
1 tsp cumin seed
1 tsp fennel seed
1 tsp chile flake
1 tsp coriander seed
1 tsp kosher salt
1 cup extra virgin olive oil
8 sprigs thyme
8 sprigs parsley
8 sprigs cilantro
1 cup white wine
6 cloves garlic, crushed
2 inches ginger, cut into rounds and crushed
Lightly toast the cumin, fennel seed coriander seed and chile flakes.
Combine all ingredients in a non-reactive bowl and let sit overnight.

For the braise:
1 cup white wine
2 carrots, medium diced
1 ea large white onion, medium diced
2 branches celery, medium diced
1/2 head fennel, medium diced
3 cloves garlic
2 smashed coins ginger
3 cups chicken stock
2 tbsp crushed tomatoes
6 ea dried apricots
6 ea dried figs
4 ea dried prunes
1/2 cup dried currants (or raisins)
6 ea dates
1/4 cup slivered almonds
1/4 cup toasted walnuts
1/4 cup toasted pistachios
1/2 tsp fennel seed
1/2 tsp coriander seed
1/2 tsp cumin seed
1/8 tsp chile flake
Sachet of thyme, parsley, cilantro and bay leaf
Preheat oven to 450 degrees.
Remove shanks from marinade, wiping everything off completely.
Season liberally with salt and pepper and lay on a roasting pan.
Place all vegetables on a second sheet pan, dress with olive oil and spread evenly.
Roast shanks and vegetables in oven for approximately 20 minutes, turning after the first 10 minutes, until well browned.
Deglaze both pans with white wine.
Lower oven temperature to 325 degrees F.
Place shanks in a braising pot or enameled casserole (that has a cover)
Add chicken stock until it reaches halfway up the lamb shanks.
Add all remaining ingredients to the pot.
Cover and bring to a simmer on a stove top.
Place in the oven and braise until meat is fork tender, just falling off the bone, approximately 3 hours.
Remove from oven and let cool slightly.
Gently remove shanks from the braising liquid and lay on a platter.
Pass the liquid through a course dye of a food mill.
Place the shanks back into this liquid and serve.
Grilled octopus, toasted almond butter, preserved lemons, Banyuls reduction
Octopus:
1 ea 3 lb Octopus
4 cloves garlic, skin on
1 tsp fennel seed
1 tsp coriander seed
1/2 tsp chile flakes
1 ea bay leaf
3 sprigs parsley
6 sprigs fresh thyme
2 quarts gallon extra virgin olive oil
Place all ingredients in a heavy bottomed stockpot (making sure the octopus is covered in olive oil).
Heat on low, bringing it to 200 degrees F, never letting it boil.
Cook until octopus is tender, approximately 3 hours.
Let cool and rest in olive oil until ready to serve.
Preserved lemons:
3 ea lemons, sliced thin in circles
1 cup white sugar
1 cup kosher salt
Mix equal parts sugar and kosher salt together.
Mix with lemons and cure for two hours.
Rinse well.
Dress with extra virgin olive oil and char on a grill or a cast iron pan.
Almond butter:
2 lbs good quality, whole, skinned almonds
Almond oil, or extra virgin olive oil
Fine sea salt, or kosher if unavailable
Lightly toast almonds in a pan or medium heated oven.
Freeze with liquid nitrogen: pour liquid nitrogen over the almonds in a stainless steel bowl, being careful not to touch the bottom of the pan. Let sit for approximately 1 minute or until completely frozen.
Pass the frozen almonds immediately through a Champion Juicer, using the attachment that blocks "juice" from exiting so everything is distributed through the end. Reserve the almond pulp and pass though a tamis.
Wisk in oil until a creamy consistency is reached.
Add salt to 1.25 percent of total volume.
Banyuls vinegar reduction:
1 cup Banyuls wine
2 cup Banyuls vinegar
1/2 cup demerera sugar
1. Place in a pot and reduce until thick and viscous
To Plate and Serve:
Season octopus lightly with salt and pepper.
Grill on medium high heat until well marked and warm throughout.
Spread some of the almond butter on the plate.
Place octopus on the butter, topping with the charred preserved lemons and drizzle with the Banyuls reduction.
Cornbread pain perdu
Cornbread:
1.5 c butter (3 sticks)
1 2/3 c sugar
4 ea eggs
1c AP flour
3/4 c cornmeal
1/2 tsp baking powder
1 c sour cream
1/2 tsp vanilla extract
Directions:
Preheat oven to 350 degrees
Whisk together flour, cornmeal and baking powder.
Combine the eggs and vanilla extract.
Cream the butter and sugar.

Add the eggs two at a time.

Alternately add the dry mix and sour cream, beginning and ending with the dry.
Pour mixture into a buttered loaf pan and bake for approximately 40 minutes or until a cake-tester comes out clean.
For the soaking liquid:

3 c milk

3 ea eggs

6 ea egg yolks

3/4 c vanilla sugar

Salt, kosher (to taste)

1. Combine all ingredients and blend together

2. Slice the cornbread into 3/4-inch slices

3. Soak in milk-egg mixture

4. Heat a griddle or cast iron pan on medium-low heat

5. Place soaked cornbread slices into the buttered griddle and cook until both sides are browned and hot throughout.

6. Remove and serve warm.




Dried cherry compote

70 g Turbinado sugar

65 g Kirsch (reserve 15 to add at the end of cooking)

100 g apple cider

500 g dried cherries

230 g Ruby port wine

200 g water

Sachet

1 star anise

1 cinnamon stick

1 clove

1g Coriander seed

2g Yellow mustard seed

1 sprig rosemary

1 Japones dried chili

1 nub ginger peeled and crushed
Combine sugar and cider. Cook to an amber caramel
Deglaze with Kirsch and port wine.
Add cherries and sachet and cook for 5 to 7 minutes.

Add remaining Kirsch and water
Bring back to a boil and steep in a warm place
Curry oil poached dayboat sea scallops, Kohlrabi puree
1lbs. dayboat large sea scallops, cleaned
6 tblsp curry powder
4 cups canola oil
2 lbs kohlrabi (green or purple), peeled and medium diced
2 ea shallots, sliced
1 clove garlic, rough chopped
1/2 inch ginger, peeled and chopped
4 tblsp butter
2 sprigs thyme
For curry oil:
Place oil and curry powder into a pot and slowly heat until warm, not hot, and aromatic.
Let sit overnight, but at least 2 hours.
Strain through a fine sieve.
For Kohlrabi puree:
Sweat the shallots, garlic, and ginger until soft in a covered pan.
Add the kohlrabi and thyme. Season with salt and fresh cracked black pepper.
Sweat until tender and soft.
Add water to cover and bring to a boil.
Puree in a blender along with additional butter until smooth. Pass through a strainer or chinois.
Check seasoning and adjust to your taste.
For scallops:
Season scallops with salt and pepper and let rest for 1/2 hour.
Heat oil to 140 degrees
Place scallops in oil and poach for 15 minutes.
You can serve just poached or sear in a hot cast iron pan over high heat.
Serve scallops with the puree.
Sawbuck
1 oz. Rittenhouse Rye Whiskey
0.5 oz. Cinnamon-infused simple syrup
0.5 oz. fresh-squeezed lemon juice
0.25 oz. Nux Alpina Walnut Liqueur
1. Shake quickly to integrate all ingredients.
2. Strain into an iced goblet.
3. Top with Sierra Nevada Ruthless Rye IPA.
Thanks for reading CBS NEWS.
Create your free account or log in
for more features.